The Lone Ranger
By Jim Millington jim@earth.prestel.co.uk
If, for some reason, you want to build a boat, where do you start? You've got no sailing experience, no boat building experience, very little money and no idea! Just the desire to take to the water in something you built yourself. I just knew that I wanted to build a sailing boat. It was an itch that needed to be scratched.

With no direct experience or boat building buddies I began by reading up on boat building techniques and terminology, and looked for suitable construction plans. The Internet, my local library, and WaterCraft magazine were invaluable sources of information. I wrote to designers and finally selected Selway Fisher Designs (Selwayuk@aol.com) in Wiltshire, UK, who sent catalogues and price lists for a whole range of computer generated and faired plans. At the same time I was making boat building contacts via the Internet and receiving good information about the ply, stitch and tape method which I chose to use.
| | |
| --- | --- |
| I figured that, despite wanting a sailing boat, building a canoe first would a good idea. A quicker project would hopefully keep my interest and enthusiasm, and I wanted to make the mistakes and learn the ply, stitch and tape method on a low cost project. Paul Fisher sent me a copy of his excellent "Ply/epoxy canoe construction" which provided all of the technical information I needed and also included a complimentary copy of plans for a 16ft Ranger canoe. Last minute worries and final technical details were quickly dispelled by an encouraging e-mail from Paul. Incidentally, this is the typical response I got from all contacts on the boat building scene - help advice and encouragement, even when I asked the most basic questions. | |
Things came together quickly and within a couple of weeks one of my students had contributed a gallon of fibreglass resin and hardener and a local cabinetmaker Nigel Kelly donated a suitable space to build the thing free of charge. I found the extensive space really useful, although I could probably have managed in my garage. Fibreglass tape and waterproof glue came from local Chandlers.

The build itself went remarkably smoothly and minor difficulties were resolved either by looking at Paul's manual or with common sense. Each panel fitted and the whole structure became more rigid as the process progressed. This is logical of course, but also surprising and magical at the same time. I found painting and varnishing the canoe, along with the associated sanding in between coats, took longer than the construction.
Even though the Ranger is an excellent introduction to the ply stitch and tape method of construction I made many mistakes which will be remembered for my next project .

I didn't record the building process photographically. This would have been good to look back on, to highlight solutions to 'problem areas', and to illustrated articles such as this!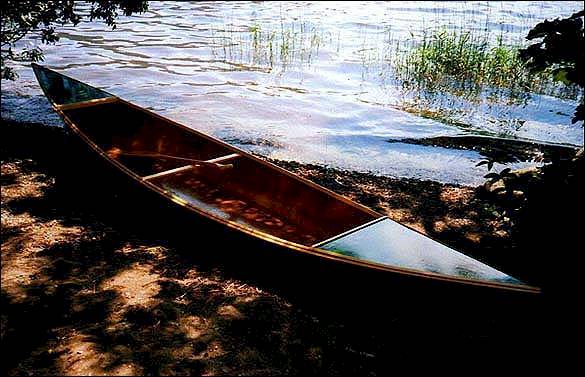 While I'm happy with the fit I didn't plane the panels accurately enough, so I'll spend more time getting this right, and conversely, not leaving enough 'waste' to plane back in the first place was another minor problem.

An intentional mistake this time; for future projects I'll use better quality ply. I wasn't too concerned about this with the Ranger, as I figured I'd make more mistakes requiring more of the sheet materials than was actually the case. I used exterior grade plywood which is OK, but the ply's are not of equal thickness and a minor split has developed on one side - this will be repaired with epoxy.
Eat more yoghurt; the pots are just the right size for mixing a workable quantity of resin.
Buy some acetone; I got away with 'disposable' brushes but on a larger project it would cost too much.

Look after my plane; this was the most useful tool in the 'box and I'm going to treat it to a new blade for the next project!

The first outing for the Ranger took place on Ullswater in the English Lake District. Test pilot was my son, Robbie, who paddled really well and made it look very easy. He appears in the photographs along with my wife, Louise. Once satisfied that it did not leak, and wasn't too wobbly, I also had a go! I tried fly fishing from it and was impressed by it's stability as a casting platform, I still didn't catch anything though. We are now looking forward to a summer of messing about in a canoe and I'm really pleased with the result - all for less than £80 (about $120) including paint, varnish and a shop bought paddle.
| | |
| --- | --- |
| | And what of the next project? I fancy constructing a 12 to 14ft sailing dingy with an easy to handle sprit rig, but before I choose the plans I'm going to figure out exactly what my family are going to use it for, day-sailing, fishing and camping I'd guess. I also wouldn't mind building a proper Canadian canoe. |
Oh, and in Paul Fishers Catalogue there's that 60ft blue water cruiser…