Blowing up to 30 knots , knock downs everywhere , 300 boats in the close quarters of the Elizabeth River out to Hampton Roads and back . We finished in just under 2 hours ,the race normally takes closer to 6 hrs, we may have a prize , will know tonight at the crew party.
We were sailing Roger Woodward's Olsen 25 , started off with the full main and a 180 genoa , as tactician I suggested we switch down to the 110 jib ( a good move ) and then the wind picked up and pow ! , boats were on their beam ends all over the river .
We were in the 4th start after the spinnaker boats , so about 100 boats were ahead of us and 200 behind. We were driving upwind mostly on the jib and feathering the main to stay on our feet , which was difficult as we got laid right over several times total knock down. We raced neck and neck with several boats , our crew getting soaked as waves came aboard and doused the foredeck crew and "rail meat" .
We finally made the halfway buoy and turned to run back with the wind at our back . The spinnaker boats were coming back in and we were now in a group of 30 boats that started ahead of us , we made good time and several boats had given up as the conditions were not easy .
Jim gave me the helm as he was worn out from the upwind leg . We made some sail adjustments and off we went like a rocket . The Olsen 25 is a very fast raceboat and will fly out of the water downwind . We started to pick off the boats one by one and dodge other boats ( about 200 ) that were still trying to get to the windward mark .
Conditions were too hairy to get photos during the race and I even had a waterproof camera with me . The photos are of the start of the classes ahead of us and the boats finishing after us , we took a few pix during the race but they are on regular film and will have to be processed , I post them later and our standings in the finish.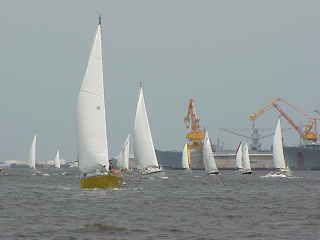 The fleet about 15 minutes behind us.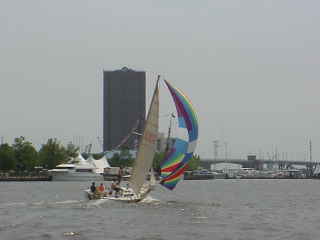 a spinnaker boat about 10 minutes behind our finish.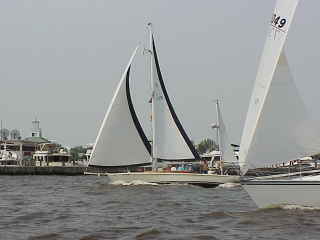 Bill Ripley's old wooden Hinkley yawl finishing about 8 minutes behind us.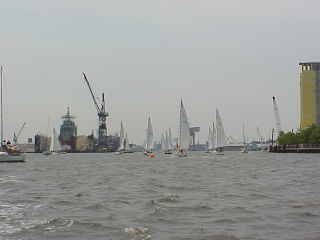 The finish line , orange buoy in center to shoreline on right side of pix , about 7 minutes after we crossed ( we had to go back upwind to the marina where Roger keeps his boat ) .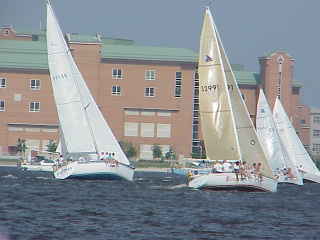 Part of the spinnaker fleet starting , notice all the rail meat , this is right before the big wind hit and we sized down the jib .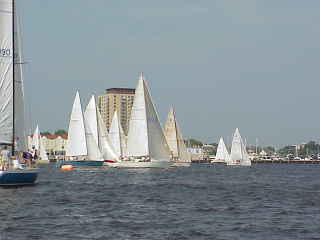 A start in wind that was going to triple in about 15 minutes .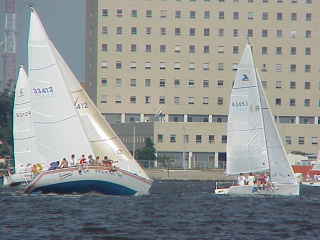 More start shots