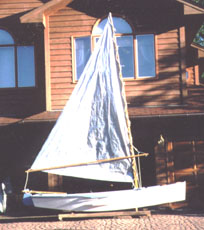 My name is Mark A. Paquette and I got interested in boat building about 4 years ago and this is my first boat project. Everything I read on boat building suggest to start small and work you way up to a bigger boat, try to learn as you go. So that is what I did and I found a nice little boat call the Mayfly12. It is a small sailing skiff designed by Jim Michalak. In the following paragraphs I have written about my journey into the world of boating building and sailing. I hope you enjoy it.
Now when I first started thinking about becoming a sailing man I was on vacation with my wife. We stayed in a hotel right on Lake Superior, which had it's own marina. I would get up early in the morning and walk out onto the docks checking out all the sailing boats. Thinking to myself "it would be really cool to learn how to sail". While on that same trip I pick up a copy of "The Complete Sailor" by David Seidman. This is a great book for anyone that has an interest in sailing. and the illustrations are great. I learned more from this one book than from most of the others I now own (remember that I was just learning about sailing, most of the books I own on sailing are more technical in nature). After studying this book for a couple of months (and checking the prices for production boats) I decided I could build a small boat cheaper than buying one. So the search for a boat started…and so did my obsession with boat building and sailing.
My search led me to the public library. I found a copy of Edwin Monk's "How to Build Wooden Boats" and I fell in love with the "Truant" it was a 12'-6" v-bottomed day sailor (kind of like a mini laser). I study this plan over and over and basically built the thing in my head. I had a bit of a set back after a trip to the lumber yard and finding out how hard it was going to be to get good "Boat Quality" wood. That was the one problem with this design is that is was designed for traditional construction. Now what?
Along comes the Internet, my place of employment installed browsers on the desktop and a wide-open Internet connection. I would stay after work searching for anything on boat building and sailing. I found a few really good sites on tack and tape construction and decided this is the method I would use. Now my next challenge was to find a boat design to build. This is, as most of you know, probably the hardest part of the whole boat building process. I struggled with making a decision, not wanting to choose the wrong boat and not sure what I really wanted in the first place. I really liked a boat called the "Weekender" by Stevenson Projects. It is a flat bottom sixteen footer with a shallow full keel with a small cabin that will sleep two. My wife purchased the plan for me for my birthday, I think she was sick of me talking about all these different boat designs and just wanted me to start on something to keep me quite. While waiting for the plans to arrive I found a web site by Jim Michalak. His site is great, one of the best I have found, he has a ton of building and designing information, along with so many differ boat designs it will keep you dreaming about future boats for years. I changed my mind on the boat to build; I decided to start with something a little smaller. I had never sailed before, so I figured a smaller boat would probably be easier to learn in. So my first boat was going to be the Mayfly12 and I was going to be the first person to ever build one, which make the whole process even a little more exciting (it did for me anyway).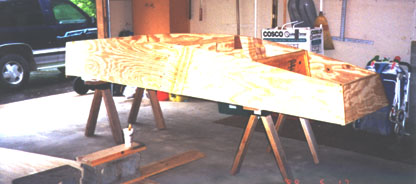 I ordered the plans, studied them and then started to build my first boat. Is this great or what? I purchased the materials, took a day off of work and dug into the project. I won't go into great detail on the building of the Mayfly12 here but I do have a Sailing page on my web site that has a detailed building log for the project (link at the end of article). I will say this though, that building your own boat is very rewarding. I found a lot of enjoyment out of the building process. Up here in Minnesota there are not a lot of home boat builders, which really surprises me because we are "The Land of 10,000 Lakes" with all that water you would think that owning a boat would be a requirement to live in this state. It was a lot of fun talking to people about building a boat, I think I may have even got a few of them interested in building their own.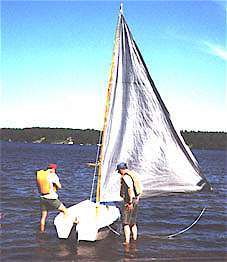 The MayFly12 is now complete and I missed my June launch date by one month. I made it to the boat landing on July 1st and the first sail was great. The little boat handled very well, she almost sails herself. The boat design is classified as a skiff, a flat bottom with a slight flare on the hull sides. I would call it a small sharpie, when I think of skiffs I think of fishing boats. I had some reservation about the lee board, didn't like the look at first, but after giving it some thought and using it I really like the way it functions. It is really easy to use and it gives you a nice open cockpit to move around in or for passengers and gear. The lee board and the rudder pivot (kick up when they hit bottom) so you can sail in really swallow water, with all the small lakes up in Northern MN it makes a great little sight seeing boat. And sailing right up onto the beach helps keeps your feet dry. The sail and rig are very easy to use. I sewed the sail myself out of polytarp material, (Jim has a lot of good info on his web site on this) it was really quite easy. The mast is un-stayed (no wires) and really easy to step the mast alone and transport is a breeze. The sprit (boom rig) is also very easy to set up and use. As you can see I am very happy with the little boat. I had never sailed before and learning in this boat was very easy. I would recommend this design to anyone wanting to build and sail his or her own boat. Jim's plans are very easy to follow and he is just an e-mail away if you run into any trouble. Jim's web site is also very good; it is loaded with all kinds of boat designs and building tips (Jim Michalak's Boat Designs).

E-mail me if you have any questions about the building or the sailing of the MayFly12. I would be more the happy to answer any questions you might have.
----NEXT PROJECT----
Now that my first boat is complete I plan take the summer off from building and do a lot of sailing. I plan to start on my next building project this winter. I have been in contact with Jim about combining two of his current designs, the AF3 and the AF2 in a new one. I like the length of the AF3 (16') but not the cabin size; on the AF2 I like the cabin space and sailing rig, but not the length (20'). My idea was to make an 18' version from these two designs and after talking with Jim I guess I am not the only one. Jim has been working on this design already for the other person, so I am waiting to see the design once it is complete.
And remember that "Boat Building; where obsession is just another tool", I saw this on a T-shirt once and it seems to fit (no pun intended).
Thanks for taking the time to read about my journey into the world of boating, hope you enjoyed it.
I would also like to thank Chuck Leinweber of Duckworks Magazine for publishing my article.
Mark A. Paquette
Here is the link to my web page on the Building of the Mayfly12.