I named my boat "Lil' Zeke" after my grandson, Ezekiel. The Lil' Zeke" accompanied my son and I on a trout fishing trip to northern Minnesota's Gunflint Trail just last week. We fly fished several of the numerous trout lakes located within the area. The Pointy Skiff is a great fishing boat for one or two adults. In addition to the wilderness lakes of the Gunflint Trail, the boat has seen action on local small inland lakes and near shore coastal Lake Michigan in and around Wisconsin's famous Door County.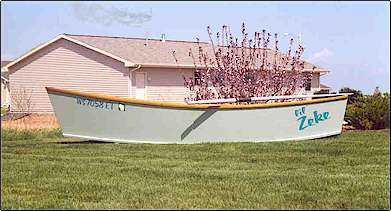 I started building my Pointy in late January after studying plans and getting both advice and encouragement from experienced builders like Dale Ruth, Harold "Dynamite" Payson, the boat design's original builder, and others. My garage volunteered half its space for the project over the cold weather months. A friend loaned me a good kerosene portable heater. As my mentors all insisted, I proceeded slowly and carefully throughout the project, not letting my excitement or enthusiasm reign over methodical and accurate procedures. Their advice was wise.
It wasn't long before the sheets of plywood and framed bulkheads were assembled. The form of a real boat began to appear on top of my metal sawhorse supports. The whole thing was getting exciting now that we all could see the parts and shape were correct. Our initial excitement was short-lived. There was one, and thankfully only one, emergency that would rear its ugly head in this project.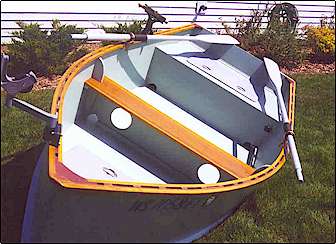 I had selected a poor piece of fir for one of the chine logs. After finishing nailing and gluing, my wife and I were admiring the completed sides and bulkheads and how the centerlines all lined up down the the length of the boat. Everything so far looked symmetrical as it was supposed to. About to go in the house and call it a night we heard a loud sound - like a rifle shot. The poor quality chine log had a knot in it which had exploded. In horror, we watched my formerly symmetrical sides collapse. Twisted and misshapen, the hull looked beyond repair.
After the next day when my blood pressure had settled down and reason had returned to my mental faculties, I realized this problem could be overcome with a little thought and some improvisation. I obtained two thin strips of straight-grain ash the same width as the existing chine logs. These were securely clamped and glued the entire length of each side on the outside surfaces of the chine logs. After allowing the glue to cure the clamps were removed. Then, two small blocks of wood, each with a large screw eye were clamped in place; on at the stem and the other at the opposite far corner of the transom. I then fastened a light steel cable with a turnbuckle between the two eyes. Using the turnbuckle to apply tension, it was easy to literally straighten the hull. In no time, all the bulkhead centerlines lined up and the hull appeared symmetrical once again. Since the steel cable wouldn't stretch, everything would stay put until I had time to nail and glue the bottom on. Once the bottom was in place, nothing was going anywhere. It worked.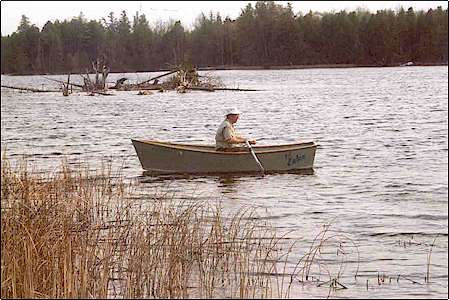 Soon the boat was ready for finishing. I had decided to fiberglass the bottom only since I had chosen 1/4 inch ply there instead of the 3/8 or 1/2 recommended in the plan. Fiberglassing with epoxy was another "first" for me. With a friend to help, it was easy. I was amazed at how smoothly the filling and fiberglassing went. I was equally amazed at how all the nail heads and imperfections disappeared after a little filling and sanding. Again, the key was taking one's time and not rushing things. I did decide to let the nail heads show through on the butt straps and not conceal them. That was a matter of choice. It is a home made boat and I wanted some things left showing on the boat that reflected that.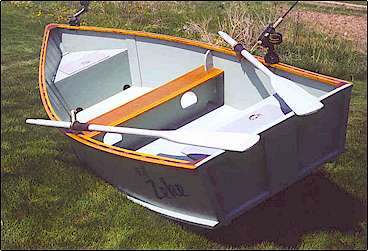 Varying from the plans, I decided on a couple of minor design changes also. I wanted storage space under the stern and bow flats so I located and installed some lightweight access covers through a mail order sporting goods supplier. These provided plenty of storage for anchor, life jackets, etc. Since I wanted to use an electric trolling motor I wired the front compartment for a battery and installed a simple plug in the rear bulkhead. Also, I designed a scuppered gunwale I thought would be attractive and, along with a matching stained and varnished rowing thwart, would dress the boat up a bit. The gunwale and seat are mahogany, cedar and ash.
The Pointy was not a difficult project for a first boat. I think the results far outweigh the effort. Numerous people have commented on its attractive appearance and design. One person even said they would put it in their living room! That would going a little too far for me, but I think what they were saying is, "hey, that's really nice!" That made me feel pretty good.