On September the 7th of this year, Vance Cowan <vcgraphics@theriver.com> posted the following message to the "boatdesign" forum at www.egroups.com:
I placed the following advertisement in the "Free Boats" column of Woodenboat magazine in the Jan-Feb 2000 issue.
'75 White Bear class-C 20' twin daggerboard scow sloop, needs total restoration. Sails & rigging good. Email: <vcgraphics@theriver.com>
In retrospect, the ad is misleading. I should have put more emphasis on the fact that the boat is beyond what is normally considered repair. Starting from scratch from a set of plans would be easier than the piece-by -piece restoration needed. Failing that, it could be used as a plug for a cold molded replica.
The point of all this is that the boat is still sitting on it's trailer in the owner's yard. He needs the trailer. That is why we tried to give the boat away. It's that or let the fireplace or the termites have it.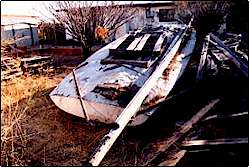 If anyone is interested in having this scow, I have a two part saga I would be glad to email anyone who asks through the above email address (the one in the ad). The first part is a boilerplate reply I wrote for those who first answered the ad. The second part is my nephew's (he is the owner) account of what has happened since the ad's appearance, and how he is now handling requests. This is in the form of a letter (with photos) to those still interested.
Vance Cowan
I was interested; more in the saga part, than the free boat part, so I wrote back:
Vance:
Are you able to e-mail the two part saga with pictures? It sounds like it might make a good article for Duckworks Magazine. It might even get you a taker. Let me know.
Chuck Leinweber
Here is Vance's reply.....
Chuck;
The boat is in Tucson, Arizona, and has been sitting in our desert sun for many years. In order to keep its edge glued seams tight, in its Michigan home it was sunk over the winter deep enough to avoid the ice. Now some of the planks have split right up the middle. That is why I think it is good only as a plug for cold molded or FRP construction.
My nephew (the owner) restores classic cars, and knows when junque becomes junk. We are beginning to think that it is the end of the line for this scow.
Here is the boilerplate. I'll just forward you the second part of the story with the photo attachments. I don't know what kind of a story this would be, other than a hard luck one.
Vance
--------------------------------------------------------------------------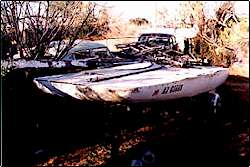 This boat belongs to my nephew. It is stored on a trailer in his backyard. He realizes that he is not going to get around to restoring it, wants it gone, and would rather that it go to a good home than to a landfill or fireplace. The boat, of course, is free but he would like some remuneration for the trailer if it is wanted as part of the package. The registration, etc. is in order (if he can find it). Will dicker. He is busy running a business. I am retired, am the one in the family who has a pile of WB back issues, and so have become the one fielding inquiries. It is an inland racing scow. It is wooden sparred (the plank shaped mast steps on deck) and is built to light scantlings with closely spaced frames and double planking, the inner layer being laid at about 45 degrees. It has seen better times. Here is its story as relayed to me by my nephew:
When it lived on White Bear Lake (MN), this boat was sunk at its mooring during the off-season in order to keep the seams tight. But it was brought to AZ in about '82, and has been on its trailer ever since: they don't have sinking-stalls at Roosevelt Lake reservoir. Soon it began to leak around the daggerboard trunks. This is when I last sailed her, a very fast and maneuverable boat indeed, though a little difficult to work the boards, mainsheet, jib, and rudder without a crew of 3 (the lines, including the helm, lead midships, and a very competent person could probably singlehand her). But as one continuous-run bilge-pump turned to two, just to keep it afloat, he (original owner) had a layer of fiberglass resin smeared over the whole (outside) of the thing with a little glass-cloth. This only helped a little, but it did help, so he had a professionally-applied layer of glass-cloth and resin put over the entire outside of the hull; sanded; painted white. As they couldn't really get up inside the dagger-board trunks, it not only still leaked but got a lot heavier. He removed the brightwork, mahogany cockpit-surround, and bumper-strips in preparation for a third go, promptly lost the parts, and bought an all-glass "D" boat. That's how I received it.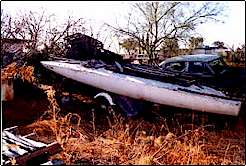 For the next 15 years its sat in my back yard. The wooden mast(30') and boom may or may not be salvageable except as patterns, there are places were the deck seams have opened, and much of the decking's fiberglass work has dislodged and fallen off. I can hardly imagine that the hull beneath the fiberglass is much better than the visibly shrunken decking. At minimum it needs the remaining fiberglass removed, and the deck and planking made watertight, not to mention the dagger-board trunks. The rudder is lost. On the up-side, the sails and all-stainless rigging have been stored indoors, the trailer tires still hold air, and the aluminum daggerboards themselves are in fine shape.
--------------------------------
....and the second part:
Folks,
This may seem a bit dilatory, but this is in regard to your response to the ad in WoodenBoat for a free White Bear C Boat in Tucson, Arizona. You are the emailable remainder of those who inquired.
Please forgive any apparent frustration: Respondents were, till now, replied-to in the order they called/emailed. I gave a great deal of latitude to folks time wise. Of perhaps 30 of you, it has taken till now to find out that the first 5 didn't really want or couldn't manage a project of this magnitude. One fellow drove from 1500 miles away (and of course I gave him several months to get the time off and plan the journey) to just stare at it for an hour, and another drove nearly half that far.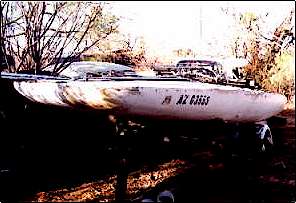 Please realize that this boat is free because it could be nothing else. Folks, so far, seem to think I underestimate the boat's sad state of repair, and that they're just going to coat it with something and sail away a few weeks later. I have done restorative work most of my life and, trust me please, this boat will never sail again without being fully dismantled first! Not one board remains not in need of attention. Even the mast and boom are probably beyond repair. Find attached some photos. Note that the hull is sagged over an inch over the two beams of the trailer. I do believe the boat can be salvaged or I would have used it for firewood, but if you do not have considerable woodworking talent and facility and a great deal of patience and organizational skill this project is not for you!
So here's the deal: the trailer no longer comes with the boat for a price. Neither is it for sale. I am no longer holding the boat (and so further contact with other interested parties) until you get to town and look at it. The first one to arrange to and remove it from my yard gets it. Period. If borrowing the trailer makes moving the boat more plausible for you, we can do that, but I will need a deposit (one thousand dollars) in cash or cashier's check (and a week's notice to replace the tires and wheel bearings).
Please let me know ASAP if you're still interested,
Thanks,
Alan
PS: I'll be happy to answer more questions you have, best possible. Also, I thought it was made in 1975 but I realize I don't know what year the boat really is, but the sail-bag says 1959.