CLICK HERE for more information about Jim Betts' new magazine
Notes from the IABBS
(excerpts from the magazine)
by Jim Betts
---
Tinkerbelle Revised With New Improved Design
Anyone remember 1965 and the epic voyage of Robert Manry in his TINKERBELLE, a 13-foot centerboard sailboat? The 48-year-old Manry, a newspaperman from Cleveland, Ohio, made a trans-Atlantic, 3,200-mile trip in 78 days. He wrote a book called Tinkerbelle, which is long out of print.
His trip was not intended to set a record, but did come on the heels of such trips as that of William Andrews in his 14'-6" SAPOLIO and John Riding in his 12-ft. SEA EGG. The record for the smallest boat across the Atlantic was the APRIL FOOL, at a hair under 6 ft. This was in 1968 and was sailed by airline pilot Hugo Vihien. But then in 1983, Eric Peters sailed TONIKY NOU, at 5'-10 1/2" across.
And so we will doubtless see even smaller boats try it. But Manry's boat was a "real boat," not some pot designed more as a "container. TINKERBELLE was a modified Whitecap class sloop built by the Old Town Canoe Co. Manry added a cabin to this otherwise open boat.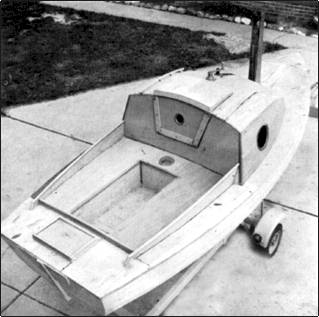 But to the present - the new TINKERBELLE 2 is an adaptation in some respects, an improvement on the original. The dimensions of the hull are the same, but some minor changes have been made in order to make it a faster boat. In addition, the centers are more properly located and the sail area has been increased. While the original boat was clinker-built, the new version is double-chine plywood in order to make it more suitable for amateur building. She will sleep two below and carry a fair amount of gear and there is an added large locker aft of the cockpit.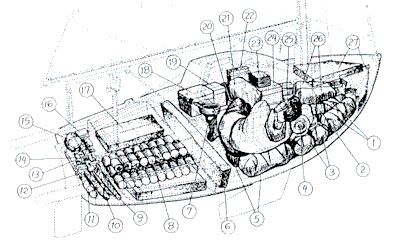 TINKERBELLE loaded with supplies/or the Trans-Atlantic trip. Space does not allow for a complete list, but the important ones are: (8) 40 bottles of drinking water; (6, 17, 27) flotation foam planks: (1,3) bags of food, (4,5) bags of clothes, blankets, etc. There are also extra sails, more food, navigation books, instruments, spare parts, a solar still, oars, bilge pump and much more.
Foam flotation blocks may be carried in the stowage areas or glued to the underside of the deck. The mast is easily lowered. TINKERBELLE 2 is designed to be easily trailered and can be built in a one-car garage.
Specifications:
LOA l3'-6" (4.1m)

Beam 5~6'' (1.68m)

Displacement 500 Ibs. (14.15 kg)

Sail area III sq. ft. (10.3 sq.m)
Plans consist of table of offsets, construction details of stations, centerboard trunk details, profile and sail plan, detailed plan views and mast cross section. Price $20 plus $5.50 shipping and handling in the U.S. (International shipping is $15.) Midwest Engineering & Design, PO box 4706, Overland Park, KS 66204-0706. Web site:
https://www.angelfire.com/ks/diyplans/tinkerbelle2.html
E-mail: howtoplans@yahoo.com