May, 2002
From Dale Ruth dldlnala@pgonline.com
Sometimes there are certain things in life that come along and you just have to sit back and wonder how in the orld could something like that happen anyways????
Dale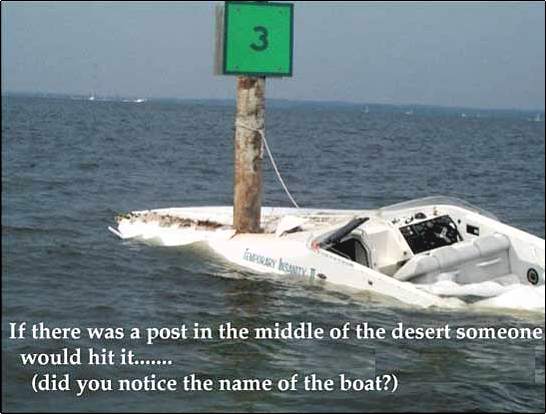 Bruce Armstrong funhouse@rain.org also sent this picture. His comment:
This is a 3 out of a possible 10....Bruce Armstrong/Santa Barbara
---
May, 2002
From Craig O'Donnell dadadata@friend.ly.net
Hi Chuck,

the latest CLC propagander blast. Two JPGs as well. The fellow in the boat is the designer, Mark Rogers.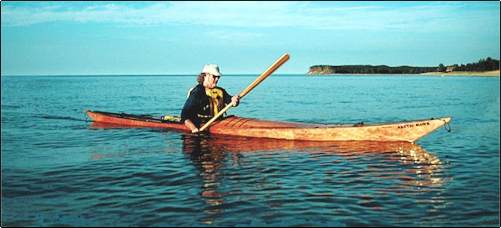 CLC's ARCTIC HAWK KIT
Designed by Mark A. Rogers

ANNAPOLIS, Maryland. -- May 1, 2002 --

The Arctic Hawk is an 18-foot medium-volume touring kayak. The design, drawn by Mark A. Rogers following the traditional West Greenland skin boats, has become a classic. This affordable, high-performance kit is made of okoume mahogany plywood and manufactured by Chesapeake Light Craft. Mark, of Superior Kayaks, Inc., is a respected designer who in turn respects the traditional design wisdom embodied in skin boats.

Our Arctic Hawk is the only Mark Rogers design available in kit form. The waiting list for one of his handmade boats is years-long. An exhaustively detailed, step-by-step manual shows exactly how Mark makes boats to order. By following his directions, you'll wind up with a boat you can be very proud of.

Based on a type used for thousands of years, the Arctic Hawk delivers all the seaworthiness, speed and maneuverability the native hunter relied on at sea. A shallow "v" hull and hard chines combine to produce superb tracking in a kayak that nevertheless turns effortlessly when heeled. A slightly fish-form hull has some fullness
in the bow and stern for lift in heavy seas. The low-profile deck gives wind and waves little to work on.


The 22-inch beam provides good initial stability and the hard chine gives exceptional secondary stability. This faithful Greenland-style boat has a great reputation. It is a perfect boat for paddlers learning rolling techniques and Inuit paddling styles.

Novices will appreciate learning to paddle in a craft which responds and tracks as well as the Arctic Hawk. The experienced paddler revels in its performance.

The Arctic Hawk is designed for paddlers approximately 5'8" to 6 feet tall and 160 lbs. through 210 lbs. Maximum capacity is 350 lbs.

The kit is available for $999. The kit with optional keyhole cockpit is $1074.


Sea Kayaker reviewed Mark Rogers' Arctic Hawk design in February 1995, saying:

"The boat easily carves graceful turns when moving... Our reviewers agreed that the kayak accelerates quickly, is easy to hold at cruising speed and had little tendency to weathercock. [The Arctic Hawk] is easy to roll, ... and represents a successful attempt at adapting the traditional Greenland kayak to the modern recreational paddler."

and:

"The Arctic Hawk comes alive with motion... The rudderless Arctic Hawk tracks well without significant yawing and is very responsive to leaning."

"...secondary stability was excellent [and] loading the boat with 50 lbs [of gear] greatly enhanced initial tability."

"...[it] accelerates quickly, is easy to hold at cruising speed and [has] little tendency to weathercock."


Specifications
The Arctic Hawk: $999 / $1074 with keyhole cockpit
Length: 18 ft, beam 22 in. -- Waterline with 200 lbs. load, 16 ft
Weight: (Okoume Mahogany) 42 to 44 lbs.
Cockpit: 16 in. x 20 in., or the optional CLC Keyhole Cockpit

The kit includes plans, instruction manual, pre-cut parts, hatches and bulkheads, full deck rigging, Keepers adjustable footbraces, epoxy kit, fiberglass for hull and deck, foam seat and backband.


Customer Contact Information
Chesapeake Light Craft, LLC
1805 George Avenue
Annapolis, MD 21401

Call (410) 267-0137
9 am - 5 pm EST weekdays
10 am - 2 pm EST Saturday

Fax 24 hours/day to (301) 858-6335.
---