Canal Boat
design by Roger Schroeder
(plans coming soon)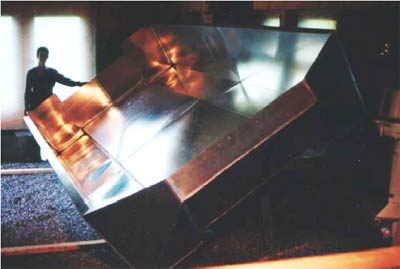 Welded 5052 aluminium hull being rotated upright the shape is based on
two break-formed sections (see drawings). Pre-forming the sections eliminates the need for framing during fabrication.
Aluminium was my material of choice because of its resistance to destructive corrosion and rot. This boat will be in the water all season a muddy creek (Ransom Creek) that flows into Tonawanda Creek which is a section of the Erie Barge Canal near it terminus in Buffalo, NY.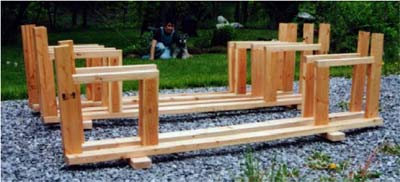 These are the internal frames that will provide hull stiffiness. The knee in the frame is intended to stiffen it an become seating supports. They are made of fir 2x4's screwed and glued. They are then coated with a waterbase interior polyurethane because they will remain protected from the elements.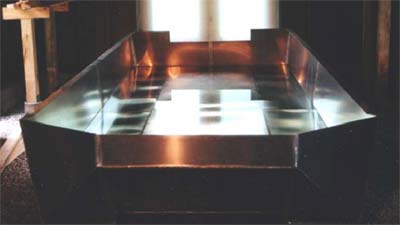 Leak testing the hull with 8" of water. Minor leaks are found and marked the hull drained and the welds corrected. Waterline welds are primed to provide additional insurance to leaks. In three years the only water in the boat came from above.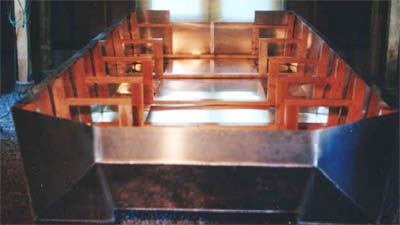 Frames installed in hull and attached to welded brackets (not seen in
photograph)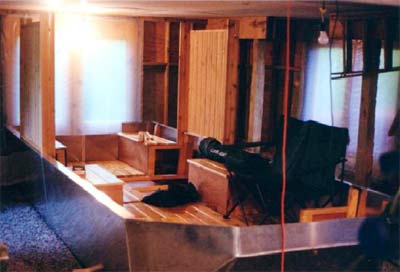 Interior construction of cedar decking and Luan underlayment all sealed with the interior waterbased polyurethane. Decking is held in place with stainless steel screws. Boat side solid sections are tounge in groove western red cedar.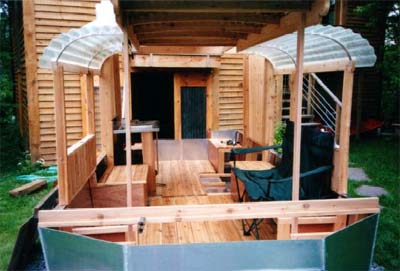 Now moved out to finish construction because of limited ceiling height. Center section of the roof is framed in cedar and covered with galvanized corrugated metal. Sides of the roof are clear fiberglass corrugated panels fastened to aluminium ribs.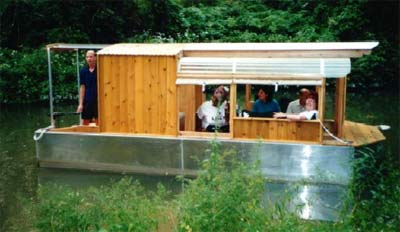 First season in the water without windows but sitll giving creek tours on a
trolling motor.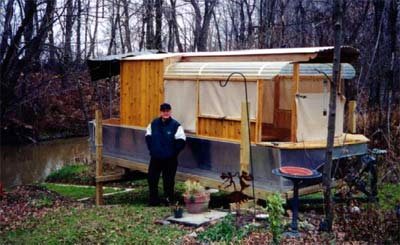 Winter berth showing how it is left all winter.Exterior wood is coated with
Cuprinol