FIFI
design proposal by Gavin Atkin
Fifi is a little pocket cruiser designed to be built in even the smallest
garage anyone's likely to find. She's based on the famously seaworthy Auray punt, and benefits from a pram bow (which should keep her crew dry) and very simple construction.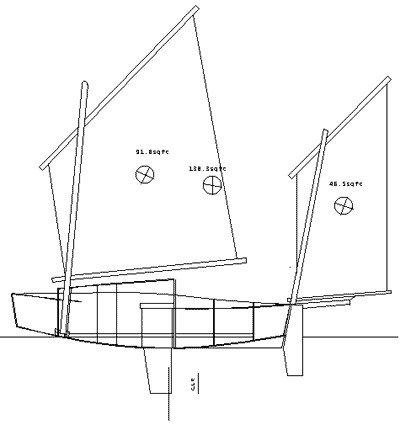 I'm planning water ballast under two bunks and the cockpit floor, btw, and a ballast ratio of between a quarter and a third, all below the waterline. There will be bouyancy tanks in the bows and stern. The intention is that she should be built using largely stitch and glue, with the frames assembled onto a single 'sole' that functions as bunk tops, water ballast tank tops and cockpit floor. Then the chines and transoms would be s&g'd into place, and finally the bottom and cockpit seating, and fore and aft decks screwed and glued into place using timber cleats.
As always, if you're interested in the design, which is as yet unfinished, do please get in touch - you never know, you may help to encourage me to get the design work on Fifi finished!
Gav
LOD 182in,
LWL 144,
Beam (WL) 59in
Beam (Max) 70in
Design displacement 1250lbs
Sail area 138.3in
Cp 0.62
PPI 300lbs
D/L 359
Bruce No 1.05