This project contends that simplifying the catamaran hull to 4 ply epoxy panels can produce a fully ocean capable cruiser for an attainable price/build time combination. It hopes to bring fast ocean travel to the wage earner.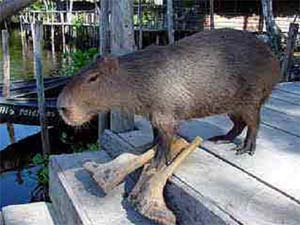 Gumboots is a 31ft dory-hulled performance cruiser with kicked up rear to a curved bottom at the transom simply to ease the exit, which would have been a straight line. Nose is dipped in slightly for directional stability but will kiss the water if the boat is unloaded to a 2 man skeleton (race) set-up at 3380 lbs. Entry is extremely fine with a fairly bluff 2 inch bow which may be rounded, but the deck sheer plan generates massive reserve bow buoyancy despite an absolute minimum of ply torture/twist. All verticals from chine to sheer are straight. Prismatic Coefficient is in the offshore range at 0.62 and hobby-horsing is made virtually impossible by the wide rear.
The centre of buoyancy is calculated twice by separate methods one a spreadsheet of construction, one a spreadsheet of the loaded boat. In both cases it came out at 18.25 feet back from the stern, which is about where you stand at the galley, luckily for the cook.
As the mast is both well rearward and raked, the boats centres of action are all close to the cockpit and it would be possible to operate the kick up lee daggers from here using a winch and a couple of lines, but its easy enough to hop up on the bridgedeck and drag the boards up or down, as most of their weight is on the pivot. They will not be damaged by a full speed beaching, or striking a whale etc.
The hull shape is the best compromise I can manage of ease of build, and performance at a range of weights which will see the boat able to compete two-handed with an upwind Bruce Number of 1.57 and cruise loaded with 4 crew and a months water at 1.37. Water is stored in 10g bags around the hull, enabling fine-tuning of trim as the galley header tank in the cockpit coaming is topped up. A reliable program indicates 250nm in racing mode and 208nm covered in a seaway in 24hours, and while the boat is no dragster, Id expect bursts in the high teens without any heroics.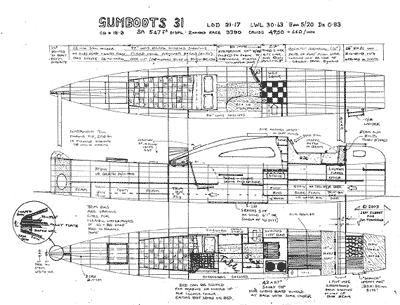 click to enlarge
The 20-foot beam ensures reefing down won't be necessary until the boat is travelling uncomfortably fast. Not directly comparable with any boat past or present, the nearest would be to imagine one of the Woods cruisers minus the bridgedeck pod. The open bridgedeck is a safety element, but the boat could be made a lot roomier by small pod and bridgedeck cockpit, enabling the wide soled areas taken by the cockpits to be converted into accommodation. There is both room and carrying capacity to do this. However the build time is right out of scope for this project, which is a deliberate attempt to see just how quickly an efficient cat can be built.
To this end construction, which should be indoors, is by female moulds spaced by the first 9mm layer of the dory bottom itself. Two 32 x 4 ft 9mm ply panels are slid down past the bottom, sitting flush with it at the point of maximum draught, and passing it in slots ford and aft. With the moulds levelled properly and the ten-inch rocker checked, the chines are filled inside with thickened epoxy and the few permanent bulkheads filleted in. This swiftly built 31 x 5 foot hull is joined last at the stem, which is specified exactly and is a sandwich with a 12mm alloy plate at the centre to provide a fore beam strong enough to lift the entire boat. The open hull can be fitted out to suit the builder, and the suggested cabin height altered as desired to give headroom in the saloon and stateroom. Jim Townsend's boat has a shower in the stateroom entry, which governs the headroom. As no sole is needed (a wooden grate is suggested) full HR is easily achieved (6.3ft in drawing). However for cruising in heavy conditions a simple water ballast system may be added beneath a sealed sole.

The hull can be raised in slings and turned to finish the bottom (cut off excess sides, one final ply layer and glassed to above WL). Or the hull can be simply rolled over inside 2 circular-cut moulds. Or pushed over on mattresses. Many will prefer to do this before finishing the cabin, it matters not, as the overall weight is well under 1000 lbs at this stage.
The moulds are reused for the second hull, and the beams check fitted before this is finally done on a launch beach. The bridgedeck features a central beam enabling some variation in the mast position – thus the builder can save much by using a second hand rig.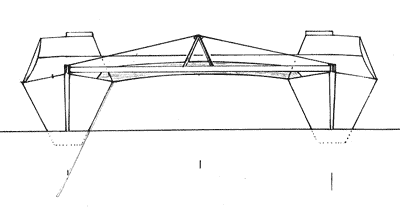 The open bridgedeck is surrounded by an 18 inch wall formed by cabin and beams, and the boom is set very low enabling a large (547sq ft) sail area with a simple to tack blade jib and just a 41ft small section 3 wire rotating semi-wing mast to be self-built in cedar strip and glass, or built from a semi-oval section available at an overall weight of 73.2 kg. The w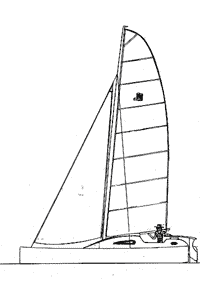 ooden wing would be somewhat lighter. This rather unusual rig is still being discussed, but this designer is all for it for simplicity, beauty, and lack of overall air draft.
Prototype construction in Adelaide at the experienced hands of Jim Townsend is expected to commence early in 2004, when I return from a 3-month spell of retirement house building in Tasmania.
Any comments are of course welcome, but as I wont have the opportunity to reply till February, please be patient. All correspondence will be replied to eventually.
Jeff Gilbert
jgilbert@webone.com.au.