Wilbur the Wisp
Low Impact Coastal Power Cruiser
Container Transportable Design by Jeff Gilbert
Note: Jeff Gilbert, designer of
Hot Chili
, entered a design contest at
conceptboat.com
He did not win, but has allowed us to view his entry
| | | | |
| --- | --- | --- | --- |
| LOA | 11.89 | Disp. | 2880 |
| LWL | 11.51 | Disp./WLL | 53 |
| Beam | 2.22 | Honda OB - | 50hp - 15kts |
| Beam WL | 2.18 | - | 130hp - 25kts |
| Draft | 0.40 | - | 225hp - 33kts |
| Headroom | 1.90 | Diesel OB - | 36hp - 13kts |
DESIGN BACKGROUND
The dream of voyaging overseas rarely includes a long slog across a moody ocean to get there. Furthermore optimum watercraft for overseas coastlines differ vastly from those required to safely get there. Long range motorboats are neither nimble nor beachable, blue-water sailcraft have deep draught & multis are clumsy & expensive to berth. The possibility of arriving exhausted, in an unsuitable boat needing unavailable parts, keeps would-be-Voyagers home in droves. Besides, few with the money have the time to cross oceans.
SOLUTION
Wilbur covers the hard miles on a container ship, arriving in pristine coasting condition. Wilbur is a "Low Impact Cruiser" –a holiday home moving swiftly & quietly, without a huge displacement wave disrupting those same sensitive land-water interface environments which afford the most beautiful of views.

Wilbur can be craned from the water to a flat surface, and then pushed/winched into a standard 40ft container on 3 steel protected keel points. Only preparation is lowering the windscreen & radar mast, & raising the engine.

Wilbur fits a road/rail flatbed, & is legally trailerable. Holidaymakers can freight the boat ahead to a suitable launching facility. Return trips may be eliminated, time pressures eased Plan changes need not entail abandoning the boat overseas.
COSTS
CONTAINER SHIPPING COSTS LESS THAN STEAMING FUEL.
Even short hauls are < $US1 per mile, San Francisco or UK to Indonesia is under $US3000, and the longest trips on the planet are $US5000. Insurance is negotiable & optional, & compared with steaming risks, probably unnecessary.

For the commercial builder, export costs become a viable fraction of product value.
SIMPLE LIVING SYSTEMS
Plans show a minimal fitout for a small group to cruise in uncluttered comfort. Twelve-volt electrics are: safety, deck & interior lighting, CD & radio, sounder, radar, GPS, anchor winch, bilge pump & a small fridge when an icebox can't cope. Deep-cycle gel batteries charge by motor generator, shore power & solar panels. Salt & fresh water are manually pumped. Both bilge pump and anchor winch are backed by manual equivalents. Cooking is by 2-burner gas stove. Shower hand-pumps from a bucket of hot water. A composting toilet eliminates through–hull fittings. Engine air cooling ducts run along cabin sides sucking toilet (port) & cabin (starboard) air as they bypass sealable vents. Stale air is expelled into the engine box, along with grey water.

This comfortable "upgraded camping" level makes fine ecological & economic sense, but is not for everyone! A luxury fitout will up displacement, but if weight is kept low the only apparent effect is 55mm/tonne extra immersion at rest.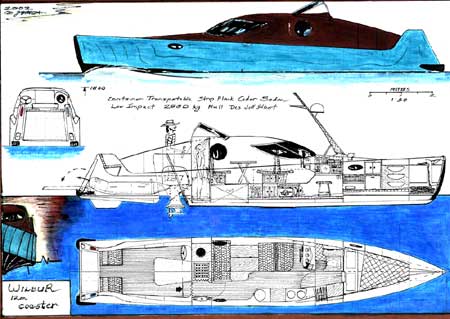 click to enlarge
HULL FORM
A hard chine at WLL provides form stability for the narrow moderate-Vee warped-bottom planing hull. Bottom sections are concave with the deadrise of the planing section dropping over 25ft from 23degrees to just an inch at the stern. The high WL Length:Beam ratio, shallow-Vee & low displacement produce a non-aggressive hull form which slips across & through the water with little fuss or fuel. Such designs are gaining recognition (mainly via the booming Power Cat industry) as a third hull form, unlike the limited speed displacement type or the power-hungry larger deep-Vee planing hull. Wilbur's "Displaning" or "Cutwater" hull type increases speed smoothly with power, sans "planing hump". At low speeds her fine entry slices her along, shifting very little water a very small distance for passage. Stability range, accurately modelled by computer, is 105 degrees with half tankage.
POWERING & AUXILIARY
The outboard-in-a-well prevailed over a more economic Inboard diesel to provide easy servicing anywhere. More importantly the mounting plate can be hand cranked in guide slots to clear the prop for beaching & passage transport. This allows headroom despite having to pass a 2.29m2 container door. Positioning forrd beside the outside helm eliminates cavitation. The well's soundproofed cover is both table & workbench.

The 225HP Honda 4-stroke rockets the narrow hull to 33knots, while the slower 130HP version gives 5nm/gallon. A Yanmar 36HP Diesel outboard returns over 10nmpg @ 8.5 kts. Motor steering is adequate but improvable by low-profile rudders hung from the twin tracking keels. The high-load NZ-designed tender handles rugged conditions and its motor will push the main hull in a breakdown.

STYLING & MATERIALS
Form is dictated by the container's low cross-sectional area, combined with the need for work-area headroom. Conventional styling looks like a lowered scale model under this constraint, & was rejected in favour of a curvaceous semi-automotive form, with rounded sheer & cabin sections lowering windage. In a seaway Wilbur sheds water easily, but nevertheless the cabin door is watertight.

The E-glass or sheathed cedar strip hull comes in under a tonne. Major bulkheads are foam composite. Interior finish is cream offset with hardwood trim and stained/epoxied ply furniture. Windows are tinted perspex on Sikaflex, Awlgrip decks sheathed end-grain balsa.

ACCOMODATIONS
Wet areas
The Radar mast (essential for night, fog, traffic & harbour entrance) folds forrd; braced upright it provides a handgrips for the sole foredeck access via ladder. The foredeck is precarious in a seaway, & side-decks virtually non-existent to gain cabin width.

The cockpit is 610mm AWL affording 360deg.visibility. The transom folds down forming a swim platform & opening the RIB garage. Two steps down is the wet (heads & shower) cabin area, & a watertight bulkhead leads to the
Utility/Saloon area
Galley, raised lounge area, inside helm. Ventilation by rear lifting clear hatch over helm. Table and seats may convert to Guest double berth.
Below decks
Chartroom/office/stateroom. Foredeck ladder/hatch , opening ports, 2 Dorade vents. Under-table quarter berth extends beneath helm.
CONCLUSION
This concept opens overseas coasting to a sector without the time, inclination, or substantial boat for ocean-crossing. It offers a viable worldwide delivery system for builders, and could provide chartering from a Client's port of choice.

Wilbur is attractive, environment and fuel-responsible, fast, ergonomic, uncluttered and infinitely useable. It can provide a millionaire's holiday to the far less moneyed.