Bekins, Man, Bekins!
A short history of the Malibu Outrigger
by Dana Sandiego
In 1950, Eisenhower was elected President, the Corvette was still three years away, Errol Flynn was a big star, and in Topanga, California a carpenter with a few friends, some plywood, and a painter's drop cloth put together the first Malibu Outrigger.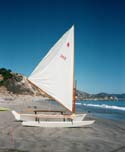 Like many Marines, Warren Seaman had been stationed in Maui during the war, and later when he saw a sailing outrigger under the Malibu pier, he thought he could do a littler better. At nearly 19' x 11', with 190 sf of sail they became the most popular of beach outriggers built at the Malibu Yacht Club, a club located on the beach, and in those days populated with carpenters, plumbers, movie extras, and not a celebrity in sight. An egalitarian bunch looking for a cheap thrill from their backyard boats launched through the surf, and still faster to Catalina Is. than big shots from the marinas.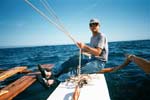 Lots of people got their start sailing with Malibu's: Wayne Mort, movie set builder, Warren Seaman, carpenter, and later the "S" in CSK Yachts, Mike Eaton, San Diego surfboard maker, Hobie Alter (yes, that Hobie), Phil Edwards, a Hobie designer, and Steve Dashew, designer of "D" class catamaran Beowulf, and recently the Deerfoot 60's. All built and raced their own boats against guys who would go on to be Star boat and Lido 14 champions. Alamitos Bay and Mission Bay in San Diego became other centers for the Malibu, with racing held all along the coast, and of course, in Hawaii. Some 2000 were built, mostly by their owners. Hardware might be made by Bill Buck when he wasn't being a fireman, or a really fast boat might be ordered from Warren or Mike Eaton.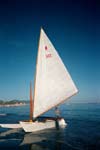 Out to Catalina, down the coast, into Mexico. This boat was sailed by some real indivualists. Bob Fourtiea used to sail a 24' version down to San Diego each summer. When asked how the boat went back to windward he said: "Bekins, man, Bekins!" Meaning he hired a moving van company to ship it home dismantled. A 32 footer, built from the remains of a wooden landing barge raced the Newport-Ensenada several times, and cruised the Channel Is. in the summer.
By the late 60's there was competition from the beach cats. The British Wildcat, Carter Pyle's P-Cat (you can still order one!), for example. In 1968 Warren Seaman was in Hawaii and was asked by a surfer named Hobie if he saw anyhing to improve on a 14' cat he'd designed.

Wayne Mort has since moved to Hawaii, built a few boats, and keeps the plans available, and recalls: "At one time there were about 25 Outriggers on the beach at Malibu, and more along the coast, and scattered as far as Tahiti and Africa. They were designed to be as simple to build and sail as could be, "tank tested" in the Catalina Channel, and created many great sailors and boat builders, such as Warren Seaman. To this day there is no mistaking the romantic rig of a Malibu on the horizon, and it's too bad that people don't make the effort to build such a boat instead of buying."
Mike Eaton agrees, saying: "The Malibu looks much more graceful on the water than the modern cats with their industrial pipes and wires."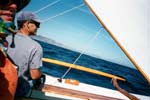 Despite the number built, few Malibus are still sailing in Southern California. Sometimes you see one in a backyard with peeling paint, or over the bar in a beach restaurant. There is a bright red one I see every year or so. Once I was leaving the harbor at 8 am, and noticed a little sail miles to seaward and inbound. We passed some distance apart, but there was no mistaking that sail and red hull. He must have spent the night at sea.
______________________________
Malibu Outrigger, Wayne L. Mort, SR 11026, Keaau, HI 96749, USA, 808/966-4475.