Note: We offer this article for your entertainment only. It was done as a proposal and apparently no plans were ever completed.
The Nipigon boats are tough customers. On any map of the North American continent Lake Superior resembles the head of a wolf that has eaten its way westward from the seaboard. Having relished its repast, this wolf's head will appear as slavering of jowl in jolly anticipation of swallowing more mountain, river and timber. At the nose of this wolf is Duluth. the jugular locates Sault Sainte Marie, the eye will be Isle Royale of fabulous legend, and where the wolf's brow falls is Thunder Cape. Higher on the forehead is the Nipigon country, and the heart of the Nipigon is the Nipigon River.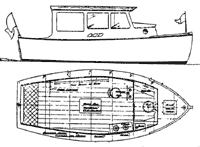 A region of behemoth porphyry folds is the Nipigon, of naked spruce forests, fish full cataracts and amethyst vistas. It is peopled by Canucks, Frenchmen, Newfies, a polyglot mixture of muscular men who love their land and who whip from its rawness great wealth in timber and fish. It is a beautiful though demanding land any way you look at it, though it would be well not to look too closely less some of the local blokes "mistake yer fer a Stateside uranium hunter and toss ya inta t'irty faddom."
A collection of false fronts and red paper shacks called Nipigon is the city of the region. Bare in promise, still rarer of odor. it is raw of setting and raucously tooled for timbering. There at Nipigon. a few miles from Lake Superior, is built a rugged breed of boat which is one of the tools of timbering and the like of which I have seen nowhere else in a half world of wandering.
Now boats that are tools of trade in the various locales of the world can be counted on to be masters of local conditions. They evolve out of local use to achieve just such mastery. The Nipigon boats therefore thrive on hitting things, rocks for instance, and up on the Nipigon River, under the high span that bridges the automobile road, these Nipigon craft, very short in length, highly powered, highly maneuverable and practically logproof (what with the basket of pipes shrouding their wheels, are actually used for the world's toughest service.
They are used to bump, push. subdue, overtake and generally cowboy the rushing poles of pine that tumble from rapids to rapids down to flat water.
It is a shocking, then amusing, and finally fascinating thing lo see a little boat edging a whirlpool of timber, like a collie dog with a herd of sheep, and to see her climb right over the logs as though they were not there, or at most were an inconsequential nuisance to be overlooked, and to watch her worm her snorting way to an offending key log that has upended and barn said pole into motion and docility.
I said the Nipigon boats are tough' When the log boom is made up, down on Superior, the mighty midgets are found there in the big water knocking tar out of both boom and lake. They can take it.
The possibility of making a stout cheap cruiser based on these Nipigon-Superior toughies has wanted doing for a long time. Here she is: Mini Max.
Mini Max is only nineteen feet and fractional inches long, but like most Nipigon craft she seems to have as much room as a twenty-six footer. She is no experimental design for. while I have reached elsewhere for the arrangement plan (to the old Eico Marinettes designed by Bill Fleming) the hull of Mini Max is an evolution of several Nipigon pine pummelers overlaid as to features of deadrise by one Thor, a boat I designed in 1927 and which, having eaten up four or five engines in the pulping business, including a Ford. a Universal and a Red Wing, is still knocking hell out of log and lake and seems to be always yelling "Gimme more iron."
You can have a good cruiser on small inches. The chief thing I have learned in doing quite a number of tabloid shippies is to keep them weighty. Then they act more like boats. This is particularly true of the bulky kind of boat, which Mini Max unashamedly is. Weight takes a lot of the objectionable wallow out of the craft's sea behavior, something you cannot get with plywood. So she is beefy and will stay together. Her hull is of optimum deadrise, her topsides have a nice flowing batten, and she will build cheaply, cheaply, cheaply.
I do not know what Minnie's general coefficients are and I dinna care. I guarantee you can build her from the thumbnail design accompanying this yarn, that she will float as shown if you use the scantlings I recommend and show. Further, I guarantee she has moments that are teeming with inertia and that her prismatic is very coefficient. Hell, you can't design a boat with tables. It takes art to integrate such an assemblage of compromises. I bet a 1903 Wright airplane against a transparent Bikini that Min Max will stay right side up when Superior, or any lesser body. is standing on end.
If you like her you can build her for about $300 lumber, and perhaps another hundred for hardware and fitments (1950s, remember. Ed.),
The power plant? Tops for my money would be a Universal Utility Four. I also like a Chris Craft Model B, a Gray or a Kermath of about forty-five horsepower, and I like also the water pump feature on the Atlas Skipper, which is not as large an engine. A single cylinder two cycle four to five horsepower will give six to seven miles, which will gel you there and back on time if you know when to turn around. If you want eight or nine miles, a buffed up model T will serve you until you can ford the real mills first mentioned, which will give from ten to fifteen miles.