Here's an interesting design project that has had the go ahead, there has been a lot of discussion on the microcruiser Yahoo Group about very small transoceanic yachts. I've put my thoughts down on paper and am keen to hear what people think.
Swaggie. ( Australian slang) A tramp, or itinerant who carries his bedroll, or " Swag" upon his back.
My client loves small craft and has long had an ambition to cruise a very small cruiser that would be capable of blue water cruising from his home on the Southern Coast of Australia. For those not familiar with the area that's roaring 40s territory and there are very long stretches of coast without shelter or refuge. In a storm the best option is to get as far out to sea as possible, close the hatch and get into your bunk but of course few very small cruisers are designed to survive this sort of treatment.
We'd corresponded about ideas for more than a while, and we seemed to have similar ideas if slightly different approaches so I drew a study proposal and sent it off to see what he thought.

Bingo, a cheque arrived by return! Hit the jackpot and rang the bell!

So here is Swaggie!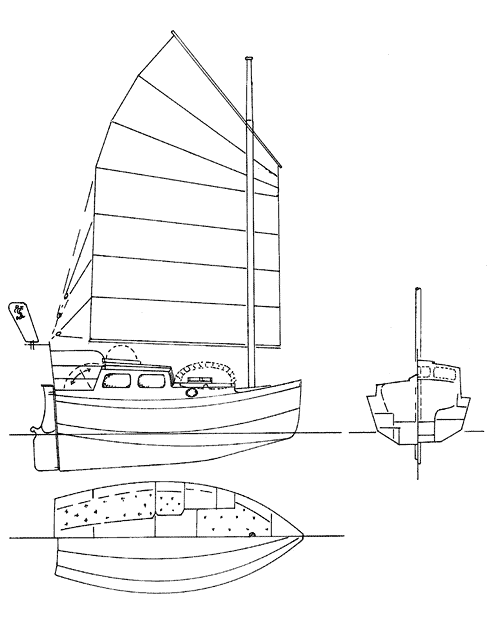 The basic premise of the boat is that she is sailed from inside. Her Junk rig is the key to this, being able to be hoisted, reefed and sheeted from the main hatch means that a conventional cockpit and sail handling areas are not really required. This is a huge help as at less than 18 ft she is not big enough to have both a useful cockpit and a spacious cabin, seeing as she is a cruiser and needs to be comfortable the cabin is the priority.

Her accommodation is as follows,

Double bunk forward, sorry but the big free standing mast intrudes but not too badly. There are large lockers underneath the double and sitting headroom over the after end, a small locker port and starboard, a galley bench one side at the after end of the bunk and a general purpose bench the other.

There is a lot of storage in this area, some needing the bed to be lifted but a lot of it readily accessible.
Aft of that, and still under the low part of the cabin are port and starboard armchairs, really comfortable places to sit when off watch or just relaxing and in a very small area there is enough room for my 5 ft 9in frame to stand a little bent and pull my trousers up.

Step up slightly and there is a single bunk down each side, sitting on here your eye will be up at window level, with 360 deg vision and a view of the sail through the Polycarbonate dome in the main hatch you can sit in here with the inside tiller and be totally sheltered from sun, wind or rain.

Water tanks and extra storage goes in under those bunks and the armchairs, I've allowed for 100 litres of water which is consistent with the boats planned 40 days with 2 persons range.

Her deck layout has an anchor well up at the sharp end, a cabin top organised so that a custom designed 6ft 6in dinghy can be carried on the forward part of the cabin top where it protects the big skylight while at sea, and a flat between the cabin and the transom which is large enough to lie down and stretch out on, or to sit up and steer with the outside ( emergency) tiller if the weather is clement.

She has a permanent pushpit aft which not only reduces the chances of man overboard, but trebles as the mainsheet horse and the self steering vane ( plans will include the vane gear and the linkage to the rudder trim tab).
Her hull form is that which the Houdini has so well proven, a narrow flat bottom, steep deadrise chine panels and well flared topsides, the fine entry gives a nice easy motion and the cross sectional shape gives a gentle roll with very high ultimate righting moment, both safe and comfortable.
Construction is simple two skin ply over sawn frames and stringers, very easy to build and extremely tough, there is nothing here to bother a keen amateur with reasonable tool skills.

Her ballast is 450 kg of lead some 550 mm down below the waterline, and heeled to 90 deg she will lift something like 60 kg with her masthead which is a huge righting moment for a little boat.
Her vital stats are
LOA - 17 ft 6in - 5.2m
Beam - 7 ft 10in - 2.4m
Draft - 2ft 8in - 800 mm
Sail area - 244 sq ft - 22.5 sq m
Headroom - 5 ft 2in - 1.7m
Headroom under dome - 6ft 6in - 2m
Displacement - 2650 lbs - 1200 kg bare ship rigged.
Normal full load displacement - 3850 lbs - 1750 kg
Max safe displacement - 4180 lbs - 1900 kg.

I will be drawing the plans for Swaggie January/Febuary and am looking forward to seeing the prototype in the water.
In the meantime, lets hear it, any suggestions over there on Micro Cruiser, Small sailboats, boatdesign or JWBuilders Yahoo groups? What have I forgotten, what could I do better?
John Welsford.
Designer
jwboatdesigns@xtra.co.nz