Excerpted from Messing Around In Boats
The Race
by Hugh Groth
(click here for more information about MAIB)
It did not start out to be a race. We had no intention of such an activity. It just seemed to happen to us. We had driven north nearly 500 miles the day before and stayed at the nearby Hungry Bear Motel in order to get a relaxing start the next morning, launch our canoe, load the gear, and paddle to Killamey Lake. There we would find a campsite and enjoy solitude and beautiful surroundings. We had been here before, so we knew just what to do and right where we wanted to go. We hoped our favorite site would be available.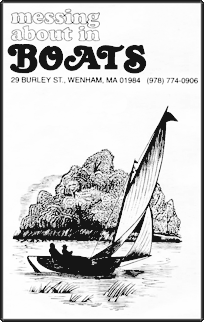 The day was perfect. The sun was shining, there were few clouds, and there would be a light breeze at our back as we began. We arrived at the Visitor Center check-in station, confirmed our reservation, received the usual pack-in, pack-out and can and bottle ban information and were given our specially numbered trash bag. As we were leaving, a young couple drove up with a canoe on their car, clearly with intentions similar to ours. We waved.
A word about our reservation might be in order here. Killamey is a large provincial park in northern Ontario with many clear, beautiful lakes set among pink granite cliffs and white Quartzite mountains. It is a canoeing paradise, with well-maintained (for the most part) portages between many lakes that form a wide variety of lake chains to suit almost any ability and interest. Motors are not allowed.
Most of the lakes are dotted along the shore with widely spaced, secluded campsites. Many of the sites are beyond shouting distance from the nearest neighbor. Known as backcountry sites, you purchase the rights to a site on a lake, or within a lake group. Specific sites are not reservable. You paddle to your destination area and hunt up an unoccupied site somewhere on the lake.
However, all canoe routes in the park are not equal. In some you may not see many mountains and others can have long, difficult portages. The most popular route tends to be to, or through, Killamey Lake, which is clear and stunningly beautiful. That is where we were headed.
Lest this begin to sound too good to be true, you ought to have a little more information regarding the camping. First, there are no docks, often not even a reasonable place to disembark and unload. The lake is very deep, often right up to the shore, and if you make a misstep it will dunk you and swallow your gear without even a thank you. Everything is rock, so if there is wind, which occurs often and is unpredictable in direction, you need to secure your tent with ropes.
At the site there will be an orange identification triangle nailed to a tree, and a box with a hole in the top in the woods behind the campsite. Usually, this box will have no sides for privacy, although it will have a lid to keep the seat dry. There is nothing else.
Bears are frequent in the park, and they know all about human food, although so far we have never encountered one up close. Your food must be secured out of reach of all types of critters whenever you are not about to need it, and especially at night or when you are out on the lake.
We had registered the color of our 18' canoe at check-in. The park apparently uses canoe color to help locate a camper in an emergency. You can see the color of a canoe hull with binoculars when it is on the water, or placed upside down, displayed like a flag, on the shore of the campsite. You need the binoculars because the lakes are large and campsites are spaced as much as 1/4 mile or more apart. Our canoe is white, as were 90% of all the boats we saw.
This information theoretically saves a little time for the rangers, who zoom through the canoe routes as if they are paddling in a marathon, periodically checking on folks like us. I am glad they do. We would be at least eight paddling miles and two portages away from any other help.
We drove to the put-in point on George Lake, unloaded, and secured our van in the lot. Several trips down the steep path to the lake with canoe and gear and we were nearly ready to go. At that point the young man we saw at check-in appeared at the landing with his canoe on his shoulders. We shoved off.
The paddle down George Lake was easy and enjoyable. In about an hour we arrived at the first portage, and as we unloaded we saw the young couple coming toward us, rounding the last point of land. We began to hurry. We did not want to lose a chance at the best campsite by a few strokes of the paddle.
This first portage is an easy 50 yards and relatively level. Although it is rocky, it is well maintained. We were into weedy Freeland Lake in short order, and I picked up the pace. The young couple was right behind us.
The take-out at the other end of the mile-long lake is muddy but wide. The two canoes landed nearly together, and we began to unload gear. Fortunately, I had secured the camp chairs in the canoe. I stowed the paddles, threw the food pack on, and lifted the canoe over my head. My wife took her pack and most of the rest of the gear, but I would have to make a second trip for my large pack.
This portage is about 1/4 mile long, uphill, rocky, and muddy, I took off at a trot with the young man right behind. At the Killamey Lake put-in I shed the canoe and pack and started back on the run. At the Freeland Lake take-out I had not taken time to change shoes, and part way back a strap broke on my sandals. After a slow go for the rest of the trip back I pulled my shoes from the big pack and changed. Now he was ahead of me, but I grabbed the pack and ran back to join my wife, who had the canoe almost ready to go.
There are times when packing light (although not light enough) pays off. We were boarding our canoe while the young couple headed back for a third load. Hurray!
But our advantage did not last. They were fast and gaining on us as we wound our way through the inlet to the main lake and our destination. My wife urged me "Paddle! We can't lose now." I did, but should point out that the young couple appeared to be near 30 years old. We were approaching twice that age. I was beginning to tire.
Finally we made it through the narrows, rounded the last point and could see our hoped-for camp site ahead. The site appeared to be empty. I redoubled my efforts. We had made it. Time for a rest, then unload the canoe, set up camp, and enjoy four days of relaxation,
And the young couple? They seemed to have no idea we were in a race. They had headed off down the lake in the opposite direction.