The Whitsunday Islands, Queensland, Australia.
(excerpted from Ocean Spirit Magazine)
Australia has been called the Lucky Country for many reasons, great cities, the amazing utback, the Tasmanian wilderness and the Great Barrier Reef to name a few. The Whitsundays however are unique, exotic and spectacularly beautiful, one of those rare, unforgettable places, just nature at her best.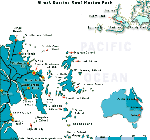 The Whitsundays boasts a diverse range of tropical island resorts as well as the coastal resort village of Airlie Beach. Relax, swim and enjoy the breathtaking ocean views or take advantage of the myriad of activities the Whitsundays has to offer on land, sea and in the air. The sheltered warm waters of the Whitsundays make boating of all kinds irresistible, sail yourself around the calm waters of the Whitsundays or choose a crewed charter and be pampered.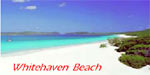 The Whitsunday Coast and Islands are a very special part of Australia. Centrally located on the Queensland Coast 150km north of Mackay and 300km south of Townsville yet right in the heart of the World Heritage listed Great Barrier Reef.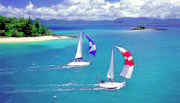 Flights depart most cities daily with direct access to Hamilton Island in the Whitsundays or Whitsunday Coast Airport 45 minutes from Airlie Beach. The sheltered, warm waters of the Whitsundays provide one of the worlds premier sailing destinations.
If you decide to leave your boat at home and fly in why not look at bareboat charter?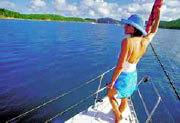 With the largest fleet of bareboat charter skipper-yourself) in the Southern Hemisphere, you are sure to find a craft to suit your needs. From multi-hulls to cruisers to luxury yachts, Whitsunday Rent a Yacht operate out of Airlie Beach and they can cater for every taste, and of Whitehaven Beach course a Skipper and Crew can be provided if this is what you would prefer.
As well as bareboat charter the Whitsundays has a diverse fleet of crewed and skippered sailing craft which take individuals, couples or groups on trips around the coast and islands for 3 to 6 days.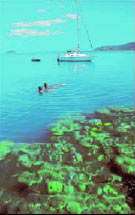 Visitors can also see the magnificent humpback whales frolic in the calm waters between July and September as the pass through the Whitsundays on their annnual migration.
The Goorganga wetlands, stretching south from Prosperpine through a network of creeks and waterholes, are home to a wide variety of native and migratory birdlife. The Prosperpinof Airlie Beach deep into this animal lovers paradise.e River, a major artery in the wetland system, is home to the ancient estuarine crocodile and a favourite spot for anglers chasing mangrove jack, threadfin salmon and the w o r l d - r e n o w n e d barramundi.
Proserpine River Eco Tours operate out or Airlie Beach deep into this animal lovers paradise
About the Whitsunday Islands
You will believe you can see forever. The enchanted islands of the Whitsunday's are a showcase of landscapes, environments and idyllic holiday settings. From the unspoilt vistas of pristine National Parks to the luxury resorts, each island has its own unique atmosphere, style and many magical locations.
There are 74 islands in the immediate Whitsunday region, eight with resorts and all within close range of each other. This number of islands climbs to around 100 if counting the greater Cumberland group stretching south to Mackay.
History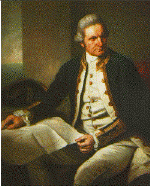 English naval officer, explorer and cartographer of Australia's east coast, Lieutenant James Cook (later Captain) was the first European to make records of the islands in 1770, however it is thought seafarers of other nations passed through the Whitsunday's long before this time in history. Described as the last archipelago to be explored and settled by people of European descent, the islands have a rich aboriginal history stretching back many thousands of years. Cave paintings, stone fish traps and even a flint quarry
remain as evidence of these times. The Whitsunday's were formed around 10,000 years ago, at the end of an ice age, when the sea level rose to flood a vast coastal mountain range. Visitors to the islands today are in fact cruising to the exposed mountain tops of a drowned landscape. The features of today's spectacular island realm range from volcanic mountain peaks of lichen clad stone to deep fjord like inlets flanked in rainforest and dotted with distinctive hoop pines. From steamy mangrove estuaries to sweeps of pure white sand, rolling wooded hills to islets trailing sand spits like flowing golden veils; each corner of the Whitsunday's is more awe inspiring than the next.
Some of the Islands of The Whitsundays.
Daydream island resort & spa: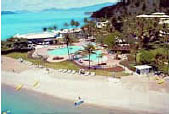 Daydream Island Resort & Spa (formerly Novotel Daydream Island) is a tropical paradise located in the magnificent Whitsunday's on the Great Barrier Marine Park. Daydream Island offers a complete range of facilities to enjoy including the Daydream Rejuvenation Spa. Here, you can enjoy sparkling bays, secluded beaches, live coral snorkelling directly off the island, a stunning rainforest and shaded walkways. These are just some of the islands innate natural beauty and attractions.
South Molle Island
This resort has been a favourite of family groups for many a holiday season. With a refurbished Polynesian feel, the resort offers a nine hold golf course, a popular seafood feast night, beautiful National Park trails and an idyllic palm fringed setting. Aside from activities like tennis, archery and watersports, guests can enjoy fun filled floorshows at night or daily reef and island cruises from the resort's jetty.
Hamilton Island
Hamilton Island is a place to experience everything or enjoy doing absolutely nothing. There are hotel and apartment rooms to suit all tastes and budgets, lots to do and all of it is surrounded by beautiful coral-fringed beaches.
Hayman Island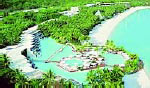 Hayman Island is amongst the world's best resorts. True five star luxury and exceptional surroundings ensure a holiday to remember. On Hayman, the quality of the service is as memorable as the environment in which it is offered....
Lindeman Island
A slice of European flair in the midst of the Whitsunday's, Lindeman is home to Australia's only Club Med resort. The island has a nine hole golf course with spectacular views, walking tracks through some of the best native bushland on the islands and several deserted bays to discover. Holidays are offered as all inclusive packages complete with wine and beer during gourmet meals.
Brampton Island via Mackay

From the greens of the islands National Park, the blues of the surrounding Whitsunday waters, to its seven golden sandy beaches and the coral gardens just off shore, Brampton's style is colourful and easy. This island has a rhythm of its own called the Brampton Beat and there are activities for guests to enjoy at every imaginable tempo - from fast and furious water sport fun, to being flat out doing nothing at all.
Hook Island
Hook Island Wilderness Resort is a popular budget retreat with camping facilities, bungalows and its own underwater observatory. The resort is set amid spectacular mountain peaks and enjoys easy access to excellent snorkelling.
Hook is a favourite of independent travellers and backpackers and delivers all the magic of a Whitsunday island holiday. Activities here include ocean kayaking and the chance to party with travellers from passing yachts. Most of the island resorts cater very well for children with organised fun activities, kids clubs and child minding services.
Club Crocodile Long Island

Club Crocodile offers total relaxation, countless activities and an amazing array of entertainment. Go from doing absolutely nothing to doing whatever you want in a short change of location or a quick change of attitude!
Peppers Palm Bay Long Island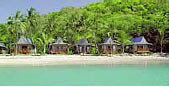 Located amidst the turquoise waters of the Whitsundays lies Peppers Palm Bay, an intimate and secluded tropical retreat. With only 21 waterfront bures, cabins and bungalows, if you want to experience the charms of the Whitsundays without the crowds, then Peppers Palm Bay is for you.
Climate
The Whitsundays enjoy a warm, tropical climate all year round with the occasional tropical shower from December through February. The average temperature is 27.4 degrees centigrade (80F).