"Boating Season" - "Sailing Season"
Let's make sure it's a safe one!
By Wayne Spivak
National Press Corps
United States Coast Guard Auxiliary
Special thanks goes to Stanely J Krol, USCG Auxiliary for
his article "The Boating Season is here" which is the basis for this article.
"Duck Season!" "No, it's Rabbit Season!" "Duck Season!"…
On and on, up and back, those crazy cartoon characters Bugs Bunny and Daffy Duck would yell at poor Elmer Fudd, trying to both confuse him and save their own hides. Ultimately, poor old Elmer would end up shooting both of them, after being shot himself. A very dangerous game, but fortunately it's only a cartoon.
But it's really the boating season again and the United States Coast Guard Auxiliary is busy patrolling your local waters in support of the Coast Guard's recreational boating safety mission. We want your boating season to be not only fun but safe as well.
On a recent Sunday one of our patrols came upon a 12 foot JON boat with one adult and two youngsters aboard. Their motor would not start. All those aboard this small JON boat were paddling frantically into the wind and waves.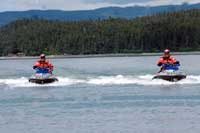 COAST GUARD AUXLIARY: CHARLESTON, S.C. (April 19, 2003)--The Coast Guard Auxiliary extends the eyes and ears of the Coast Guard. Coast Guard Chief Petty Officer Dave Borg (L) and 17th Coast Guard District Auxiliary Commodore Mike Folkerts test drive two new watercraft (PWC) near North Douglas boat launch. The Coast Guard Auxiliary working in Whittierand here are using the crafts for search and rescue. An auxiliary rescue crew aboard PWC's aided boaters in distress and towed their large vessel to safety during the Memorial Day weekend in Whittier. The PWCs are part of a new program coordinated by Folkerts. USCG photo by PAC Roger Wetherell
JON boats are flat bottom boats used in areas where the water is calm. The distance between the water line and the gunnels (the upper edge of a boats side), called freeboard, is normally about 18 inches. When the patrol boat came along side, they estimated a mere six inches of freeboard.
This lack of freeboard was caused by over loading the boat (too much weight), and could have caused the boat to capsize if the wave heights had increased any more due to higher winds. Lesson here: Never exceed the weight capacity of your boat!
While towing this boat back to shore, one of the members of the Auxiliary patrol recounted how an incident the year prior, in the same area, could have easily turned into a fatal accident.
That incident involved a Personal Water Craft (PWC) and some swimmers. When the Auxiliary patrol boat approached the PWC, which was dead in the water, and asked if he had a problem and did he need help, the answer was astounding. The PWC operator informed us that he lost his key overboard and that the swimmers were trying to find it.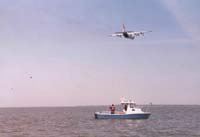 C-130 DROPPING SUPPLIES TO AUXILIARY BOAT: CURRITUCK SOUND, North Carolina (June 27)--A Coast Guard C-130 aircraft drops supplies to waiting Coast Guard Auxiliary craft. Bud Greene
As our Auxiliarist recounted, as they were approaching the PWC, no one remembered seeing any swimmers - so they immediately asked, what swimmers?
The PWC operator pointed to two young ladies treading water about 50 feet away. Just as he said this, a large high speed power boat came roaring between the PWC, the Auxiliary patrol boat with our safety light flashing and the swimmers. Needless to say, a very close call for the swimmers, and one they were not soon to forget.
Lesson here: Use a lookout when underway (it's required by federal law) and as swimmers, don't swim in areas where powerboats transverse. In other words, use some common sense!
Fortunately for this Auxiliary patrol, everyone returned home safe and sound, and hopefully a little wiser. The water is fun, water sports are a great past-time, but the sea is also unforgiving.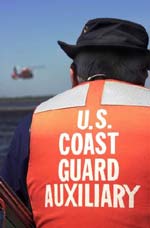 COAST GUARD AUXLIARY CHARLESTON, S.C. (April 19, 2003)--The Coast Guard Auxiliary extends the eyes and ears of the Coast Guard. Auxiliarist George O'Brien keeps a watchful eye on the harbor while a HH-65 helicopter drills with rescue swimmers in Charleston Harbor, Charleston, S.C. USCG photo by PA3 Beth Reynolds
So the best way to participate in water activities, especially recreational boating, is to acquire knowledge, knowledge about the rules of the road, about navigation, about weather and knowledge about the area in which you are boating, commonly referred to as called local knowledge.
The Coast Guard Auxiliary can help you obtain the knowledge you require to boat safely though our many different safe boating classes and navigation courses. Those of you who want to assist both your fellow boaters and the Coast Guard by joining the Auxiliary can continue your education, taking many of the same courses the active duty Coast Guard provides to their enlisted and officer corps.
For more information, contact your local Coast Guard unit located in the phone book or on the web at https://www.uscg.mil or the Coast Guard Auxiliary, located on the web at https://www.cgaux.org.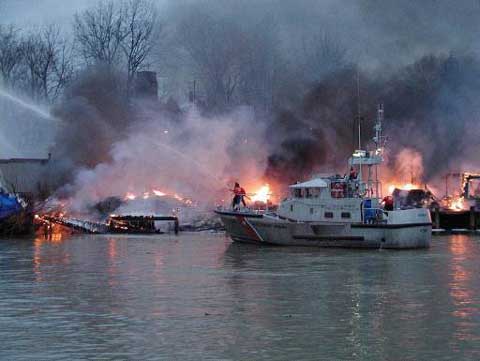 RUNAWAY TRAIN FIRE: ROCHESTER, New York (Dec. 23)--A 47-foot motor lifeboat and 55-foot Auxiliary boat from Station Rochester respond to a fire from a runaway train that exploded with three tank cars and 42 other cars on the edge of the Genesee River today. USCG Auxiliary photo by George R. Taylor