San Diego Wooden Boat Festival
by Shawn Payment
I just wanted to offer a quick report from the 13th Annual Wooden Boat Festival which was held at the Koehler Kraft boat yard in San Diego, California on June 14-15, 2003. Although I've lived in San Diego for 13 years, this is the first time that I've ever attended this event. Now I feel really bad about what I've been missing all these years.
Koehler Kraft hosted the event at their boat yard located on Shelter Island in the heart of San Diego Bay. All of the proceeds were contributed to the local chapter of the Sea Scouts.
With digital camera in hand, I fully intended to responsibly document this exciting event for the benefit of Duckworks readers. Unfortunately, soon after I arrived, I became enraptured by all of the nifty wooden boats and lost all sense of professional "reporter" decorum. As a result, I now have dozens of pictures and only vague recollections about what half of them are.
On the bright side, I did have time to set up and display my trusty mouseboat "Dustspeck" before I completely lost my senses. Over the two days of the festival, I answered hundreds of questions about the tiny boat. I also handed out flyers on how to build a mouseboat and where to find more information (Duckworks included!) so I'm hopeful that this will lead to a rampant "rodent problem" in San Diego.
Frankly, I was amazed by the amount of positive attention the mouseboat received. I was extremely pleased to hear one of the talented Koehler Kraft shipwrights remark that Dustspeck was his "favorite boat in the show". My wife astutely pointed out that a mouseboat's most attractive feature is its "attainability". I suspect she may have a point. Only a very lucky few can ever hope to own one of the meticulously restored classic wooden yachts but just about anybody can own a mouseboat!
On Sunday afternoon, I created quite a stir when I hoisted "Dustspeck" onto my shoulder, strode purposefully down to the docks and plopped her in the water. By the time I had donned my life jacket and stepped off the dock into the tiny cockpit, a group of 50-60 people had gathered to watch. I felt like one of the Wright brothers embarking upon their first public flight. I returned Dustspeck to it's display about 30 minutes later and spent the rest of the afternoon answering questions from those who had "witnessed" my voyage.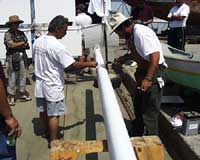 In addition to shore-based and on-the-water display of wooden boats, the friendly folks from Koehler Kraft held helpful seminars on painting, varnishing, sail making, lofting, planking, hull fairing and epoxy application techniques. I was especially interested to learn about Koehler Kraft's efforts to restore and preserve aging wood boats using modern epoxy methods. Many of the processes used to build even a simple mouseboat, i.e. bonding, filleting, encapsulation, filling and fairing were being employed by Koehler Kraft on a much grander scale to save aging wooden hulls that would otherwise be destined for the scrap heap.
One of the highlights of the festival was a "Whiskey Plank Celebration" to honor the shipwrights who completed the re-planking of a classic Pacific Class sloop during the festival. But that's a whole other story. I hope you enjoy the pictures as much I enjoyed taking them.
Enjoy!
Shawn Payment
www.geocities.com/mouseboat51
Click thumbnail pictures to enlarge
A lovely mirror dinghy

"Wisp" A gorgeous Wee Lassie canoe... and it's owner says its never been wet!

"Loafer" - a beautifully restored Herreshoff 12 ½

"Hawk" A classic sharpie based on Commodore Ralph Munroe's "Egret"

A pair of bright Pygmy kayaks built by Scott Copeland

It's a dory... that's all I know

A meticulously restored motor launch for the power
boat types

Wooden boats as far as the eye can see...

Nice little sloop... all I remember is her name - Genivieve

A new teak deck restoration in progress

I think her name was "Freedom"... but beauty makes me forgetful...

a folkboat

Another name remembered... "Élan" and little else...

"Gem"... that was her name...

Sadly, I'm not even remembering their names anymore... just a drooling fool by this point.

The Alden designed "Bluewater II"... just waiting for a sponsor to restore her..

Someone called this a "Spittsgatter"... another restoration project in need of a sponsor