A Catskill Paddle
I've heard that people get a smarter as they get older but in my case that just doesn't seem to have happened. On Saturday I got an e-mail from Garth about a proposed paddle down the East Branch of the Delaware from Roxbury to either Halcottsvile or Margaretville, 5 or 12 miles. Needless to say I said sure and that I was on for Sunday morning. Late Saturday I got an e-mail that the start time was pushed to 12:30, too late for me. I enlisted my friend John and we met at 9. Not being the brightest of persons I assumed that other than a few fast spots the paddle would be on flat water, the top and bottom of which I'd paddled
many times.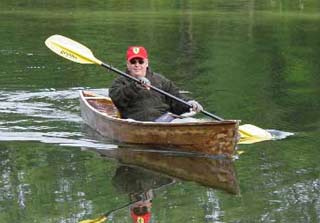 The trip started out perfectly with me pointing out all the great spots to fish for pickerel. About 1 mile in we came to the first rapid, the farthest I had paddled this section last summer. I walked a part of this section and then jumped in my L'il Kate and experienced my first fast water. In truth I was spooked and would have turned around had it been possible. I was just getting the hang of this when we came
to a really tight fast spot, narrower than my 250cm paddle (98"). Not only was it tight but there were branches sticking out and the water seemed to be a venturi. I got jammed and dumped out of my boat.
Remember the shrinkage episode of Seinfeld? Other than my dignity all I lost was my new Duckworks hat. John of course was cussing me big time because he decided to take my 17' Grumman and his friend Collen was with him, and she was not an experienced paddler. (I should add here that they are both 30 years younger than I am)
We were in some really snotty spots and it wasn't long before I went over again, this time losing my sponge and water bottle. At this point the sun started to come out so I felt more comfortable and was learning how to handle my
boat. In fact I started to look forward to the fast water.
When we took a break John and Colleen started to laugh at me. Why? My face was all scratched up and I had an ear to ear grin.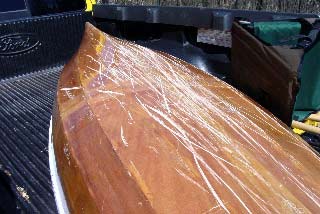 On we paddled, and before we knew it were into the last 1-1/2 miles of quiet water. It was only when the end was in sight that I started to get tired. Would I do it again? In a heartbeat!
Forgot to mention that my wife was supposed to go along but cancelled at the last moment. Very fortunate for me as the scratches on my face might have been more serious.

Steve Fisher