THE HISTORY OF THE DONG NAI
by Hoot Gibson
The sturdy, fast and elegant Dong Nai class gaff-rigged sloop was conceived in the Mekong Delta in Southern Vietnam and perfected along the war-torn coast of Nicaragua. Developed for use by Third World subsistence fishermen, this hybrid of Asian and Western nautical design is now being built, sailed and raced on the Chesapeake Bay.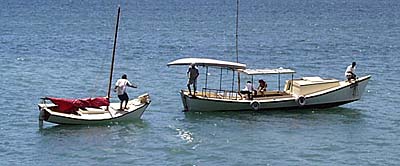 Dong Nai-class vessels in action in Nicaragua --
the craft to starboard is powered by Diesel, rather than the regulation gaff rig.
Bob Means, a Southern California native, is a lifelong, avid sailor. Bob also has an avid interest in helping others. After combat service in Vietnam as a United States Marine in

1967 and 1968, Bob traveled to Central America under the auspices of his church to build medical facilities and housing. There, he met Juliet, a British nurse who became his wife.
Bob and Juliet formed "Vets With a Mission," dedicated to helping the Vietnamese rebuild their country. Juliet and Bob moved to a houseboat on the Dong Nai River in the Mekong Delta in southern Viet Nam and, with other returned vets, worked with the Vietnamese at building hospitals, homes and better lives for those suffering the aftereffects of the bitter, destructive war.
Bob noticed that the local fishermen were severely limited by their equipment -- sampan-style boats

propelled bicycle-style by pedals attached to paddles. Faster boats, able to cover larger areas of water, would dramatically improve the lot of the local fishermen, Bob felt. Working with a local sampan craftsman, and using an illustration from the cover of the British magazine Classic Boat as a guide to the sails and rigging, Means went to work. After much trial and error, the Dong Nai prototype was launched.
Much to the surprise of the locals, this first effort -- christened Gecko -- performed beyond anyone's wildest expectations. It headed up to wind smartly and held steady at all points of sail. It was also extremely fast, easy and cheap to build and operate.
Bob and Juliet left Vietnam to return Nicaragua to help rebuild after the Sandinista/Contra

struggle. Bob saw that Nicaraguan fishermen, like their counterparts in Vietnam, were in need of cheap, reliable boats. Bob launched the Dong Nai Fishing Boat Project in Nicaragua and, with the help of aid funds from many nations, outfitted local fishermen with his design, enabling them to increase their range and productivity.
Bob and Juliet have since relocated to the hamlet of Remlik, Virginia, near Urbanna, on the Rappahannock river. There, at the Remlik Marina, Bob builds and teaches other to build and sail the Dong Nai. The design is proving to be as attractive to recreational sailors as it is to the subsistence fishermen of Viet Nam and Nicaragua.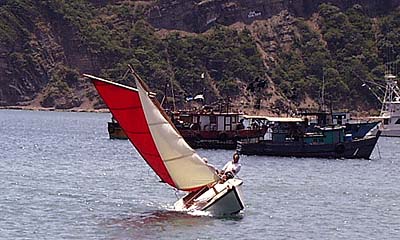 Heeled over in San Juan del Sur, on the southern Pacific coast of Nicaragua.