How do we get away with it is the question most people would ask when told of a three day adventure in the middle of winter that defied the forces of 1. work and 2. weather!
Work is easy, don't go; end of story! and as for the weather that is being able to avoid work at the right time! and on this extremely sunny and fine occasion both Dave Perillo and I got it right. After some planning (some call it scheming) during the previous week we set of on Saturday morning with the usual "gale warning in force" with the plan of heading to the north side of Waiheke Island, in our native New Zealand, for a spot of cruising and relaxing on this isolated and beautiful part of the island. It was not to be because as we sailed down the harbour in the sunny but cool morning the wind gradually increased from the south east until by the time we got to the Motuhue channel Dave yelled out that it was too good to waste in the lee of waiheke so lets go north, getting back might be hard work but lets worry about that later.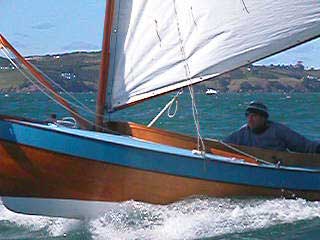 Jaunty goes Surfing
Warkworth is a town known to most by driving past an hour north of Auckland. Most people would not even realise that its connected to the sea by virtue of a long river at the end of Mahurangi harbour (which may be know to a few of you as being famous for its yearly wooden boat regatta). So after negotiating the steep confused chop of 15-20 knots against tide in the channel we turned north for the run to Warkworth. Not much to say for the next 6 or 7 hours except Navigators sure look good planing and Pathfinders sure feel good! It was planing all the way down each and every wave and occasionally over two or three at a time.the chop which had a pretty small fetch was too short and steep for the boats to keep planing so they would climb up the back of the wave in front ready for the next downhill plunge. Occasionally there were a few waves that heaped up together and timed with a good gust, gave a huge burst of speed to keep them going for the next few waves. Exhilarating! Varuna handled it better than I did as there were a few times when I thought I was going to go straight through the back of the next wave at 10 knots but each time Varuna lifted up on her shoulders and got ready for the next sleigh ride.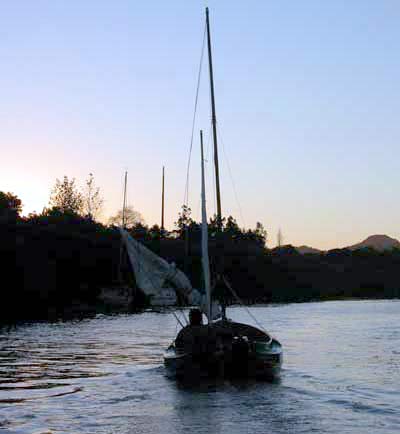 Warkworth River at Dusk
Dave in Jaunty was looking very comfortable with his jib poled out reappearing from behind the waves as we got closer to the Tiri channel. By this time the south east wind swell was colliding with a 2 metre easterly ground swell so there were a few anxious moments as Varuna slewed about not knowing which hill to slide down, but this boat is a better sailor than I so letting her find her own course I kept my eye on the horizon.
Dave told me later he was nursing a headache that made sailing into the bright afternoon glare a torturous experience. But from my view he was looking relaxed and under control as Jaunty with all sails up surfed downhill, the picture of open boat sailing.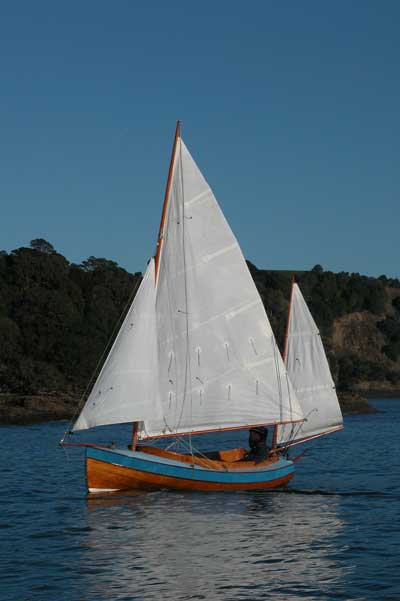 Jaunty
After rounding Whangaparoa peninsula and turning west onto a broad reach I tried to make out Mahurangi harbour which I have not approached from the south before. Eventually Saddle island came into view an unmistakable land mark at the entrance, I was really hanging on at this stage as the wind had filled in to a solid 20 knots plus and with the easterly swell being magnified by the shallow bay conditions were nearly calling for a reef . An outgoing tide at the harbour mouth gave some wind against current fun, but again what a blast as Varuna and Jaunty surfed into the entrance up past Scott's landing where a busload of tourists couldn't click their cameras fast enough at the sight of two classic craft surging down the narrow harbour at full speed, threading their way between the moored yachts. I love those 5 knots signs, I think it is the duty of each citizen to responsibly break at least two laws a day (it makes politicians feel justified) and this bylaw was one I had no choice but to flagrantly ignore as the wind howled directly up the harbour.
Where is Warkworth?
We made the end of the harbour searching for channel markers and as the wind slowly subsided as we turned west and glided up the narrowing reached of the Warkworth river. Its a long way up and pretty soon there was no wind! So after the firing up outboards we both motored up river past interesting looking tributaries and huge yachts moored at the bottom of some fortunate farmers paddock, past boat yards and home made berths in the muddy banks which were more than likely dynamited out in less politically correct times finally on sunset we were in Warkworth town basin which I estimate is 10km or from the harbour entrance. Dave and I went for a walk searching for gas feeling like space men in sea boots Dave clutching a 10 gallon fuel tank and me in all my warm clothes passing of as kind of michelin man meets scarecrow, still the natives were friendly and we got gas and headed back to refuel and raft up for the night.
Day 2
A 5.30 start cruising with the outgoing tide with only the stars and a very cold dark morning for company we motored the glassy upper reaches of the river until it opened out into the mahurangi harbour. Then we felt our way literally out of there with honda churning mud for half an hour and me praying (actually swearing but they are kind of the same at these moments) for water as I did not fancy getting out into knee deep mud of staying there till the next tide. as luck would have it we made it, I could see Dave having similar thoughts, it was very chilly that morning!
By the time we got to Sullivan's bay at the mouth of the harbour the sun was up and a light SE wind was rippling the bay.In no time breakfast was served, hot coffee in the percolator and sizzling bacon and eggs. After a few guesses at what the masses were doing we presumed they were probably at some cafe on Ponsonby road feeling sophisticated and dying a slow urban death.
After a very relaxed start we headed out into Whangaparoa Bay and made for the end of the peninsula. By the time we were in the Tiri channel the wind had dropped to few knots so the decision was made to motor to Rakino Island some 10 kms away.
There was definitely a chill in the air but the disappointment of not sailing was made up for with the now strikingly blue calm sea and awe inspiring views of the Moehau mountain in the Coromandel ranges on a flawless winter morning, the trip was made in an hour or two and as we motored into woody bay on Rakino we could see a few day trippers from Auckland moored in this beautiful bay protected from the southerly winds and obviously enjoying the afternoon sun. An opportunity to dry out some damp sleeping gear and another feast on the beach of fresh coffee, sausages and a bit of ethnic fare, Dave being italian and myself Croatian we swapped a few funny stories, fixed up the world and relaxed for the afternoon. Open boat bliss.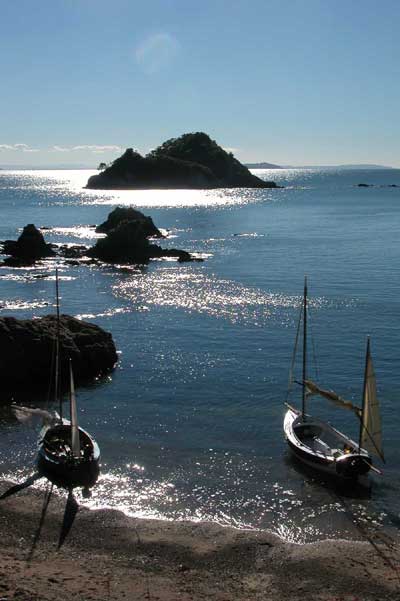 Woody Bay
Before dark we went for a sail to fly Varuna's new gennaker, I was busy rigging up bits of clothesline and tying halyards off to whatever I could find until I had the big gold sail flying. A bit of refinement needed as Jaunty easily sailed past me a couple of times, admittedly I couldn't control it too well with my jury rigged lines and I was trying to point up but Dave assured me it looked great and with a bit of tuning it would be the awesome downhill weapon.
Back in the bay we tried a few spots but the wind was getting in so we headed out into the dusk and around the corner to North East bay for the night. Spread out above was the milky way and below on the water swirling glimmering phosphorescence, which way was up? Sitting out there immersed in nature the values of city living seemed absurd. It's the contrast that helps us appreciate even the seemingly pointless things that go on around us. Open boating is becoming part of my arsenal against getting jaded and waking on a starry morning nestled in Varuna is about the best remedy for that disease. I could tell by the silence interrupted only the occasional rustle of Dave's sleeping bag that a quiet dawn in an open boat is an experience enjoyed by more than one. Simplicity, silence and serenity. That and of course a few attempts at killing fish which wasn't so successful but Dave looked like he was enjoying himself in that fisho kind of way as he alternated between snoozing and throwing baits out from 4 am onwards!
After first light we motored the 10 km to Rangitoto light for a sandbar breakfast of pig n' eggs, steaming coffee and half an hour of sunny relaxation before making the hour long trip to Auckland. It was a pleasure to sit and watch the distant madness in the company of Rangitoto wilderness and a few hungry gulls.
What a great weekend, excellent boats, excellent company, great weather and the promise of more to come.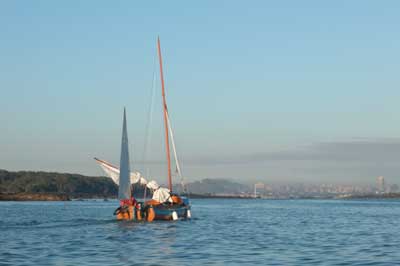 Homeward bound