First Impression:
Delta Shopmaster
WOODWORKERS
18 VOLT CORDLESS
SIX PACK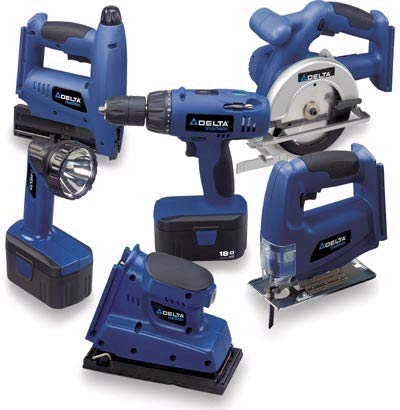 I thought it only fair to share my first impressions of this wonderful new 18-volt tool set from DELTA. Yes I said Delta! The longtime mainstay of American woodworking has entered the cordless market with one of the most brilliantly thought out cordless toolsets I have seen to date. This is not the complete review yet but just a peek at this wonderful tool set before your wish list is finished for this year.
I will be giving a full review soon but this may be enough to whet your appetite until I get down and dirty with these Delta tools. In the review I will test the number of brads the nailer will fire with one battery charge and the number of 2X4's the circular saw will cut. We will find out how long you can sand with the ultra tough 36 grit paper and how many screws this 18 volt driver can sink on one charge. We also will test the new Delta jigsaw and cut 12" circles until the battery gives out in ½" plywood. Lets not forget the dandy light and how long it can let us work after dark. But before that I will let you know what I think of these tools straight from the box.
The box it comes in barely covers the hard black case the tools are safely nestled in. The outer cardboard shows the tools and their specifications in several languages common to the Americas. It tells us that these tools are warranted for two full years and OSHA and underwriters laboratories for safety have approved them. It also makes very plain that this is a wood workers Six Pack. It shows a circular saw, a drill driver, a brad nailer, a jigsaw, a pad sander, a flashlight with a one-hour battery charger and two 18-volt batteries. From the box alone you can tell someone was really thinking about what would be useful for completing a project. By the heft of the box when you lift it you have the distinct impression that these are not toys (at least that is what my wife said). The carrying case weighs a little over forty pounds so when you grab it make sure you have a firm grip. The carrying handle is placed in a cutout in the middle of the case with provisions for a padlock to keep out tiny fingers (children).
The case opens to a tightly compact array of tools, charger and batteries. From left to right the brad nailer is first and I could not resist firing a few of the 1 ¼" fasteners into a Doug fir 2X6 with a large knot to see if the 18 ga projectile would penetrate this obstacle. It did with flying colors! They next tool was the 5 ½" circular saw with the ultra thin kerf blade. You must charge the batteries before any fun so I took that time to mount blades and look over the manuals. I have not used the saw, but it bevels to 50 degrees and has an edge guide for repeating cuts like a lapstrake hull would require. I have used other small circular saws of this type and I have found them to be very convenient. This particular saws fit and finish are as fine as any I have seen so far. But the proof will be in the testing.
The next tool is a wonderful 18 volt jigsaw with a 5/8th" stroke. It is has a variable speed trigger that runs from 0 to 2700 SPM. Just the thing for making corner cuts with a left or right miter to 45 degrees. The only small obvious flaw I can see came or should I say did not come with the jigsaw. The allen wrench used to tighten the blade must come from your own stock because it wasn't in my set. That was my only complaint. Moving on we have the ½" drill driver with a nice hand grip and a very decent twenty five position drive clutch. It has a low and high gear setting and complementary driver bits on each side. With a spirit level on the top 90 degree holes are not much of a challenge any more.
I think this Six pack is special because it also has a third of a sheet sander as part of the nice selection of tools. The sander has a standard on off switch as well as standard paper mounting clips to make easy paper changes. The ergonomic grip feels very comfortable for me and my big hands but my wife says it is a little difficult to hold the sander and to turn it on or off with one hand. I think she just might not be familiar to the power switch but time will tell. The next great tool is an adjustable lamp you can put down, aim it, and then leave it to shine perfectly for hands-free work. It also has an extra bulb under the reflector when you remove it to change the bulb. Last but not least is the diagnostic charger and two batteries. They charge in one hour and in the full review we will see how long they last.
With this compact case and a tool for almost any woodworking job you can see why I am so excited about this particular set. I will put them through their paces in the next couple of weeks and see how well they perform under pressure. If you don't want to wait they are available for sale now around the country. I know my wife keeps asking about the brad nailer so I know these tools will be used in everyday life. If I do not get another opportunity, have a happy holiday season and remember alcohol and boats don't mix very well unless it is the boats maiden launch.
From My Tool Crib To Yours,
John