Almost the same phrase as a famous song by Bob Dylan but wind speed is the culprit. To be fair just about any atmospheric measurement you care to check. I am talking about the line of meters that go by the brand name Kestrel. If you sail, paddle or even use your outboard motor at some point you may want to get the temperature, wind speed or maybe even the wind-chill factor. Nielsen-Kellerman makes these wonderful meters that are easy to carry and actually float if accidentally dropped overboard as sometimes things do. I had a friend who would throw a few shackles into the water each new sailing season, as he would say, "to appease the lost gear gods of the water". I myself still go by the tried and true method of muttering obscenities under my breath. Have no fear with these meters because you can retrieve them as long as you're not on a cruise liner. These meters are meant for our type of sporting in boats.
This brings me to the Kestrel 2000 thermo wind meter that I am reviewing. It is the size of my new cell phone and of course much lighter. It measures wind speed in knots, meters per second, feet per minute, kilometers per hour, miles per hour and the Beaufort force. The impellor is replaceable and starts turning on the slightest breath of air. It is a fascinating device and can measure the exact conditions where you are. It can also track maximum wind speeds or even average the wind speed. It reads temperatures in either Celsius or Fahrenheit and in any way you desire. It is built to be used and has a handy cover that slides down the lanyard it is attached to. When you are finished you can slide the cover back over the unit and hang it around your neck or store it on your boat in the manner you feel is the correct way for you.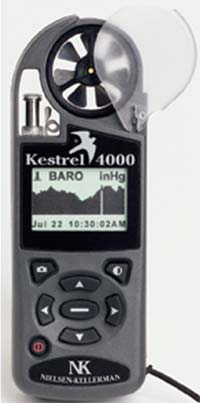 I have used the meter from the summer into the winter weather we are now having and it has snowed a lot out here in Oregon already. I watch the wind whipping through the trees and all I have to do is step outside and measure it t within +/- of 3 percent of the reading. It can become addictive to use and I don't know how I got along without one.
That is just the second meter in a line of four. The Kestrel 1000 measures the wind without temperatures. The Kestrel 3000 is the only handheld meter that measures relative humidity heat index with all of the features of the Kestrel 2000 and dewpoint temperature to boot. So you don't wake up in the morning soaked from sleeping in the bottom of an open boat as I have too often.
The instrument I wish I had is the Kestrel 4000. What a machine! It is a 21st Century weather station you can fit inside a pocket! All you will be missing are the satellite photos and you could be an on-scene weather man (or woman). It can show you the information in charts or graphs and reads eleven major weather environmental conditions. You have altitude density, relative humidity, wet bulb temperature, altitude, barometric pressure, dewpoint, wind speed, wind chill, temperature (maximum, minimum or average), and even a heat stress index. You can put in up to 250 multiple chart type readings of different things and it will store them with the exact time they were taken. It even stores them should the meter shut down. Guess what, it even has a PC interface so you can upload the data and print out charts and graphs.
It is the best small weather station for the cost of any made and you can use it in a dingy or super yacht. These meters are not just for the rich anymore. If you can build a boat nowadays you can own a Kestrel. Ordering one of these jewels is made very easy. You can call toll free 800-784-4221 or fax your order to 610-447-1577 or email at kestrel@nkhome.com Call for a brochure or go to www.nkhome.com and see these meters for yourselves.
I have even seen custom shooting programs that hook up to the Kestrel 4000 and use it's information to find the off-set so the super scope can make the bullets hit their target the first time and every time at 1,000 yards. The scope uses a PDA with the Kestrel 4000 hooked up to it. This Kestrel is used to register wind speeds along with other weather information by some television stations. They quote them in on-air reports from different remote locations. For the job they do, these instruments are the most accurate handheld devices ever made. I am positive that many other applications for their use are available for boating and sailing.
I am buying the Kestrel 2000 that I tested. That is the highest rating I can give any device. I really like the accuracy they have. I hope you look at these instruments and try one yourself. You can know exactly what the wind chill factor is when sailing this spring. Most people call me crazy for boating in early spring. This year I can make them really cringe when I give them the wind speed and temperature. Use this link to see all of the many features.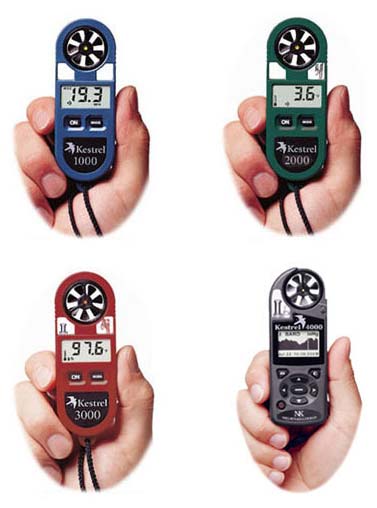 Available
Functions

Kestrel
1000
$89US

Kestrel
2000
$119US

Kestrel
3000
$179US

Kestrel
4000
$329US

Wind Speed

Max
Wind Speed

Average
Wind Speed

Temperature

Wind Chill

Relative
Humidity

Heat Stress
Index

Dew Point

Wet Bulb

Altitude

Density Altitude

Barometric
Pressure
From my frozen wet tool crib to yours,