Do you feel your children are adrift?
The Naval Sea Cadet program may be the answer!
By Wayne Spivak
National Press Corps
United States Coast Guard Auxiliary
Do your children seem to be lost, and without direction? Are they have trouble focusing; in school, and at home? Do they have too much free time and energy, without a meaningful place and rewarding place to funnel their energy?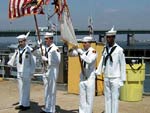 While most of our communities provide many excellent programs for young adults, many programs are limited. Some are only for males, while others for females. Few are truly co-ed. However, one program you should look into is the Naval Sea Cadet program.
This unique program is actually a combination of two different entities, both run by the same parent organization. The first program is the United States Naval Sea Cadets Corps (NSCC) for those 13 to 17 years of age. This federally chartered organization is administered by the Navy League of the United States. The second program for the younger set, is called the Navy League Cadet Corps (NLCC). This program is for those aged 11 to 13.
Both programs have similar goals; to develop an interest in the skills of seamanship, the virtues of good citizenship, and morals. These virtues include avoidance of alcohol, drug, and gang related cultures. The final value set is based upon those used by the military; honor, respect and duty.
History of the Sea Cadets
Originally, the Sea Cadets was the idea of the Navy Department. Since the Navy was unable to actually run the program, they turned to the Navy League who founded the Naval Sea Cadet Corps in 1958 to "create a favorable image of the navy on the part of American youth." In 1962, Congress federally charted the program. In 1968, the Navy League approached the Coast Guard to become a co-sponsor with the Navy, which began officially in 1969. Since that time (now almost 34 years) both military organizations have hosted the NSCC.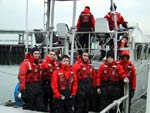 The NSCC is based on a local unit (called a Division) philosophy, where training ("drills") are conducted. Entering Sea Cadets are sent to either the Navy's Recruit Training Command or a regional recruit training site for a two-week "mini" boot camp. Here, the Cadet learns about military life, discipline, naval history, core personal values, water safety, and begins to build an esprit de corps, which in turn, begins to help the Cadet to focus.
Training Opportunities
Cadets are led by a Corps of adults that are recruited from both civilian, and military (active duty, reserve, retired or other military) life. These adults pass a background check and they themselves are required to attend several basic, intermediate and advanced Officer Professional Development courses. While both the adults and Cadets wear Navy-like uniforms, and hold naval-like military titles, they are not part of the military, and receive no pay or allowances. However, both adult and Cadet, while in or out of uniform, required to observe military courtesy (and while in uniform receive said courtesy) and the values inherent in the program.
Training received by Cadets can take many forms, since both the Navy and Coast Guard have large number of missions, and training opportunities. These opportunities include training at Navy or Coast Guard facilities, and on assets of the respective services. Assets, in military jargon includes ships, small boats, and aircraft; depending on availability.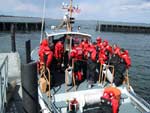 "The Coast Guard offers the best platform for both learning and doing in the NSCC," says CAPT Michael D. Ford, USNR (Ret.) the Executive Director of NSCC. The reason for this is that "the Coast Guard vessels are usually small, and active. The Cadets get to handle lines, plot courses, and work side by side with the Coasties."
"Naval ships are usually much larger", explained CAPT Ford, "and thus while more exciting, the hands-on potential for the Cadets is also more limited." In either case, whether the NSCC unit is located with the Coast Guard, the Navy, at a sea base or a land base, "the NSCC offers a lifestyle that is beneficial to all Cadets."
As a Cadet grows with the program, more and more training opportunities become available. And what's nice about this program, is that most of the costs associated with training are borne either by federal funding or other grant funds. Some of the advanced training courses provided in 2001 and 2002 include: Rescue Swimmer Classes at NAS Pensacola, FL, Amphibious Operations training at the Naval Amphibious Base in Little Creek, VA, SEAL Orientation, sailing classes, working slots on over 400 Coast Guard Cutters, Bases and Stations.
Life in the NSCC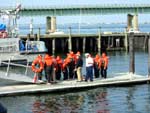 I recently paid a visit to the Liberty (AGTR-5) Division (https://www.libertyagtr5div.org/), located at Coast Guard Station Fire Island, just a mile or so from the famous Fire Island Lighthouse, Babylon, Long Island, NY. There I watched as the Cadet Company go through a training rotation.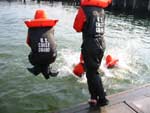 Fire Island Coast Guard Station has a broad based complement of boats, from small 20' RHIB (Rigid Hull Inflatable Boat) to a 47' Motor Life Boat. For those who have seen pictures of the Coast Guard vessel flying through rough surf, this is the vessel shown. Its most unique characteristic is that it's self righting. In other words, should it overturn, the vessel will turn right-side up again in 8 seconds).
This morning, the Cadet Corps was learning what it is like to don, use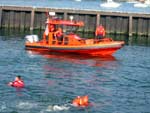 and float in Survival Suits. Each Cadet was required to put on a Coast Guard Survival Suit, jump into the water (it was 58 degrees), and swim approximately 300 yards. According to LT Americo (Rick) Aimetti, NSCC, "...the reason for this particular training event was to familiarize the Cadets with what its like, in the cold water, should they be thrown overboard during a mission on a Coast Guard Vessel. In addition, they needed to feel safe, comfortable in both the knowledge that they could put one on, and that the Survival Suit will help them keep warm and most importantly, float!"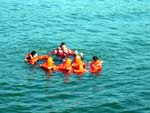 During this training evolution, these young men and women were under the close eye of two Coast Guard swimmers, who were in the water, and a RHIB; standing by 10 feet away. On dry dock, were another six pairs of eyes, those of the NSCC Adult leaders. As we stood on the wharf, we heard shouts of laughter, and other noises of glee that you would hear at any swimming pool where children played. But you also heard educational statements made, such as "gee, my feet are frozen", or "wow, I can just lie here and float."
Leadership by Example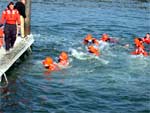 The adult leaders of this particular NSCC Division lead by example. And, according to the United States Naval Sea Cadet Corps and the Commanding Officer of Coast Guard Group Moriches, they distinguished themselves on Sunday, August 2nd, 2002. On this day, Coast Guard Day, while working with the Sea Cadets, LT Aimetti and LTjg Dante Laurino helped save the life a member of the United States Coast Guard.
Do to their quick actions, they prevented a Coast Guard Petty Officer from further injury as well as maintained an open airway to insure that the Petty Officer could breathe. In appreciation of the quick actions, they were both awarded the Distinguished Service Ribbon, as well as a Letter of Appreciation from the Coast Guard.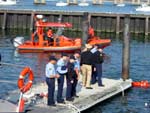 What is unique about LT Aimetti and LTjg Laurino, as well as most of the other adult leaders of this Division, are that they also members of the United States Coast Guard Auxiliary.
Leadership by example, Inculcation of values, and Education: This is what the US Naval Sea Cadet Program is all about.
Scholarships and Awards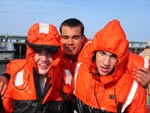 All Cadets are eligible to apply for scholarships to help defray the costs of their college education. In 2001, 149 scholarships were awarded and in 2002, a total of 162 different scholarships were awarded. In 2001, $160,000 went toward higher education, while in 2002 $175,800 was provided.
The NSCC is dedicated to providing the structure and the focus for their Cadets to compete in both academia, as well as the workplace. The discipline learned in the Corps enables the student to adhere to the dictates of proper work-study habits, which help to increases their grades, and their success.
Cadets are also able to win awards for personal and unit excellence. These awards both highlight and commend superior performance and leadership, but provide a litmus test within the local units, as well as the Corps for what traits make a successful Cadet, and citizen. Some awards come with monetary grants, others with plaques and ribbons.
Regardless of whether the Cadet gets a check, a ribbon, a medal or a certificate, they have received a public "that-a-boy/girl" for obtaining a higher level of achievement. For many, it is their first time being told how well they have performed, in such a public manner. For all, it's a badge of honor.
Like the Boy Scouts and Sea Scouts, there is one position which is the pinnacle of achievement in the Sea Cadets. The Boy Scouts have Eagle Scout., The Sea Scouts have Quartermaster, and the NSCC has Chief Petty Officer. In 2002, there were only 55 Naval Sea Cadets promoted to Chief Petty Officer. For it was their commitment to the program; the average of 64 days of training, as well as passing of a series of tests; which clearly placed these young men and women among the crème de la crème of the Naval Sea Cadet Corps.
Life after the NSCC
A life of service doesn't end for many Cadets, after their 17th birthday. For some, they apply and receive acceptance to one of the military academies, for others its Officer Candidate School after graduating from college. While for others there is enlistment in one of the services, or joining the Coast Guard Auxiliary.
In 2002, 575 Cadets were tracked entering some service related institution. According to CAPT Michael D. Ford, USNR (Ret.), "these figures are low, since many Cadets leave the program prior to the 17th birthday, and are no longer tracked by the Navy League." In any event, America's Sea Services and America itself are better off, since those who do join the service or continue on in civilian life, have developed the skills to be a good citizen.
For more information about the Naval Sea Cadet Corps or the Navy League Cadet Corps, you can contact them at 703-243-6910 or at https://www.seacadets.org/. For more information about the Navy see your local recruiter or find them at www.navy.mil. For the Coast Guard, again see your local recruiter or go to https://www.cgaux.org/, and the Coast Guard Auxiliary can be found at https://www.cgaux.org/.