| | |
| --- | --- |
| | Laying out tires and strongbacks to roll the boat onto. |
| | Carrying the boat out of the barn. 1400 lbs. or so, and with 18 people lifting, it came up like a little kayak. |
| | Positioning the boat for the rollover. |
| | The audience. |
| | The rollover begins. We have three ropes rigged around the branches of a nearby tree, attached to the bulkheads by big C-clamps, to slow the roll. |
| | Almost there. |
| | At this point we worried about the bottom kicking up toward us, but it didn't. |
| | Then it was just a slow, safe process of inching it down by slacking on the safety lines. |
| | It's a right-side-up boat! |
| | All aboard! |
Not pictured here is when we half-lifted, half dragged it back into the barn. And then the big picnic.
Cap'n Ryan scans the horizon for pirates. The kids all got into the boat and played for hours. It's very roomy in there.
They pretended to sail to Coney Island, Block Island, and England.
Isabel and Rose woke up Sunday morning and insisted on having breakfast in the boat, with their horses.

It was a great day, and it never would have happened without the help of this incredible group of strong friends.
With enormous, eternal gratitude to the flipping crew:
Wayne Ford (Master and Commander) & Julie & Marisa
Carl Pickhardt & Barbara Johnson
Steve Finch
The entire O'Brien family: Tom, Laura, Kelsey, Ian, and Molly, and Lucas "Moonface Martin" Flachs
Steve & Renee Fisher
Mark Pilato & Carmen & Guyaton
Brandon & Sara Laughren & Ryan (on Sara's birthday!)
Thurston & Alicia & Cheyenne Liscom
Lenny Millen and Ivan
Big Anthony Camillone, Lori, Joey, and Andrew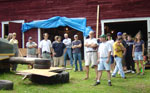 I hope I can repay this favor to each of you,
Garth
And special thanks to the strong women of the Golden / Battista family -- Lilly, Isabel, and Rose.

Plans for Cormorant are available from
Duckworks Boat Builder's Supply