Rachel's Cradle
by Brian Anderson
Rachel, our little girl arrived a couple of weeks early, on June 7. She is healthy and happy. (Although her mother is out shopping right now and Rachel is strongly and loudly of the opinion that she should be eating instead of posing for pictures and supervising the writing of this story. One might even call it a mutiny, emotions are currently running so high.).
I had built a cradle boat at the in-laws' place in France in the spring. Back at home in Cologne, Germany, we found a store with a good foam that was certified not to release any chemicals in the air or through skin contact and had it cut into a mattress from a pattern I cut out. The only hold-up was something to put it on. Valerie rejected the idea of davits, so I settled on a simple stand.
I was reluctant to turn the living room into a woodshop yet again though, and while I was dithering, Rachel came two weeks early, and it was too late to build anything in the flat. For the first month, I used some fairly grotty old saw horses I had lying around. But these were frowned upon by the mother in law when she turned up a couple of weeks back. Luckily I have been helping some friends to build a loft-style apartment inside an old printing shop, and one day I dragged the tools and some wood over and put together a base for the boat bed that I ended up being pleased with.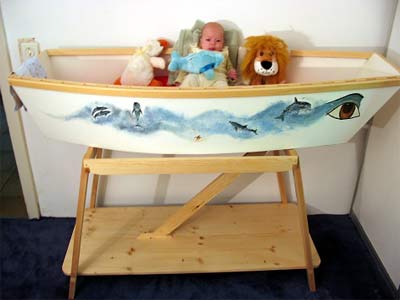 Rachel Helene Anderson in bed with her friends the dolphin, the duck, and the lion.
The only slight hitch was the diagonal brace. When I got the whole thing together, it turned out to be a little wobbly. I considered plywood gussets between the legs and the pine pieces in front and back, but I didn't think they'd look that good, I wanted to finish in one day, it was too late to go out and buy some plywood, and so I made use of a couple of scraps and put in the brace which stiffened things up nicely without looking too out of place, I think.
The legs and the cross pieces that hold the boat up are in beech wood. The stuff is really expensive here as finished wood, but snooping around a DIY store here, I noticed some beech sawhorses for sale for about $5. If you just bought the wood it would be more like $20 for each horse, and so the legs are each one half of a sawhorse, only pegged and glued together instead of bolted. The pieces across the front and back and the diagonal brace are in pine, and the shelf at the bottom is commercially scarfed-and-glued spruce. The whole project (boat and stand) probably ran about $125, mostly because the plywood here is essentially marine plywood, good, even laminations, mostly waterproof glues and no voids that I have ever found, and it costs about the same.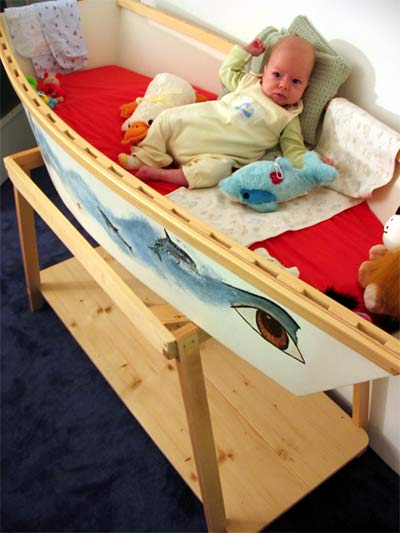 I figure that once she has grown too big for the bed, I can buy a big piece of plywood or a another big plank glued up out of beech and make the stand into the base for a desk or a table and the bed will become a toy box or perhaps a wagon.
Cheers
Brian Anderson