Percy Blandford's BK18
By David Wallace
Like many people who get bitten by the boat building bug, I decided I had to have a go at a SOF kayak. After talking to many people on one hell of a lot of E-groups and forums I was directed to Clark Craft and the BK18 by Windwalker from the Backwoods_Epitaph e-group.

The BK18 is a very beamy, very stable open deck style kayak reminiscent of the old time folding kayaks. It paddles very well and handles the wash from ski boats with out a problem. It makes a very stable fishing platform and is probably the easiest kayak to paddle for the effort that I've used while still being stable enough for me to stay upright [I have paddled easier kayaks but couldn't stay upright long enough to enjoy the ride].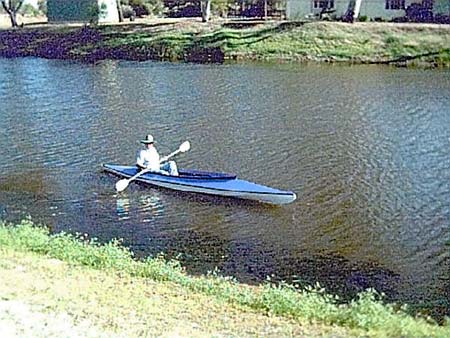 Once again the problem of material availability raised it's head. A trip down to Emerald, Australia got me a sheet of 1/2" ply to use for the frames and I picked up some Maranti to use for stringers as well. Next on the list was Canvas. I ended up having to order a painters drop sheet as the only means of getting canvas that wasn't going to break the budget. I had to order it and pick it up a fortnight later. I found that copper or bronze tacks aren't readily available in Australia. I rang every supplier that I could find but no go and I ended up ordering direct from ClarkCraft in the USA.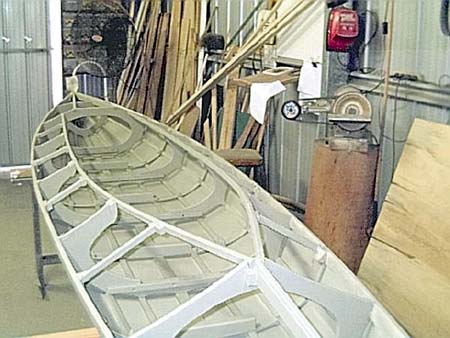 The BK18 plans are pretty straight forward with no real difficult bits. I probably went overboard with the number of coats of paint I gave it but I do tend to over-do things at times. As a trial I had a go at standing up in it and was able to do so without taking a swim which is no mean feat for some one of my size and lack of balance. I didn't stand up for long and got my backside firmly back on the seat ASAP. I know my limitations.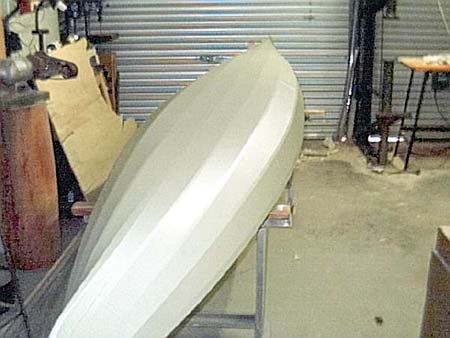 As I've said before I'm extremely impressed by how well it paddles. I tried it out against a mate's U-beaut Plastic Kayak and the BK18 out paddles it [much to the mates disgust], but then again the 17 ft length of the BK18 over the 15 ft length of the mates plastic kayak may have something to do with that as well.

All in all I'm impressed and would recommend the BK18 to any one looking for a large, roomy, stable SOF canoe for camping, exploring or just plain messing about.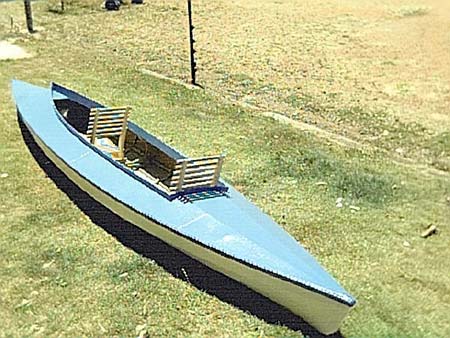 The plans come with additional sheets for a sailing rig that from all reports works quite well. I did build the sailing rig but for some reason every time I fit it to the kayak the wind dies immediately. This is probably a good thing as my past attempts at sailing have all resulted in me ending up in the water with a very nasty bruise on my head.