I thought I'd send a mini article on the third most beautiful lake in the world (Torch Lake) with my freshly finished Calypsee - the glass-bottom boat that had the revolutionary epoxy laminating trick with polyester film, the article of which appeared here a while back. I've included some pictures.....
| | |
| --- | --- |
| Turquiose water paradise is not just for the lucky duckies who cruise to the Keys or the Bahamas - try Torch Lake in NE lower peninsula Michigan. Rated by National Geographic Magazine as the third most beautiful lake in the world, Torch creates the ultimate romantic color marriage of red ribbon-stripe mahogony set on aqua water. | |
| | |
| --- | --- |
| | I finished "Calypsee" (electric launch of my own design, with underwater Lexan windows) this past spring, and have been boating all summer without tiring yet. On our yearly vacation to Michigan, we couldn't pass up Labor Day at Torch Lake, where its known to have over 500 boats hangin' out at the famous torch lake "Sandbar", a huge area of shallow sandbar the size of a few football fields that is between knee and waist deep. |
| | |
| --- | --- |
| In this aerial photo, you can see how big the sandbar is by the little dots that are boats. | |
| | |
| --- | --- |
| | Its so cool to see volleyball nets set up in the middle of the lake, people tossing horseshoes at stakes driven into the sand, and little kids and dogs frolicking in water that's not over their heads - not to mention pulling pretty boats while feeling the sand under your feet. |
| | |
| --- | --- |
| Its absolutely dreamlike to messabout in water of this color. | |
| | |
| --- | --- |
| | Speaking of sand under your feet, here is a picture of the sand through my new, three-foot long underwater window that I just cut into the hull. |
| | |
| --- | --- |
| Awesome underwater viewing through this window this summer like the bluegill here. | |
The following collage includes detail pics of the finished aft sections of "Calypsee" (named after Jaques Cousteau's good ship the 'Calypso') with the doors covering the electric motor steering chain and the removable swim platform I just made. The interior of the doors are veneered with African Satinwood (naturally canary yellow wood) and I made glass door pulls for them as well.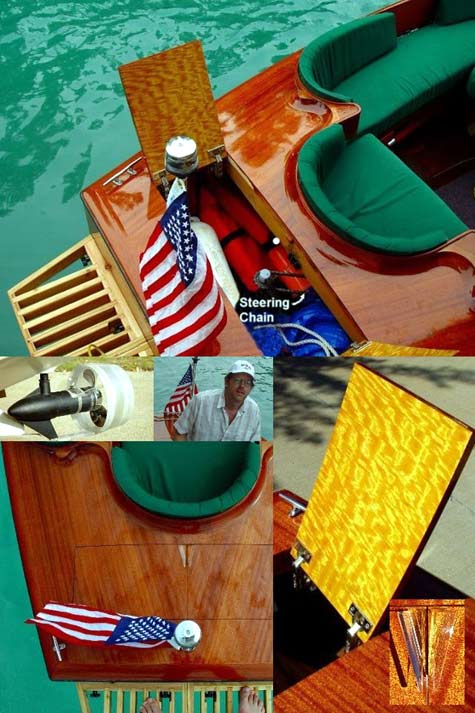 More info on Calypsee's construction at:
Hope you get to see this lake someday!

Takiteasy - John Blazy