I decided some time back I needed a bigger boat for fishing. My kayaks were fine for many kinds of fishing but when you want to take a few crab pots along or throw a cast net they just don't do the job

After looking at all the designs that were available, I figured the Michalak designed Jonsboat was just what I needed; easy to build and plenty of room. I had a old 15 hp Johnson and figured that would be fine for it. I was able to find a hardware in Mackay, Australia [300 km away] that had Marine ply at a good price. I got the plans from Chuck at Duckworks - ordered the Fibreglass cloth and epoxy from Boat Craft Pacific. The only changes I made to the design is I went thicker in the sides.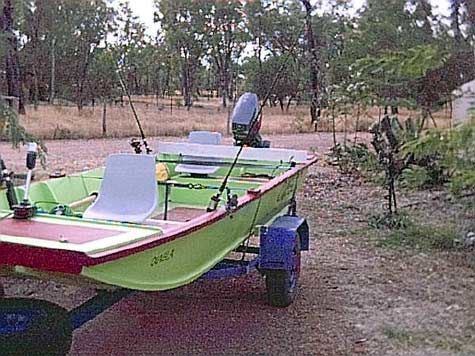 The plans were easy to follow and the boat went together quickly. I probably spent more time sanding and painting than actually building it.

I was able to buy a cheap Dinghy on a pretty good home made trailer for $50. I cleaned up the dinghy and repaired it and sold it off. I only really wanted the trailer. With a bit of welding, redesign and painting plus some new tyres and bearings it was ready to take the Jonsboat.

The first launch went well for the most part except for it developing a problem with the motor. For the second run we put my brother's 25 hp mariner on and it went like a bloody rocket. With my wife, brother, dog and myself on board, it was going 40 km per hour according to the GPS and wasn't on full throttle. At that stage I chickened out and wasn't game to take it any faster [don't like speed on the water, having been a passenger in a few boats that have hit obstacles in the water sort of took the fun out of speed for me].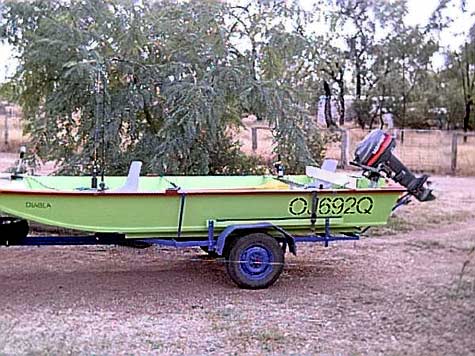 It handles short sharp chop very well and was a very smooth ride except for a little oil caning with the chop. My brother took it out later by himself and took it out to full throttle and it bloody flew; too fast for me. I don't know how fast it goes one up - my brother doesn't know how to work the GPS and I'm not game to take it flat out [yeah, I'm a big chicken].

As far as a fishing platform, it's ideal. There is plenty of room for crab pots, great for casting a net and when I add a rail up the front, it will be ideal for bow fishing as well.

When fishing the shallow, narrow mangrove creeks this boat is ideal. It has very shallow draught and when the water is too shallow for the motor or oars, you can pole it very easily.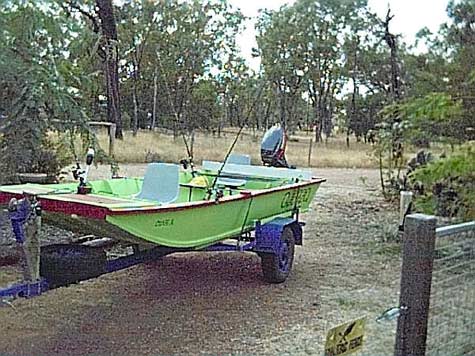 This boat gets a good response from every one who sees it.

Am I impressed with the design? Yes I am.