A Tale of Two Boats
By Wayne M. Torry
While waiting for my granddaughter to select books from her summer reading list, I bought the current issue of Small Craft Advisor. Later that day I read about the current design contest: design a camp cruiser for Puget Sound, cost not to exceed $2,500. I am not a boat designer. Entering a new design of my own is out of the question. I do have more than a passing interest in cruising Puget Sound and farther north. I also hope to build a boat of my own someday. That is when the light bulb flickered faintly in my brain.
"I wonder which existing designs might meet the contest criteria?"
One design was easy: John Welsford's Tread Lightly. This little boat fascinates me. A minimum solo coastal cruiser. Simple, light, easy to build and hopefully not too expensive.
I selected John Welsford's Walkabout as a lower cost option. If Tread Lightly went over the contest budget, perhaps Walkabout would qualify.
I admit to knowing that prices for plans, sails and epoxy supplies were available on the Duckworks web site. This would make pricing easier. If I were to actually build one of these boats, I would certainly rely on Chuck for plans and supplies. One other advantage was a materials list for Tread Lightly posted at Duckworks. I plan to use that to estimate costs for both boats.
For those who aren't familiar with the two boats, here they are: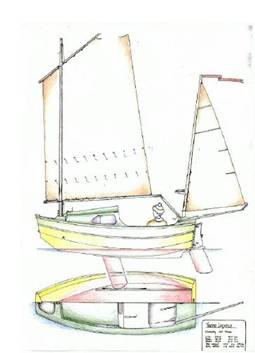 LOA - 4.0M - 13FT
BEAM - 1.5M - 5 FT
WEIGHT - 300 KG - 661 LBS INC C/BOARD
DRAFT - BOARD UP - 0.20M/8IN
BOARD DOWN - 1M/3FT 3IN
SAIL AREA - 11.5 SQM - 123 SQFT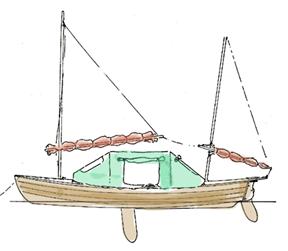 LOA - 5M; 16FT 2IN
BEAM - 1.5M; 5FT
WEIGHT - (approx) 92 KG; 200LBS
SAIL AREA - 7.5 SQM 80 SQFT
Turning to the Internet for prices, I used Duckworks for the epoxy kit and sails. Using the Tread Lightly bill of materials for both boats, I went to Harbor Sales for Douglas Fir Marine Grade plywood prices. I chose Douglas fir plywood to make use of materials available in the Puget Sound area. I feel that using local materials whenever possible is the best route to take. I also picked Douglas fir for the structural lumber. If I were actually building one of these boats on Puget Sound, I would use the best combination of price and availability for materials. George Kirby's paint, of course. Since I am 2,000 miles away, the estimates I am using are high. However, these prices are valid for someone building just about anywhere in North America.
The major components are:
| | | |
| --- | --- | --- |
| | Tread Lightly | Walkabout |
| Plans: | $125 | $165 |
| Epoxy, etc. | $156 | $103 |
| Sails | $563 | $323 |
| Plywood | $726 | $550 |
| Lumber | $240 | $240 |
| Paint | $50 | $50 |
| Ground tackle | $100 | $100 |
| Rigging | $200 | $150 |
| Safety equip. | $100 | $100 |
| Canvas cabin | | $500 |
| Misc. | $240 | $219 |
| TOTAL | $2,500 | $2,500 |
Many of you are probably screaming, "I can build those boats for a lot less money." No doubt you can. This is, after all, a pre-construction estimate. It is purposely high. I know the estimate for plywood and lumber for Walkabout is high. You will also notice the very liberal Misc. entry. This should cover any materials, line, blocks, etc. that I have overlooked.
The good news is that it looks like either of these boats meets the budget limit for the Design Contest. There is no doubt in my mind that either boat would be suitable for the waters of Puget Sound and all the way up the coast to British Columbia or Alaska.
Good luck building and happy sailing!