Coast Guard Auxiliary Rescues Navy Seal
Oswego, New York - United States Coast Guard Auxiliarists, America's Volunteer Lifesavers assisted the United States Navy at a recent harbor festival, held in the historic Oswego harbor, on July 31st.
During the aviation portion of the official festivities of Harborfest 2005, Navy "Leap Frogs" left their aircraft and began to parachute down to the designated coordinates.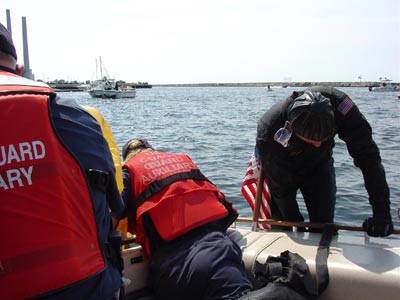 Auxiliarists Rob and Deb Somers and John and Margaret Martin were on a safety patrol at the outer edge of the safety zone.
Two of the Navy Seals missed their mark, and landed just short of the Maritime Museum pier, in the harbor. The Seals were not intending to make a water-borne landing.
Coxswain Rob Somers and crew immediately responded and were able to assist one of the Seals into their vessel. A New York State Park Police boat was able to retrieve the other Seal.
The danger to the Seals was their parachutes. Should they have completely submerged, it would have pulled them down into the water, possibly drowning them. Both rescue boats were able to retrieve the chutes and their lines without endangering both the Seal, and their vessels.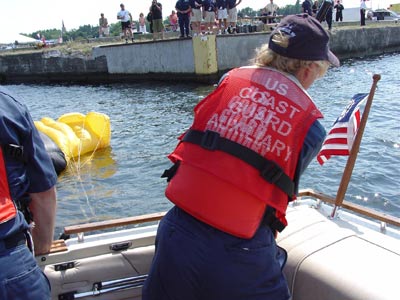 There were no reported injuries.
As with all sports, careful planning pays off, and in this case the Auxiliary was part of the safety plan.
The United States Coast Guard Auxiliary is composed of uniformed, non-military volunteer's who assist the Coast Guard in all of its varied missions, except for military and direct law enforcement. These men and women can be found on the nation's waterways, in the air, in classrooms and on the dock, performing Maritime Domain Awareness patrols, safety patrols, vessel safety checks and public education.
The United States Coast Guard Auxiliary was founded in 1939 by an Act of Congress as the U.S. Coast Guard Reserve and re-designated as the Auxiliary in 1941. Its 30,000 members donate millions of hours annually in support of Coast Guard missions.
For more information on the United States Coast Guard Auxiliary, visit us at www.cgaux.org.