"A Visit to the Windermere Steamboat Museum"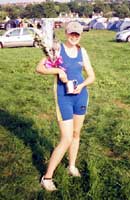 While on holiday in the Lake District, Hannah (photo at left) and I made a visit to the Windermere Steamboat Museum. Nestled snugly into a small bay on the eastern shore of Lake Winderemere, the museum is home to an extensive collection of steam, motor, paddle and sail powered craft with ages ranging from the early eighteenth century almost to the present day. Whatever your interest in water-borne transport, there will be something here to wet your appetite and there is even an opportunity to take a trip around Belle Isle aboard a steam yacht, a journey of a little over half an hour. The collection is far too extensive to go into in detail, but I hope the following photos will give a little insight in to this excellent museum.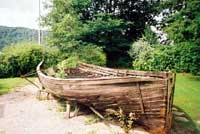 This fascinating craft was, until 1940, a ferry carrying carts, horses and goods across and around the lake. Built around 1870, Mary Anne, with a LOA of 39'6" and beam of 11'3" was propelled by two large, but well balanced sweep oars, the thole pins for which are still in position. Although not clear in this photograph her lines are very shallow and slippery and no doubt she carried her way well, but she must have been something of a handful on occasions!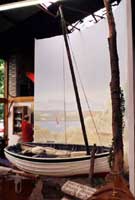 Throughout the small boat gallery there is something of an Arthur Ransome influence. Ransome enthusiasts may recognise Mavis (renamed Amazon in 1990 at the inaugural meeting of the Arthur Ransome Society) as the model for Nancy and Peggy Blackett's piratical craft in Swallows and Amazons. The placard at her bow reads: "This is a very old boat in peaceful retirement. Please do not disturb."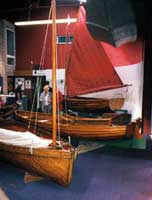 My photography (indeed my camera!) does not do justice to a collection of three boats that have me returning to this museum again and again. In the foreground is my personal favourite, a small dinghy constructed from two layers of diagonal planking sandwiching a layer of canvas; quite apart from the unusual method of construction, her lines and proportions are so small (she is barely ten feet long) and fine that one cannot help but fall in love with her.
The centre craft is a rowing boat from the turn of last century, a beautiful example of the fine clinker craftsmanship once practised all along the shores of the lake.
At the back is Coch-y-bonddhu, Ransome's own boat and the model for the Scarab in the Picts and the Martyrs. She has something of a tendency to make me dig out my copy of John Leather's Clinker Boatbuilding and think of the day when I might own something a little like her...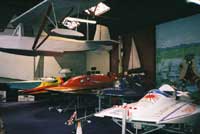 The Windermere Steamboat Museum is also home to a collection of record breaking hydroplanes with pedigrees, in some cases, stretching over more than a decade of Records Week meetings on Lake Windermere, their many world records neatly recorded on highly polished topsides. Above them hangs a float glider and the far wall depicts the sail plan of an 18th century wherry-like yacht lying just out of sight.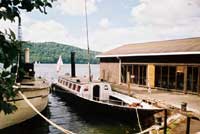 Ransome again and no less a boat than Captain Flint's houseboat. Transposed more or less exactly into the pages of Swallows and Amazons, the T.S.S.Y. Esperance, now in her second century, is the oldest vessel on Lloyd's Yacht Register and is considered to be the first twin-screw steam yacht in the United Kingdom. Built on the Clyde for the great Furness industrialist H.W. Schneider, her hull is built from the highest grade of iron that Schneider's companies could produce and, with counter sunk rivetting, her hull is entirely smooth. She was used by Schneider to commute to Lakeside station from which his personal train would transport him to Barrow. Schneider made use of the morning voyage to consume his breakfast, having been preceeded to the jetty by his butler carrying a silver tureen.
Alongside Esperance lies the S.S. Raven, the second oldest vessel on Lloyds Yacht Register and the oldest vessel to have her original machinery. Built in 1871 she ferried goods for the Furness Railway Company around the lake between the scattered farms and settlements. By 1922 she had been forced out of business by competition from road transport and worked as an experimental mine layer until the 1950s. She was saved from the cutting torch by the strength of local feeling and, having been overhauled, was able to sail down the lake for her hundredth birthday in 1971.
The museum's collection is both extensive and eclectic. In this shot a 1960s cold moulded K1 racing kayak rubs shoulders with a vintage carvel planked open canoe, while Beatrix Potter's pirogue-esque rowing boat is just visible in the background. The museum has had something of a change-round, I think to add another hydroplane to the collection, but this has had the unfortunate side-effect of making many of these treasures somewhat less visible and accessible than before.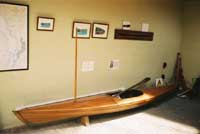 One of two "Rob Roy" canoes in the collection, this example, built in 1870 by Searle of Lambeth, London, is identical to that used by John "Rob Roy" MacGregor and is constructed with an oak hull and cedar deck. Although these solid craft are excellently seaworthy and no doubt a pleasure to cruise with their long, lean lines, one's back does give a warning twinge at the thought of lifting that weight up to one's roof rack!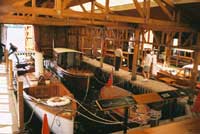 The wet dock is undeniably the highlight of the museum. Primarily the haunt of the museum's extensive collection of steam launches, the dock is also home to an early Rolls-Royce powered speedboat, an electric launch and an attractive Chris-Craft, the latter two visible in this photograph.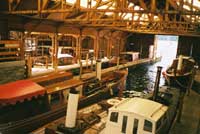 The wet dock from the viewing gallery. The black and white boat in the foreground is S.L. Dolly, mentioned in the Guinness Book of Records as the oldest mechanically powered boat in the world having been built around 1850. Sunk during the Great Frost of 1895 on Ullswater, she was raised by a team of divers in 1962 and after a thorough overhaul, ran with her original boiler for a decade before a replacement became necessary. The original boiler is now preserved in the museum. Next to her floats the S.L. Bat; used in 1904 for radio control experiments from Adelaide Hill, she was steered all around the north lake with only a stoker aboard.
Take care,
Alistair Wasey