Book Review
An Illustrated History Of Small Boats
by Percy Blandford
Many readers may realise that I reserve a particular place in my affections for Percy Blandford. A fascinating character well worthy of a biography (although I know of none to date), in many ways he is a father figure of the canoeing movement in Britain and was one of the many post-war designers who made boat ownership available to all by drawing capable, seaworthy, attractive and above all, fun boats that could be built easily by the layman using readily available materials. It was to a set of his plans (the "Goblin") that my Father built "Swift Willow" (our family boat) with help from a cabinet-maker friend, Fred Lapham. It was Swift Willow which instilled in me my love of the water and all things connected with it and I owe a great deal, in part, to Percy Blandford.
It was only relatively recently that I discovered that as well as a prolific designer, Blandford had also been a prolific author writing on the subjects of boatbuilding, canoe technique, ironwork and a host of other subjects. Blandford's talents seemed to know no bounds.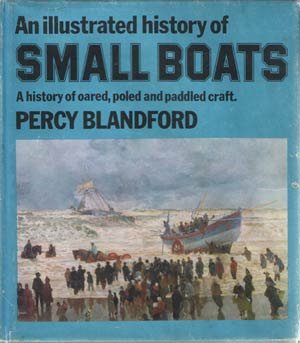 In this case, Blandford has turned his considerable powers to history and a capable examination of the development and idiosyncracies of a wide range of watercraft. Subtitled "A History of Oared, Poled and Paddled Craft" this is not an exhaustive work, nor does it aim to be, but with chapter headings commencing with primitive craft and running via the skin boats of Britain and North America, visiting the Mediterranean, the Norse and other North European craft before turning to ships' boats, lifeboats, modern craft and much else besides, Blandford shoe-horns a vast amount of fascinating detail into (in this hardback edition) one-hundred and twenty-nine superbly illustrated pages.
Indeed, the layout of the pages and the subject matter chosen make this a book to be read rather than studied. Blandford's style is such that one occupies a comfortable middle-ground between feeling swamped by too much too-fine detail, without developing more than a healthy desire to know a little more about the fascinating craft he describes. Proving the premise that a picture speaks a thousand words, the well-selected photographic plates are bound to leave the avid reader pouring over page after page of sharp, well re-produced images showing a range of craft from humble coracles to gilded state barges via homely workaday dinghies, finely honed racing kayaks and much else besides. For those, like me, for whom Blandford's catalogue of plans (then obtainable from W.F. Harrison by return of post for a very modest sum) contained within it a world of infinite adventure and possibility, there will be one or two moments of recognition as old friends appear once more in print.
Although I will admit to an inevitable bias, I still cannot praise this book highly enough. Blandford's writing is much like his plans: accessible, enjoyable and the door to a world of near-infinite possibility. If you can, discover yourself a copy of this excellent book and enjoy a world's-worth of fascinating craft from the comfort of your armchair.
Best wishes.