Armchair Boatbuilding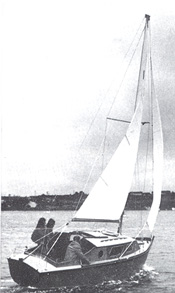 With the turning of the year, the soft vellum-yellow of Blandford's hallowed plans have been dusted off, admired, and returned to the sanctity of the dog-eared envelope that has been their home for many years. I don't know what it is, but these old plans hold a particular magic for me. I've had them for years: one for the Pete six foot pram dinghy that I outgrew at about the same time as I built up the confidence and knowledge to be able to knock a boat together; and two others for the Lysander and Hornblower cabin cruisers of 17 or 19 and 22 feet respectively. These were always my dream boats; the boats I'd build and sail around the coast of Britain.
The plans for Fatcat2, one of Jim Michalak's designs that I consider truly attractive, await only the acquisition of a sufficiently powerful car: my little Hyundai Accent happily puts up with most of the abuse I throw at it, but I really don't want to push my luck too far! I like Michalak's presentation of these plans: he manages to make them very clear and engenders the feeling that one really can build this boat through the clever simplicity of the plans, design and accompanying literature. This is my attainable replacement for the Lysander and Hornblower: a boat I know I'm capable of building and more importantly can afford in the not-too-distant future.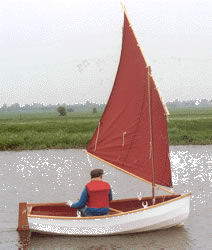 The Stornoway 9 represents my taste for the traditional. A beautiful nine-foot stem dinghy design by Selway-Fisher I intend to build her in a traditional copper fastened style. I own a copy of John Leather's Clinker Boatbuilding and this accompanied me to sixth form college for many months as I slowly digested its every word on the long journeys every day. A combination of this book, and some kind words from an old boatbuilder I met inspired my aspirations to one day build a "real" boat. I'd build her in solid mahogany if I could, but I lack the time, tools and patience to reward that technique.
With due deference to reality I'd compromise on this boat with a mahogany transom, and perhaps iroko or oak for the centreline. The planking would be Gaboon plywood throughout, with many an expletive around the stem and stern rebates as the intractable cross-plies splinter in my unpractised hands and my imperfectly sharpened chisels. The internal frames for such a boat are unquestionably steamed elm, as are the gunwales, which are open for ease of manufacture. The thwarts of iroko or mahogany, supported by bent crooks fashioned into knees. Maybe a little leaky around the garboards where my first rivets were a little loose and unpractised, or where the caulking was a little rough and ready against the keel. But fastened with copper and a little bronze for the screws, a proper boat: solid and dependable, built to last.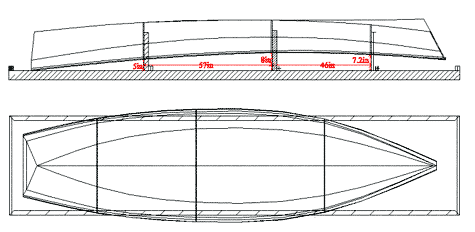 Or then again, I've always been drawn to Gavin Atkin's designs: his light trow appealing to my sense of adventure. This boat would have less Ransome-esque romanticism, and more of a sense of purpose. Designed with camp cruising in mind, and more than a nod towards the Norfolk Broads, the old question of whether to build as designed or modify to tastes arises. Gavin makes life a little easier by leaving some of the design to the imagination. As designed she has a balanced lug main and smaller mizzen with an open plan, and an eye for the traditional. In my mind, she is simpler still. Reduce the sail plan to a single lug (included in the plans) and build her light, but deck her fore and aft, adding rigidity and maybe allowing for a slight lightening of her scantlings in deference to my car and the modest stresses of a reduced rig and careful helmsman.
Built in stitch and glue gaboon ply, she is painted a creamy white with a chocolate stain to her douglas fir rubbing strips and a small mahogany coaming to keep her dry. Her body is kept as open as the necessary framing and centreboard case will allow. Under the fore and aft decks lies dry stowage for bedding, clothing and perishables. Beneath her cedar thwarts a modest water capacity and camping stove locker with a kettle and a pan. An extravagant but thoughtfully constructed removable sliding seat allows long distance passage making in unfavourable airs under oars. At night a simple boom tent hangs from the boom raised by halyard and crutch and secured outside the coamings to ensure security from rain and insidious night breezes. Carefully placed slats and a couple of bedding rolls provide passable comfort for six and a half of her fifteen feet. A lantern swings gently until snuffed and the night descends, sleep lulled by the secret sounds of a nocturnal world. Woken at first light, a quick breakfast is had before we steal away on the first morning breezes as the sun spreads her long-fingered rays across the marsh and river.
Armchair boatbuilding, sometimes it's hard to beat.
Happy New Year!
Alistair Wasey