One Summer's Grace
by Libby Purves
In One Summer's Grace, Libby Purves has created a tremendously endearing book. Charting the story of her family's voyage around the British Isles in the summer of 1988, this is a vivid, honest account not only of the places through which they pass, but also of the family tension and tenderness which are unleashed when Purves, husband Paul Heiney and children Nicholas (5) and Rose (3) are compressed into the confines of their thirty-foot gaff cutter for the ninety-nine day voyage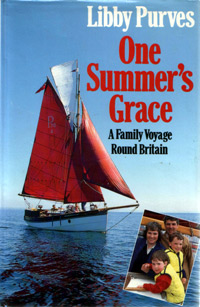 In many ways this is a book with an "identity crisis", on the one hand this is a beautifully composed travel novel - somewhat in the manner of Bill Bryson but in an English accent - with delightful vignettes sprinkled liberally throughout the book that tastefully convey the nature of the subject, while in many ways revealing much about the author herself. Clearly a singularly gifted writer, Purves has many titles to her name and writes with a brisk, uncluttered clarity, which makes the book a comfortable, yet rewarding read.
As one might expect, this book also has many of the better elements of soap opera. Although without major drama in terms of the sailing, there is much of human interest in this book. The complicated dynamics of the nuclear family are explored at length, yet somewhat between the lines: Paul's fits of melancholy, the occasional insufferability of small children, Purves' role as mother, mate and all things in between; yet the moments of radiant family happiness are not few and far between and are rightly celebrated.
On the other hand this is also a book about sailing, but the subject is approached at a slightly oblique angle as no one subject is the mainstay of the book, indeed it is the strength of Purves' writing that she may combine an illustrative element of pilot minutiae with a brief historical note whilst simultaneously detailing the care of seasick children. I am reliably informed that this uncompromising juggling act is the nature of a modern mother's existence, but Purves' ability to place the ordinary trials of daily existence against new and ever changing scenery makes for compelling reading.
For me, where this book truly scores is as a snapshot of an ever-changing Britain and British way of life as it was in 1988, with all its quirks and eccentricities from the opulent South with its honeypot-harbours, to the sober, sabbatarian Scots in the North. Descriptive narrative together with the pages of photographic plates in this hardback edition, give one a real insight into the powerful beauty of the British Coast from the wildness of western Scotland to the casual quaintness of a Cornish harbour and beyond; but as importantly, an intimate view of its occupants. Wonderful portraits of various characters such as Irene McLachlan, keeper of the Visitors' Book at the anchorage of Arnamair, are sprinkled throughout the book and add much of the book's character.
For those looking for yet-another gung-ho sailing adventure with tales of blood-and-guts bravery, this book will not suit; for those looking for a thoughtful and thought-provoking read set in beautiful scenery by a skilled author I would advise you look no further. In a quiet, unassuming, maternal way this is a very wonderful book to treasure and read again and again.
Best wishes.
Alistair Wasey