Franken-boat … It's Aliiive!
by Kim Apel
It wasn't the maiden voyage of my sailing canoe at the recent Mohave Messabout, (see pictured below). It did sail, briefly, last year at Fiddler's Cove, but the leeboard broke after only a few minutes afloat, so not many have seen it. It was fixed and back in the water for renewed sea trials at Lake Mohave. Gear failures were avoided this time, though it remains an experimental contraption in need of refinements.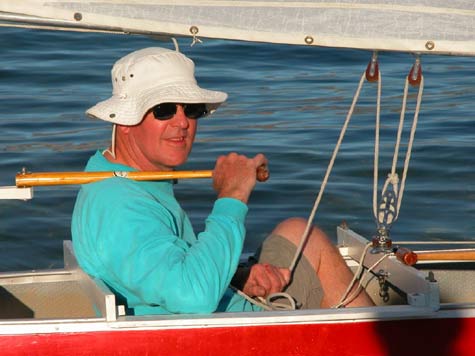 In the finest Scuzbum tradition, the sailing rig I used was improvised, not something one can buy from a catalog, nor even guided by plans. I've owned this canoe since I was in college. I was inspired by Tom Jeter's sailing conversion of his canoe. He found a sail in the neighbor's trash can, and built a rig around it.
Over a period of several years, I've collected bits and pieces from all over, and finally built a low-cost sailing canoe, including:
A homemade leeboard donated by Randy Ames;
A rudder and hardware bits from a swap meet;
A used sail, line and hardware items purchased on ebay
More hardware bits from Minney's Yacht Salvage and Lowes
A tiller extension made from a broken canoe paddle;
A home-made wooden mast, with aluminum boom and sprit made from old tent poles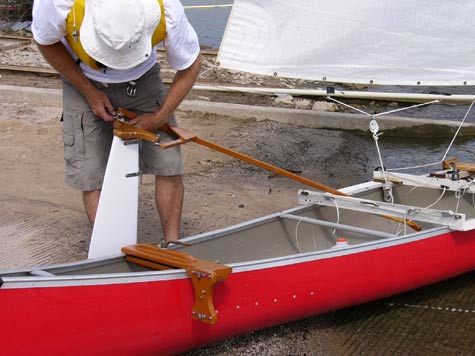 These, combined with other materials gleaned from various corners of my garage, then some cutting and fitting and painting, and "voila", a sailing canoe. The completed project is like Dr. Frankenstein's monster, assembled from leftover or unwanted parts, and re-animated in a form never-before-seen.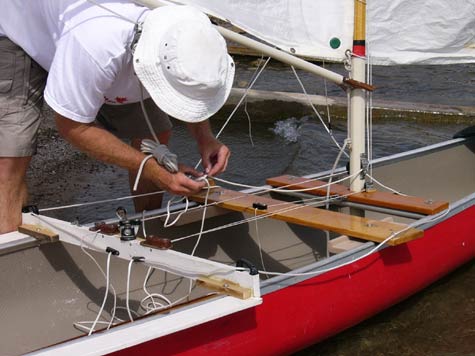 That first sail was like that chilling scene in the movie where the monster first moves, and Dr. F. screams, "It's aliiiivvve!" In the gusty conditions at Mohave, the sailing experience was also reminiscent of the Frankenstein monster: crude, awkward, potentially powerful, but out of control, scary and exhilarating at the same time.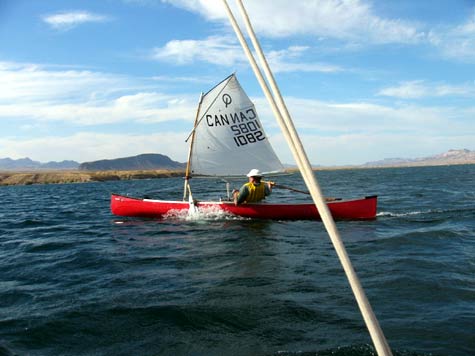 I think that with improved cockpit rigging, she could be a real sailboat. I think I'll name her FRANKIE.