Blondie
design by John Bell
I got an email with these photos of one of my "Blondie" dinghies this weekend. I've been jazzed about these since I got them. This is the second one of these that I'm aware of having been completed. Some of your readers might recall this design as one of the also-rans in one of your design competitions a couple years ago. (I still think the judges placed me too low in the final rankings, but hey, it was fun!)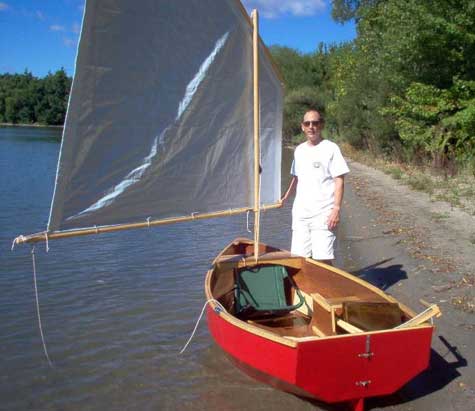 The builder, Peter Simmons, made one minor change that I wholeheartedly endorse. He moved the daggerboard case off to the side, clearing the best part of the boat for people and stuff. My old Windsprint had a similar arrangement that I thought was wonderful. Most people have an aversion to asymmetry. Only until people sail a boat so equipped they realize it doesn't really make a difference. I've got 13' sharpie on my board right now that if I can talk the builder into it that will get the same treatment. Peter also fabbed a nifty removable rowing thwart.
The idea of this boat was to get the most boat out of two sheets of ply and an 8x10 piece of tarp. Looking at it now, I think my obsession with freeboard may have gotten a bit out of hand and cutting it down a couple of inches might be more pleasing to the eye. But all in all, I still think she's a pretty neat boat. The builder is enthusiastic, and that's what matters most to me.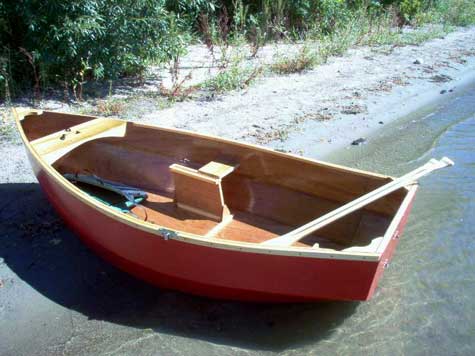 Here's what he had to say about her:
"Here are a few pics of the Blondie I built this past summer. I don't have any shots of her sailing, but I am very impressed with her sailing qualities. She tends to stay almost straight up and down, even in stiff - 12-18 mph - winds, and would be even faster with something superior to my first ever sailmaking effort. I offset the dagger board case as we discussed, and this created a lot more interior volume. I made a removable rowing thwart which has a tab that fits into the dagger board case and rests on a narrow sill on the opposite side. All very satisfactory. Great design! No surprises in the build, but a boat of surprising ability in the water!"
Plans for Blondie are still free and on my website, URL below.
John Bell <><
Kennesaw, GA
https://jmbell.home.mindspring.com