KE-PAU
design by Glen-L
#299 - a 6' paddlewheel boat for kids
| | | |
| --- | --- | --- |
| Length overall | - | 70" |
| Beam | - | 31-1/2" |
| Hull depth | - | 9" |
| Hull weight | - | approx. 35 lbs. |
| Finished weight | - | approx. 42 lbs. |
| Passengers | - | 1 or 2 children |
Hull type: Scow-type for sheet plywood.
Power: Hand cranked paddle wheels.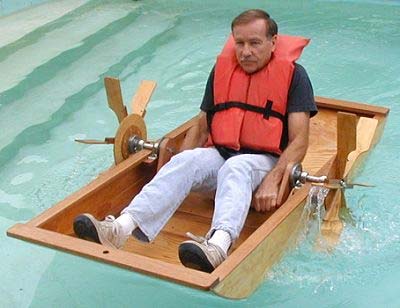 It's a boat for kids; not big kids but children kids. The type that enjoys fun on the water. Are their any that don't? Kids will enjoy propelling the boat themselves and the splash of the paddlewheels. Put one at each crank and watch the merry-go-round fun that is created when they don't synchronize the paddle wheel turning. And it's one the adults can't practically ride in; it's too small. Sorry pop this one is not for you.
This is a simple boat to build. It's flat bottomed with vertical sides. This eliminates any fairing or shaping. A project the kids can help with. Of course helped and supervised by mom or pop, grandma or grandpa; even great grandparents.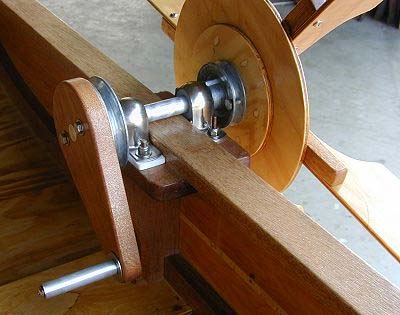 The hull requires a single sheet of 1/4" x 4' x 8' plywood and we illustrate how the parts are obtained with virtually no waste. Information is provided to build a "cheapy" that will last until the kids grow up or a boat that can be handed down to the younger fry. Building is fun and watching the kids enjoy the results will make the adult "helper's" day….and many more to come.
COMPLETE PLANS include FULL SIZE PATTERNS for side planking, curved chine, bearing base, knee, paddlewheel disc and pad, paddles, and half section of the spray shroud. Also included are complete step by step Instructions, Bill of Materials, and Fastening Schedule.
Plans available from: https://www.glen-l.com/