Duo 800
an easy to build demountable cat. Sloop or parallel rig
design by Bernd Kohler
www.ikarus342000.com
This is the revised modernized model of the DUO 800 which was designed in 1987. The new hulls have more volume and the hull shape comprises an asymmetry from 2 to 3. The boat can be towed behind a medium size car.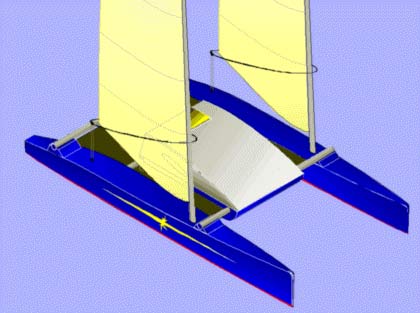 | | |
| --- | --- |
| | The demountable version with the nacelle is the original version. The boat can also be build without the nacelle. |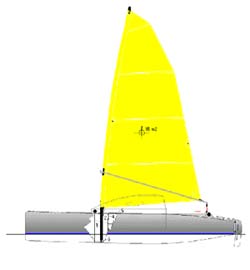 DUO 800 with parallel rig
Carbon mast
Mast stop
Mast bearing
Inspection cover
Hatch
The carbon fiber masts can be build by any amateur. Instructions and drawings are in the plans set
The sail sleeve can be opened with a heavy zipper. The halyard runs outside the mast but inside of the sail sleeve.
To shorten sails: The sail is lowered to the reefing eyes shown on the picture. In this way, the wishbone boom has not to be unhooked.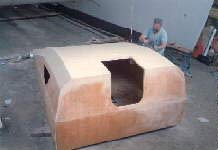 We use aluminum beams for easy of construction.
The original design is the parallel rig version. But all owners build the boat with the sloop rig, because of the excessive costs of the carbon fiber masts.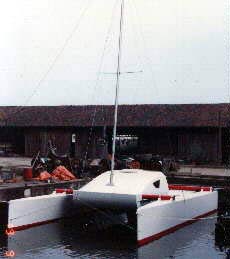 The parallel rig version will be faster. The boat by it self is easy to built. As construction system we chose again plywood/glass/epoxy composite. This is also a boat for the first time boat builder. No lofting is required. Construction time about 580 hours. The plans show the old and new hulls.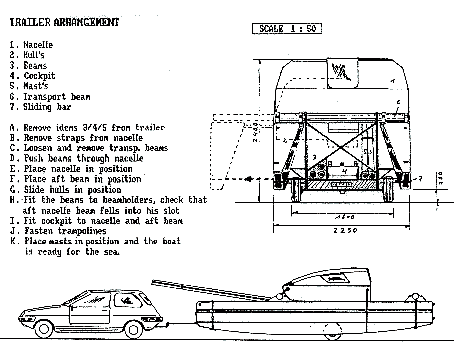 We are very aware of sailor's needs. We bring two types of experience into our catamaran designs. We have designed multi hulls since 1980. And we have lived in our "PELICAN" (one of our designs), on the Mediterranean sea for 11 years. Our portfolio includes a wide range of catamarans.