The Omokoroa traditional small craft gathering was a small but interesting magnet for John Welsfords designs. Craig Gordon and I sailed up Tauranga harbour to Omokoroa which is a sleepy backwater on the western side of the harbour made up of baches and retirement homes. It has a great jetty an active yacht club, a cafe and a small sandy beach (when the tide is in). All in all a very nice place for a mini regatta.
The trip up was very interesting as this was the first time I had sailed my new sloop rig,
I had spent most of the last week finishing my new mast and boom on my Pathfinder, and on arriving at Craigs house on Friday evening the varnish was still drying! Up at six and I was screwing on fittings and positioning vangs, goosenecks etc to 9:45. Craig was a great help offering coffee and support but letting me get on with it as much as possible.
Down at Sulphur Point launching ramp I was a bit nervous about the untried rig and my hasty finishing off job as the wind was a good 15-20 knots. Craig confirmed this later with his wind meter which recorded a minimum of 14 and a maximum of 26 knots. But after heading out into the channel all doubt was gone as the new rig performed flawlessly, more on the reasons for conversion later...
We basically had to beat all the way up the harbour against a strong outgoing tide in full flow. Not much fun, but still the gps was giving 4-5 knots over the ground. A great opportunity to compare performance and handling between a gaff and a bermudan and as expected on the wind I had superior boat speed though not neccessarily pointing higher than Craig, but he was pinching as Cavatina was well overpowered in the gusts.
The opposite should have been true, he should have been under control and I should have been over powered as my rig now towers over 6 metres above the deck, talking afterwards we both came to the conclusion that it was the 60 odd kilos of ballast in the end of my centreboard tha helped. Craigs board weighing in at 35 kilos was practically half of mine plus I weigh 15 kg more than him.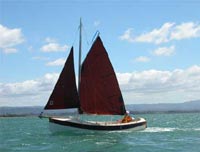 There was very little difference between the boats the main thing that I noticed was that my new rig seemed softer perhaps it was a flexible mast but the boat didnt react so suddenly to the gusts. In a straight line its only about five or six nautical miles to Omo from Tauranga but we had to sail around a few difficult points and through shallow channels with the elements against us. There is a lot of water trying to get out of the harbour at once and lots of sandbars to hit, I felt the bottom on three separate occasions, once the rudder became stuck on a particularly shallow bank and I feared the wind would drive me over before I could free the cleat. Around one point I noticed I was not making any progress at all so I dropped sail and went for Mr Honda much to Craigs disgust, I wanted to make Omokoroa that day! Even so I was only making 2 knots with the motor at full effort, looking behind I saw Craig merrily tacking back and forth and receding into the distance, eventually he capitulated to the superior force of petrol. It wouldnt have been a problem but with a time limit... .
On arrival at the jetty there was a lot of interest in the boats and I took Owen Sinclair out for a quick blast up and down the channel, he seemed to approve of the thrill factor of Pathfinder on its ear in a good breeze. Nice to have another sailor onboard, I was getting a bit weary at this stage as the whole week of midnights plus a full day of sailing began to sink in. There was a nice wee social event at the caravan park up the road. Where the 5 B's came to the fore- Boys, Beer, Boats, Barbecues and you guessed it Bullshit. Actually it gave me a great idea for a weekend event instead of a raid, we could call it B-Five where you would need to produce a minimum of 5 elements (which wouldnt eliminate the women, wine etc)
Craig and I returned to the boats before dark and motored to another windy place and rafted up for the night. It was very pleasant indeed, I had no cover so if it rained it would have been very unpleasant but the gods smiled and it was only the wind that howled and rattled the halyards all night reminding us that we were very small corks in a very big pond.
Going home was easy, once the very strong breeze settled down to about 15-18 knots. A group of us sat in the sun on the jetty for practicing a few of the B's for a while before it was time to head off. Actually it was a fantastic leisurly Sunday and there was a session in the cafe as well. Eventually the wind eased and we took the opportunity to take the inside route home (there is an island smack in the middle of the way back to Tauranga) and made a flat run at 7.5 knots all the way home. The picture above doesnt look much but I am holding my hand up to shield my face from the sun and cranking along at ridiculous speed. There was an F-26 Trimaran going downwind with us and it wasnt making us look silly, sure it went well but not $80,000 better on a sunny downhill run in sheltered water.Who needs high tech, give me a lead pencil any day (its good to have a bit of lead in your pencil so they say!) A good weekend, looking forward to the next year. See you there.