ICW Trip Report
by Bill Eason
Last summer, I spent a week helping some friends bring their 43' Irwin GRP sailboat up the East coast of Florida, spending a lot of time in the ICW (intracoastal waterway), with a couple of good days out on the Atlantic. The sights along the way were incredibly varied, includng the boats, the people, the houses, and the wildlife.
My hopping-on point was the Bahia Mar marina in Ft. Lauderdale, Florida. Boy, that's a good place to be reminded that no matter how much you may acquire, somebody else probably has more.
Nice megayacht, the 177-foot "Perfect Prescription" According to some internet research, I learned that you, too, can rent this tub for $210,000-$231,000 per week (plus expenses)! -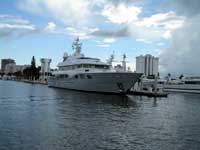 Check out his polished stainless steel anchor and anchor well -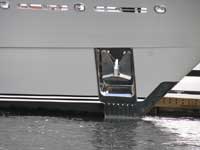 Pretty Hinckley picnic boat -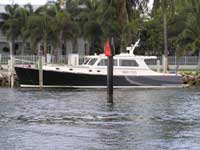 Then there was Paul Allen's (of Microsoft fame) 198-foot "Meduse", complete with helicopter parked on the upper deck. -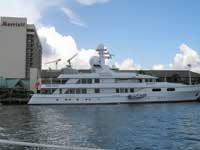 Now, the relavence to Duckworks and the other home builders out there... how about this liveaboard near Palm Beach inlet? Now that'sa houseboat! -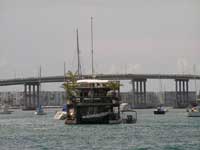 We spent one night in a slip at Whitley Marine in Cocoa, FL near the space center. At a slip nearby was this solidly-built oceangoing vessel. I never learned the designer or the owner/builder, but I'd love to hear if anyone has an idea.
We anchored out the next night near Titusville, still very near the Kennedy Space Center. What a thunderstorm we endured at that spot! Sitting in a boat with an aluminum mast reaching 60' in the air with lightning strikes on all sides is NOT a comfortable feeling! After it cleared, though, we had a good swim with dolphins nearby, followed by a gorgeous sunset.
The next day, we went up through Mosquito Lagoon and on up the ICW. I only got one shot of this creation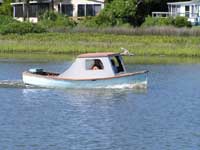 It's tough to tell how much, if not all, of it was homebuilt. I'd venture to say at least the cabin! It must be wooden throughout, though, because you can see the aft port frames. At first, we though it must have an outboard in a well, but closer inspection of the photo shows that it's just a green cooler in back. Our favorite feature is the bird's head-shaped piece of driftwood adorning the center divider of the cabin front.
Finally, there was this mast-less cat - pretty big, in fact - that was motoring along near New Smyrna Beach. I'd guess this was also a liveaboard. Looks like he has a Honda 30 extra-extra-long shaft for the cat, plus a RIB with another outboard hoisted up between the hulls.
I was dropped off at Daytona for my flight back to Atlanta, leaving the familiy to complete the third and final week on their own.
In all, it was a great experience that I wouldn't trade for anything. I'd do it again in a heartbeat!
Bill Eason
duckworks@wte.homeip.net