First Voyage of the Lazi Dawg
by Paul "Graybveard" Paine
Hi Chuck,
Just a note to let you know that the S/V Lazi Dawg has hit the water with old Graybeard as the skipper. Four successful runs across lake Oologah, Claremore, Oklahoma. The boat is a modified Stevenson Weekender, with an open cockpit and no cabin. The open cockpit let us carry three adults and two children on one run with no problem. I have come up with a few modifications that I may incorporate - time and finances permitting.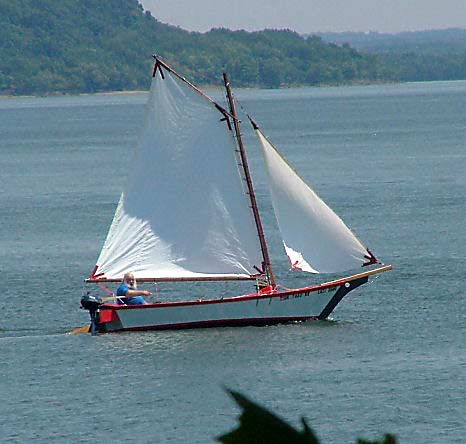 Anyway: First run was a bit hectic due to tangled lines, jammed pulleys, jumbled sails, and inexperienced crew (I hadn't sailed for more than forty-five years). The boat looked a bit like a wounded butterfly or, more honestly, we looked like the skipper and Gilligan on the three hour tour; it was so bad that we attracted the Lake Patrol who were standing by in case we swamped or capsized.
Second run was much better - I'm enclosing a picture; you can barely see my neighbor (Eddie) in the front of the cockpit.
Our third run was with Eddie, his daughter, her friend and me. And the final one was with the four of us and my wife, Donna. Boat performed well and was dry even when hit by big wakes from pontoon boats.
All in all, had a great time and I really do know how to sail a bit.
Winds were light, day hot, water warm and sailing was relaxing (except when the motorized waterbugs were too close). Anyway, Sun+water+white sail=sunburn. But it was worth it.
Got a lot of compliments and, at the end of the day, even got a thumbs up from the Lake Patrol. I'll be bringing the Lazi Dawg to the Messabout at Dardanelle in Arkansas. See you there.
Paul "Graybveard" Paine