LongJon
Trip to Calico Rock
By Larry Pullon

Hoping that everything would work the way it is supposed to, I planned for my wife Dalys and I to take LongJon out for a shakedown Saturday morning (February 19) while Lewis and his wife were driving up from Texas. However, a practice fold and unfold on the driveway proved it was difficult for her to reliably hold the 3/8" rope while I scrambled to the front to lower the hull. Rather than risk an unpleasant experience at the boat ramp I decided is was prudent to wait for Lewis. So I called his cell phone and told him to drive faster! Lewis and his wife Anita roared into my driveway a little after 4:00, they had made excellent time. It was 44 days since I first decided to design and build LongJon (yawn if you want, but it ain't that easy!).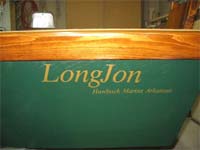 After giving Lewis a quick walk through on launch and recovery procedures, we made a 20 minute dash to Lake Pickthorn – which I have said before is a butt ugly impoundment that frequently ends up as my test lake. At the lake we unfolded and launched LongJon like we had been doing it for ages. I was delighted to find that nearly everything worked as it should – my fears of spending a long night in the shop making last minute changes were unfounded. I had a digital camera in my pocket, but excitement, focus on the task, and fatigue, all conspired to make me forget it was there. So, the "official" first launch would be the next morning on the White River.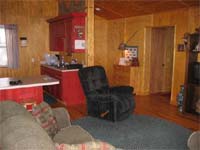 Early Sunday morning we drove two hours to our rented cabin (reserved weeks earlier) located just outside Calico Rock, Arkansas. The two bedroom two bath cabin is clean, fully stocked with everything but food, a mile from a boat ramp, and only $75 a night, which is significantly under the going rate in that area. I don't advertise for people much, but the Lindseys are the kind of people that put service before a dollar, and I fully endorse them to you. Lindsey also rents trout boats from his dock at a good rate. Here is the number – (870) 297-4543. Their website is https://www.lindseytroutdock.com/ if you want to contact them by computer. Even if you don't fish for trout, the place makes a very fine getaway.
We made the trip in two vehicles to allow Lewis and I to spend whatever time we wanted on the water and our wives whatever time they wanted in the many little antique and curio shops in Calico Rock and nearby Mountain View. After dropping off wives, luggage, and supplies at the cabin we eagerly headed to the river. By this time testing LongJon was becoming an after thought – trout fishing was the primary focus now!
We had decided the evening before to spend the first day out of the Sylamore Creek launch. It is a nice ramp about three miles north of Mountain View and about 15 minutes south of our cabin. Upon arrival we went through the pre-launch process to reconfigure LongJon from storage to boating mode.
The rig is designed to travel in the folded position with the trailer retracted. It tows, well, like any other trailer. I watched it closely when we first started out, then less frequently, and soon forgot it was there.
The first thing you do to launch the boat is prep the trailer. This entails unhooking the light wires (that do not extend with the tongue); removing the pin holding the inner and outer tongues together; removing the trailer adapter that fits between the folded hulls and trailer bow stop; pushing the trailer back ten feet to extend the tongue; and replacing the pin in the tongue to ensure you don't end up with a two-piece trailer!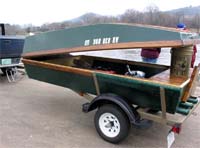 As this was our second time we accomplished the trailer prep fairly quickly and then moved on to the boat.
I found early on that placing a five-gallon bucket between the aft bench and fore deck would hold the boat halves open a convenient distance to load and unload stuff and also allow me to crawl into the boat to easily raise the front section. A rope on the bow eye lets another person hold the front section steady after the 90 degree open point allowing me to move to the ground in front to finish lowering the hull. It is not really that heavy, but standing even a light ten footer on its end can be challenging – especially on a breezy day.
Once open on the extended trailer, we installed two ½" bolts through steel plates to keep the two hull sections in the open position. The nuts are welded to the plates in the livewell so you only need one wrench to complete this process. After the bolts are snug, the final task is to install the 15hp outboard on the self-centering engine mount and then launch like any other 20 foot river boat. I think the whole process takes an unhurried ten minutes – especially after we did it a few times.
LongJon held no surprises on the water. Setting beside the outboard, rather in front, is very comfortable – especially if you are like me with back and shoulder "issues". The offset tunnel did not know it was offset (and that is all I will say about that now). I found the boat tracked true just like the motor was in the center of the hull. It had performed well the day before on the lake, but now we were in a swift current where flawed designs will become magnified. Before settling down to fish we took a few minutes to try low power and then full power turns, stops, max power take off, full left and right, everything we might do on the water. I stood up and rocked the hull side to side to test stability and stood on the decks. Convinced we were in a good boat – we headed out to focus on capturing rainbow trout.
I would like to say everything was perfect, but as the two day trip wore on and we folded/unfolded launched and recovered a few times at two different ramps some "opportunities for improvement" surfaced. First I had miscalculated a little when I made the trailer adapter; requiring us to move the boat back on the trailer an inch each time we unfolded. The boltholes swelled a bit, requiring the bolts to be turned with a ratchet nearly the entire five-inch thickness of the adjoining transoms. When either of us was on the front deck the motor was so high in the water the prop cavitated (I had pushed it too far). A larger diameter rope would be more comfortable. They were all minor things, and I have since rebuilt the trailer adapter, installed metal tubes in the bolt holes, lowered the motor one inch, and bought a fatter rope.
I would not say LongJon drew a crowd everywhere we went – I mean there are not many crowds to draw on the river in February! But, there were very enthusiastic responses from the few boat-minded people who did see her on the water and in town. One guy was absolutely astounded that I had not "patented" my "invention" before bringing it out into the public. He kept going on and on about how it was worth lots and lots of money, how lucky I was and how I was going to be rich!
You know….I just finished building my own creation, the only one on the planet. I worked night after night and weekend after weekend in a warm shop. I had my wife's support the whole time, even though I completely shirked my portion of household duties for six weeks. My brother and sister-in-law had enough confidence in me to drive 500 miles to fish an untried boat on a fast flowing winter river! I have to say sir, I am all ready as rich as any man could possibly hope to be!
Poscript
Jon or John boats are direct descendents of the river boats used for hundreds of years. They are the least complicated and most practical "useable" boat you can build. I implied in my story that I just whipped up a jon boat out of thin air – the fact is I have used them my whole life and had a good idea of what would work. 42" bottom 54" beam is about all you need to know. Make the top of the transom stick out three or four inches further than the bottom to get a good transom rake for motor trim. And curve the bow enough so any wake you hit won't stop you in your tracks and you are pretty much there. These boats can be built 10'-20' with little change in dimensions other than length. There is no rocker in the back section of LongJon – I did not want to complicate my tunnel testing. But I have seen 20 footers on the White with lots of rocker, so much so that there is very little difference between bow and stern. They work because they are long enough that when the boat settles back on plane there is still enough hull in the water to carry the boat's weight. I will build one in the near future – another folder, 36" bottom 20' long with six inches of rocker. It will be made of cypress strips. It will be the best ever – you'll see!