Kayaking the Low Country
by Shawn Payment
Having recently relocated from San Diego, California to Charleston, South Carolina, I suddenly found myself jobless, boatless and friendless in the middle of what is by most accounts, a "boaters paradise". However, the sudden relocation was made more palatable by the fact that I was not completely new to the area. I had previously made Charleston my home in the mid-'80's and had greatly enjoyed the people, the climate and above all, the vast amount of boating opportunities the area's rich coastal areas provided.
Before I could enjoy all that watery fun however, I needed to find a boat. The cross-country move had forced me to part with my previous fleet--mousebout, bluejay and D4 dinghy—all of which had been sold to new owners. Fortunately, it didn't take me long to resolve this problem. I soon located a lightly-used plastic sea kayak, negotiated a sweetheart deal and I was officially afloat once more.

Now that I had a boat, I knew that I needed to find a group of like-minded individuals to go boating with! That didn't take long either. While perusing the bookshelf at our local Barnes & Noble, I found a book called "Kayaking Charleston" written by a fellow named "Ralph Earhart. The book described dozens of interesting kayaking routes within an hour of my home and best of all, referred to a local kayaking club known as "The Lowcountry Paddlers".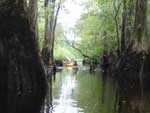 A trip to the Low Country Paddlers website soon led me to their next monthly meeting. The meeting led me to their next group paddle scheduled for the following Saturday. The plan was to paddle a section of the Edisto River just North of Charleston. The Edisto, I learned, is the longest free-flowing river in North America. The dark waters of the Edisto flow through portions of 12 South Carolina low county counties eventually flowing all the way to the Atlantic Ocean.
I awoke that Saturday morning to sunny skies and 75 degrees weather--fine ingredients for a day on the water. My adventure began in a supermarket parking lot a few miles from my home. A bevy of boats and their owners had gathered and an oddly familiar-looking fellow was busily checking off names and collecting liability waivers. Due to the recent article about the group in local newspaper, it seemed that about half of those present were newbies just like myself.
Meeting the fellow with the attendance list proved to be an odd coincidence. He was none other than Ralph Earhart, the author of the kayaking book which I had impulsively purchased several weeks before. Even stranger was the fact that the parking lot where we had gathered was directly across the street from the Barnes & Noble where I had purchased his book. Odd coincidences or karmic fate? Keep reading and you'll see where it gets weirder still. (Cue Twilight Zone theme music...)
At 8:45 a.m. the order to "saddle up" was given and like good little ducklings we fell into line for a 30-mile drive North to our launch point at Messervy Landing. Along the way, we would occasionally pass other kayak-laden ducklings who would hop neatly into the procession. When we finally arrived at our starting point, I was overwhelmed by the level of turnout for the event. I counted over thirty boats in a wide variety of colors and dimensions. Most unique were a Wherry-esque fiberglass rowboat and a classic 70's era Folboat.
After boats were offloaded, Ralph efficiently organized another parade to transport vehicles to our anticipated end point and then shuttle drivers back. On the shuttle ride back to the start point, I got to chat with Ralph some more. It was then that we discovered another odd coincidence. As it turns out, we had both served on the same U.S. Navy minesweeper, the USS Fearless, which had been based out of Charleston Naval Station. He had been the ship's mine sweeping officer in the late '70's and I had held the same exact position in the mid-'80's. Small world, ain't it?
Following a brief safety lecture, the launch order was given and the group took to the water like lemmings on a mission. In mere minutes, thirty-odd boats were loaded, launched and neatly divided into fast and slow groups. I have to say that U.S. Marines would have trouble launching a force with half as much precision!
I fell into rhythm with the fast group and soon was gliding along the gentle curves and wide turns of the Edisto. The tree-lined shores were just beginning to show hints of Fall color as fat turtles lazily observed our passing from perches on shoreside logs and stumps. Occasionally, a sharp-eyed member of the group would spot a little blue heron or a hawk and even a kingfisher and point them out to rest of us.
After about an hour and four miles of paddling, the fleet pulled in to shore for a spot of lunch. Unfortunately, not realizing how long the outing would take, I hadn't thought to bring more than a bottle of water. I must have looked hungry since people soon started offering me food--cheese crackers, half a PB&J, oatmeal cookies—Thanks to the kindness of strangers (or should I say "new friends"?), I was soon energized for the second half of the trip.
The latter half of the voyage was highlighted by a side-trip up a little cut known as Kelsey Cove. The bright, open cove quickly narrowed into winding, shadowy passages, lined with the folded trunks of dark cypress trees under a drooping canopy of Spanish moss. Someone reported seeing a large snake slither into the water near my boat but I was too slow to spot it. Emerging back into the cove, the fast and slow groups converged as one, blanketing the silver ripples with splashes of florescent color—Fall had come early to Kelsey Cove.
Returning to the main body of the Edisto, it seemed only moments before the trip came to an unceremonious end. After a few more leisurely bends in the river we arrived at our end point at Long Creek Landing, about 8 miles from where we had begun. Quick "goodbyes" were all that separated us loading up the vehicles for the drive home.
On the drive home, I knew that this trip would undoubtedly be just the first of many. New home, new boat, new friends and plenty of water to share them with. Things could be a lot worse. "There is nothing- absolutely nothing- half so much worth doing as simply messing about in boats." -- Kenneth Grahame, The Wind in the Willows.

When he's not dodging hurricanes, Shawn Payment is busy paddling and re-learning how to speak "Southern" in his new home in Charleston, SC. Y'all can reach him at mspayment@comcast.net.