Jim Onkka (white shirt) and I (blue shirt) had an exciting time in the Musicbox2 design yesterday. The wind was blowing 15 to 20+. Some of the sloops were going with mainsail only. I must say I have a lot of confidence now in the boat's stability.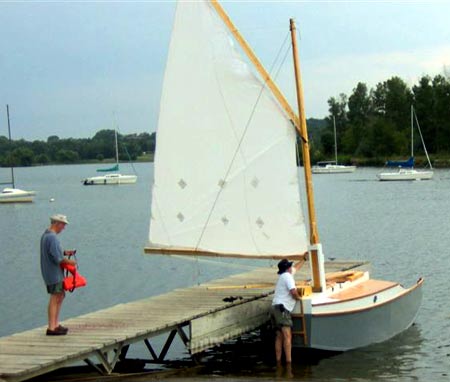 We ran several beam reaches with the windward chine well clear of the water. I'm really glad I added the footwell during construction, otherwise I would have needed four arms and a tail to keep my place at the helm. A couple of other sailors commented on the boat's zesty performance.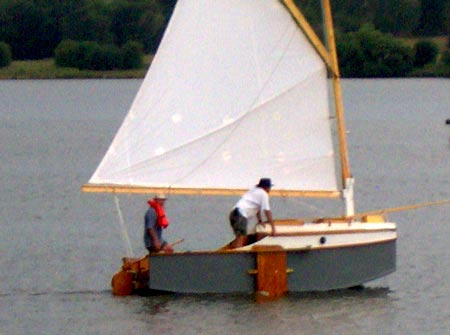 Downwind the big gaff scooted us past the longer sloops. That sail is an awesome sight compared to the relatively dinky sloop mains. I am now a believer in the gaff rig. I did not use the reef points in my home-made polytarp sail.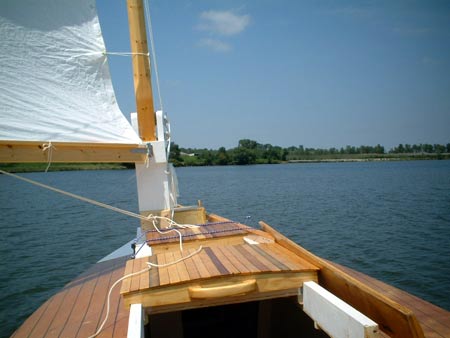 The Menard's SPF mast and spars held up through a couple of really nasty slam jibes...it's a narrow lake and sometimes I had to do what I had to do to stay off the rocks.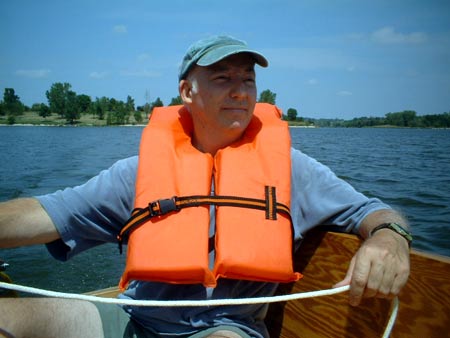 I definitely need to upgrade my halyards and blocks to 1/2" capability. The boys at the lake plan to keep sailing until mid October so I hope to hit it again soon. Anyway, I like the flat bottom, the unstayed mast and tabernacle, and simple construction. And once again, I spent 20% of my time chit-chatting with other sailors about the boat, "Hey, did you build that? Wow."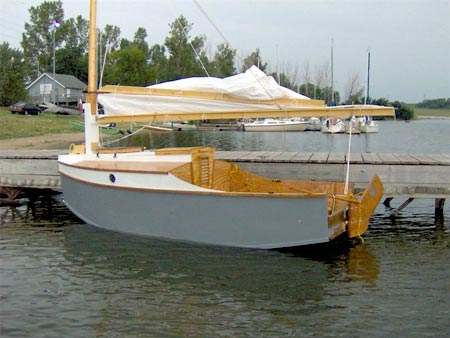 I need to make some rigging changes for convenience but that's expected; it does work as is however. I like the wet well at the stern. I can stand in it and the water keeps my feet cool. The helm is super responsive with about 280 lbs. of sandbag ballast. I'll add more for solo cruises; design is 400. She creaks and groans like a wooden boat ought to. Wow! Get plans, build stuff.