A Few Days on Okanogan
by Tim Diebert
Part 2
Flying the twins....well not twins but two head sails anyway. Just for fun. Officially a Cutter for a few hours. Windward all day again.

click thumbnails to enlarge
| | |
| --- | --- |
| | Wind dies around Westbank and we motor in to South Bay Kelowna area. |
| | |
| --- | --- |
| The Eldorado Marina. Ice Cream and fuel. We hadn't used much fuel, I just like them all full if I can. | |
| | |
| --- | --- |
| | This was hung on the wall of the mens bathroom. I thought it was pretty darn cool. 1944. |
Zach had lots to watch while I was calling the bridge operator on my cel.
This is the land of too much and it went by the boat constantly. Cigarrette racers, a twin hulled ocean racer, the drag boat below etc etc etc.
| | |
| --- | --- |
| | I liked the juxtapostion of the big buck bling drag boat and the old time 50's express cruiser. |
| | |
| --- | --- |
| All of the big interior of BC lakes have a rich history for commercial shipping. | |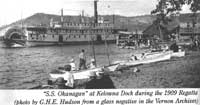 I got these two images out of an anual freebie publication called the 'Sun Cruiser'.
I love this image as it shows such a humble beginning to a now fully blinged out Kelowna culture. Notice the wee boat in the forground. Very much like Annie M. No local person would be caught dead in something like that now. ~:0)
If a kid can't afford a $40,000 wake boat he would rather not be on the water at all it seems. The further you get from Kelowna to the north and south, the more likely you are to see the working persons craft, the marginalized boats. I say get out there any way you can and screw the culture of your region. Revolution! ~:0)
I bet these cats were having a great day!
I should say that the Suncruiser cruising guide was one very good reason for choosing to cruise this lake this year. Combined with a good nautical chart (though me thinks the guide is pretty well good enough alone...), you are well equipped. Lots of important and wonderful info for all kinds of boaters....highly recomended. Great job folks. Thanks.
| | |
| --- | --- |
| We get to go under the bridge. Our mast was just a tad too tall to fit under. | |
| | |
| --- | --- |
| | Getting it all down meant beaching the boat and we could not find one inch of available beach in that entire shoreline. So we got to stop all the traffic, and have the mighty bridge raised for us. How cool is that? |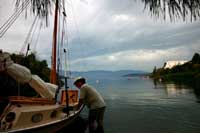 After motoring under the bridge it was late and a thunder storm was looking interesting. We got a tip from a passing SJ 21 that we could camp in this municipal park on the west side about 2 miles north of the Kelowna Marina. I had two bays to choose from, one facing south (all wind so far had been from the north) and one with shelter from N and S and W winds. Turns out I picked wrong. This thunder storm turned nasty and blew right down our nose. We heard on the radio later that night that it was gusting 40 knots or about 75 km/hr. I had to do some scrambling to keep the boat on the beach.
| | |
| --- | --- |
| | Purdy, and not a soul around. |
| | |
| --- | --- |
| Here it comes.....Lots of lightning. | |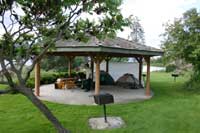 We used the gazeebo for night, the tarp was to keep out the sideways rain. Signs everywhere saying, "caution frequent bear activity!".
What a joke. The garbage cans were all wide open without even lids....let alone bear cans. No park people would tolerate having to clean up garbage scattered all about on a regular basis. We had a great nights sleep. I think they were trying to keep punks out of the park. We slept with the bears every night ~:0)
Maybe these were city bears.....
| | |
| --- | --- |
| | Messy after that storm..... |
| | |
| --- | --- |
| Back into Kelowna later that day, trying to come up with a plan.....tied up at a rental place. Nice folks. Lots to watch. Wind never stopped that day and got much stronger by days end. | |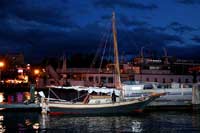 Annie spent the night in Kelowna at the rental dock, we got Zachs car (he lives in Kelowna) with the much appreciated help of my buddy Glenn Nuefeld, and camped just out of town.
Decided to start heading south back towards Penticton because it could take another four days if the weather turned around and started blowing from the south....that would be Mr. Murphy's deal. Another four or five days to windward going home.......we had no way of knowing so we headed back.
| | |
| --- | --- |
| Hmmmmmm, crossed the bridge again....a North wind...imagine that? We wondered how long it would last, but were going to enjoy every second of the downhill stuff while it was there. One reef in the main, shook it out about an hour later. | |
| | |
| --- | --- |
| | Nice wind. Looking North. |
| | |
| --- | --- |
| It calmed down a bit at one point that day, but never stopped. Zach determined to get a tan.....er, burn. | |
| | |
| --- | --- |
| | Still down hill..... |
| | |
| --- | --- |
| As much sail as I could hoist. (Still working on the Top'sl) | |
| | |
| --- | --- |
| | Still down hill, same day and came across Thursday night Races outside of Summerland. |
We sailed right down the middle of the race course and everyone went around us. Late in the day but we are only a few miles from Penticton! We decided to try an go all the way there. Sail in one day what took us four days to windward!
The wind actually got stronger....as well as the waves bigger as we got closer to Penticton. We sailed right into the marina and to the launch dock. Never started the motor once that day....oh, except to motor under the bridge,,,,,they won't let you sail under....I asked.
8 hours 15 minutes from the bridge in Kelowna to Penticton Marina. A record for sure for a 15 1/2 foot Gaffter with two guys and a weeks camping gear aboard. What an amazing sail. That one day was worth the whole trip. This is about as good as it gets!
| | |
| --- | --- |
| | Camped the night outside Penticton...Cedar Creek. |
| | |
| --- | --- |
| We then drove into Kelowna and did some stuff, then on to Vernon and the north end of the lake. We got the west side of the north end late in the day and camped. The next day was windless and rainy so motored back to Kelowna, I dropped Zach off and went home a day early. That way I figured I could take Daphne sailing on Christina Lake. It was a pefect day, hot, windy, great sailing, beer and swimming. What an awesome holiday. | |
| | |
| --- | --- |
| | Motoring down the west side of Okanogan Lake on the way home. A super time. I will be doing the north end of the lake next time.Perhaps with my other son Jessie. |
Zach had a great time, we had some killer laughs, some great sailing and a fun time together. We will be doing this again. Maybe we will do Kootenay Lake next time. Not so many people and towns. Zach is thinking of taking up sailing on his own in the Kelowna area, joining a local sailing club.