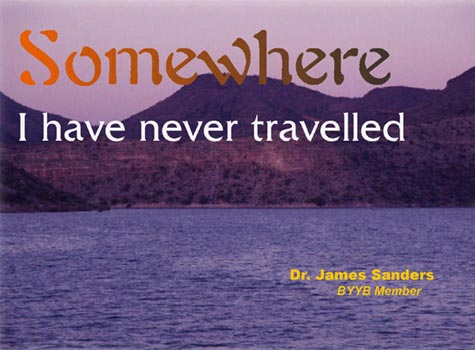 —e. e. cummings
I have sailed upon the waters of Lake Pleasant, but never in my own boat, the boat I now build with my own heart and hands. Like Cummings, I suppose, this whole undertaking has emerged gradually as some unknown adventure far beyond any experience I have gladly travelled or dreamt.
And yet, we all dream— all of us who build boats dream. We await the exuberant moment when we hear at last the sound of breaking bottle across wooden hull. And when that moment finally arrives, we launch forth propelled by past dreams and longer labors. And until that moment arrives, we live out such dreams in long, deep, and distant thoughts— thoughts too far away to be touched, or heard, or even seen. Something there is about building a boat. Even the tradition of bottle across bow is unique. Indeed, such simple ceremony says there is something special, something very different about building a boat, something no other endeavor has.
You might say the lines of a boat are more like the lines of a poem, filled with mystery, filled with beauty, filled with dignity. So it has been with us— this building of boat, this building of dream, this encountering a companion who has been with me from my childhood. Building a boat is the somewhere I have wanted to travel almost since I can remember. Now at last nearer the twilight years of life I do what I dreamt of as a boy. I am a boy again, but not a boy. It is as if the years have passed, but time has not.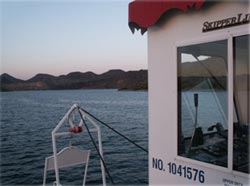 Such dreams often bring me to waters such as this lake. By happy chance that day, Miss Pat and I found ourselves surprised by joy. We had ventured upon a late afternoon dinner boat. We signed up for the sunset cruise, took our dreams with us, and smiled wistfully at one another and waved good-bye to shore and trouble.
We went aboard. The small tables were elegantly set, complete with crystal and small flowers poking their way up their glass vases. Near the stern two men prepared guitars, wiping them carefully with oil, and striking chords with precise exactness. We smiled at life in thankfulness. Little did any of us know, though, that an unheard music was already in the air, a song which only memories can compose— a far-off melody lingering in the mind like persistent rain drops making their way to earth in rhythmic cadences.
As we ventured out toward the middle of the lake, we instinctively looked for sailboats. Wind and water merge with these vessels, merge naturally in elegant movement. "Look at that boat," she said. "Do you suppose our sails will be that white? Will our boat be that graceful or that large? Will we be able to sail along that same shore? "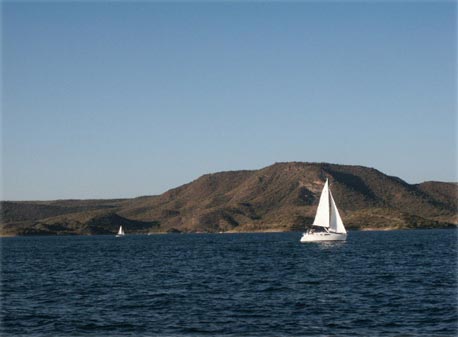 I nodded in silence. We strolled upon the deck in whispers of sunset evenings to come. The desert has an undulating and sweeping beauty all its own. Something there is about a sunset in a desert. The open sky seems to go on forever, halted only by shadows of large Saguaro cacti, and outline of purple mountains.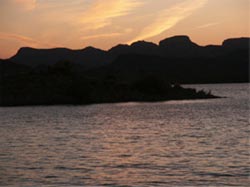 The boat we are building was intended for such waters as these, meant for quiet moments in protected waters and private coves. I suppose there is a great deal of adventure in blue water cruises, and such moments certainly have their sense of measured thrill, but a boat does not have to be on a voyage to Tahiti in the middle of the Pacific to weave the threads of memory. A boat like ours was built more for the quiet moments of life, moments like these.
We watched the sun in the distance with its changing of colors like the changing of some royal guard. The sky began to turn a burnt orange, and the sounds of silence emerged everywhere. Like ourselves, fellow passengers now spoke only in hushed tones as God closed day as easily as we might close a door. The boat silently pierced its way through water, leaving only ripples and small crescents which rose and fell, and then fell and rose in rhythmic mystery. Memories are made of this, and so are the dreams of boats under sail in quiet waters at day's end.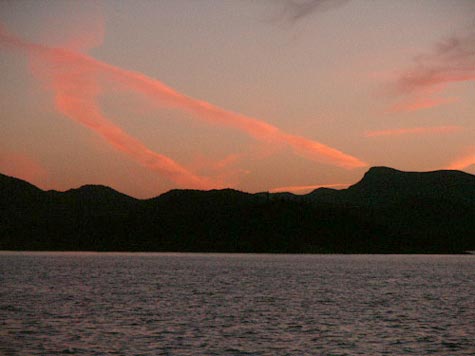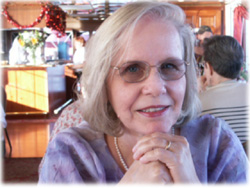 We walked back into the cabin, sat down, and looked out the windows, looked far out into today, and far past beyond tomorrow. Somewhere I have never travelled, but this somewhere is a place to which I want to return. Return, I hope, in a boat built with our own effort. And once again, will we hear again the lapping of water as time and even life itself become entranced, become suspended in reflections of water, thought and dreams. This is what it is all about.
May you build your own dreams as well. I wish you that. May you sail away into an ever darkening sunset splashed with hues of red, orange, and royal purples. If you have ever thought, even once thought, about building a boat, give that dream life. Build that dream now. Life is too short, simply too short, to let the dream die before the man must leave. May you seize your dream. May you live all the days of your life. Carpe diem.