10 ft clinker larch on iroko rowboat
Hi - Sandra suggested I send you a photo of the boat I am building.
1t's a 10 ft clinker built larch on iroko using traditional methods (copper nails and rooves, steam bending, complex gains, etc.) If it were purely a showpiece I would do the floorboards in Herreschoff style, but it will be actually used in earnest by me and the dogs.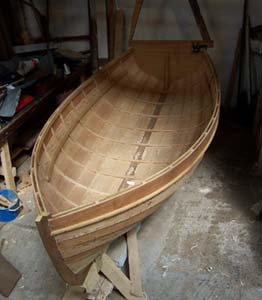 (click to enlarge)
The photo is from June 2004 when I stopped work on it for the Summer. It is now quite close to being finished - needs caulking, installing of the thwarts (already cut) and painting.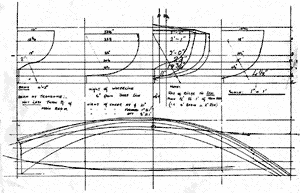 We don't know who the designer is - it seems to be just a type that has been built around here for years (or was a good few years ago). I attach the 2 plan sheets which is all we had. Would love to know if anyone recognises the design.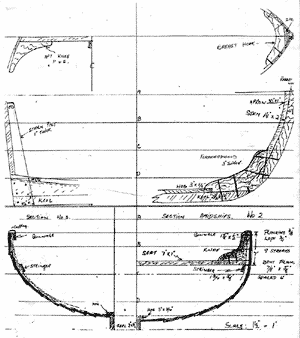 I intend to put up lots of photos of the construction - have a lot of say the complicated gains, steaming and plank by plank stages.
Regards, Pat
Pat O'Leary
Rathlacken
The Point
Crosshaven
Co. Cork
Ireland