Little Sister
by Evan Hardman
We finished our " Little Sister" a couple of weeks ago. It's a free plan that you can find on Hannu Vartiala's website. It's an interesting site that explains a lot about his ideas and what he wants in a boat. This Dory was designed to be quick and relatively easy to build without the epoxy for seams etc. I built mine the "stitch and glue" way because I like the quality of the boats I get that way. 9 boats and I haven't had a leak yet and they have been sturdy.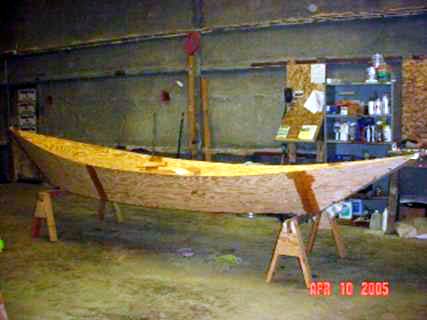 I didn't think to take pictures of it till we got to here. That didn't take too long. We used fir marine plywood because that's what we could get, two ¼ inch for the sides and one 3/8 for the bottom. Ah, there's no boat shape that's quite as lovely as a dory. In fact us men know the only prettier shape on a boat is not the boat itself, it's on the firstmate.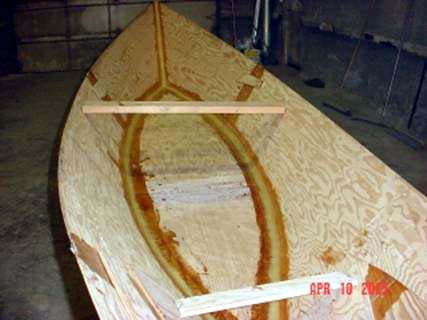 Here you can see the temporary stuff holding the shape until the epoxy hardens. I had a batch of hardener this time that was VERY slow hardening.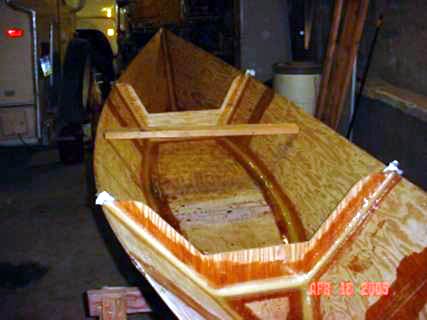 The plans on Hannu's Boatyard give only the basic dimensions. These frames we fitted are not according to the plans. In his design the seats will brace the sides. We knew we would need to move the seats because the real purpose of this boat was to set it up for my wife and I to row in tandem. Thus I set it up so the balance was right for the two of us. Every other load of people will have to work around that.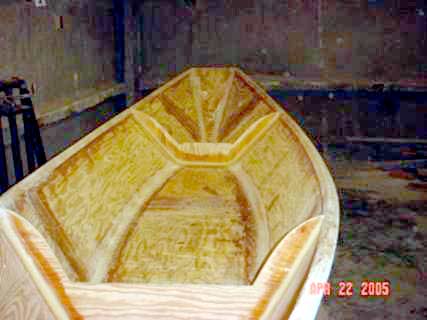 This is another shot looking toward the stern. The rub rails are on and the shape is getting smoother and more refined.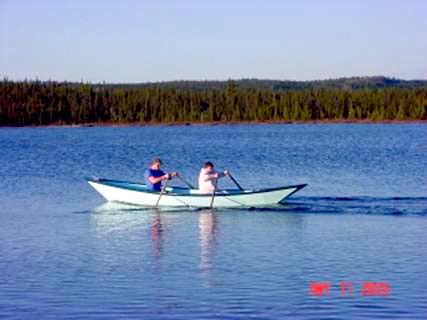 Here it is in action with my son and (hopefully soon to be) daughter in law.
We did cut down the sides at the sheerline a little. I was concerned about all that boat out of the water catching the wind. It does perhaps detract from the looks a little though but we are happy enough with it. It rows like it's heavier than our smaller boats (which it is) but it keeps gliding between oar strokes and man does it travel! We have had more than 550 lbs of people in it and it handles it like a dream. Like dories it is a little wobbly feeling at first but you soon learn to relax and trust her and it is a delight to row. Now I've got buy or build some longer oars to fit the way I like them to.