Sherpa
by Dan Lowney
Last winter I came to the crazy decision to try and build my own boat. I looked at many different designs on the internet and finally settled on the "Sherpa" designed by John Welsford. Having just some basic woodworking skills, and some idea of how difficult this might be I decided that a smaller boat would be a smart choice. It would be easier, quicker, cheaper and I might actually finish it.
The lines of the Sherpa appealed to me and I thought it would be a very functional boat. I could row, sail, motor it and store it easily. I started building it in the spring of 2004 with plans that I bought through Duckworks.

I set up a shelter in my yard made of pvc and plastic (10x12) which later proved to be too small and too hot in the summer.
The project started out going pretty smoothly (after I got a metric tape measure).I worked on the boat when I could and was pretty ambitious.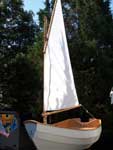 When it came time to bend the stringers around the frames, this proved to be very frustrating. I used Douglas fir and cracked many pieces. I became intimate with my lumber yard and table saw. Soaking the wood in near boiling water for 45 minutes only seemed to get me so far, in the end I had to rip and epoxy some of the more dramatic curves.
I put the project aside when it became apparant I would not be in the water that summer. In the spring of 2005 I went back at it hard. The Sherpa, which fit through my cellar door, was now taking up a rather a large part of my laundry area. Planking up the Sherpa was very satisfying and Later in the spring I finally completed the boat.
Thoughts now: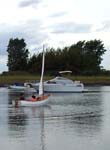 The Sherpa has lived up to my every expectation. It rows like a dream and sails awesome! I tried my 3hp johnson on it and it went ok but it kind of looks out of place and you can't turn it well in the space provided on the transom.The Sherpa looks great in the water and sailed with me,my wife and son all aboard.!
Kent Island Boat works was selling kits for around $1500 at the time of my build. I did this one from scratch and in truth I think I spent all of that.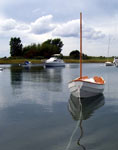 Along the way I went to John Welsfords and Duckworks websites and forums and they answered all of my questions.
Dan